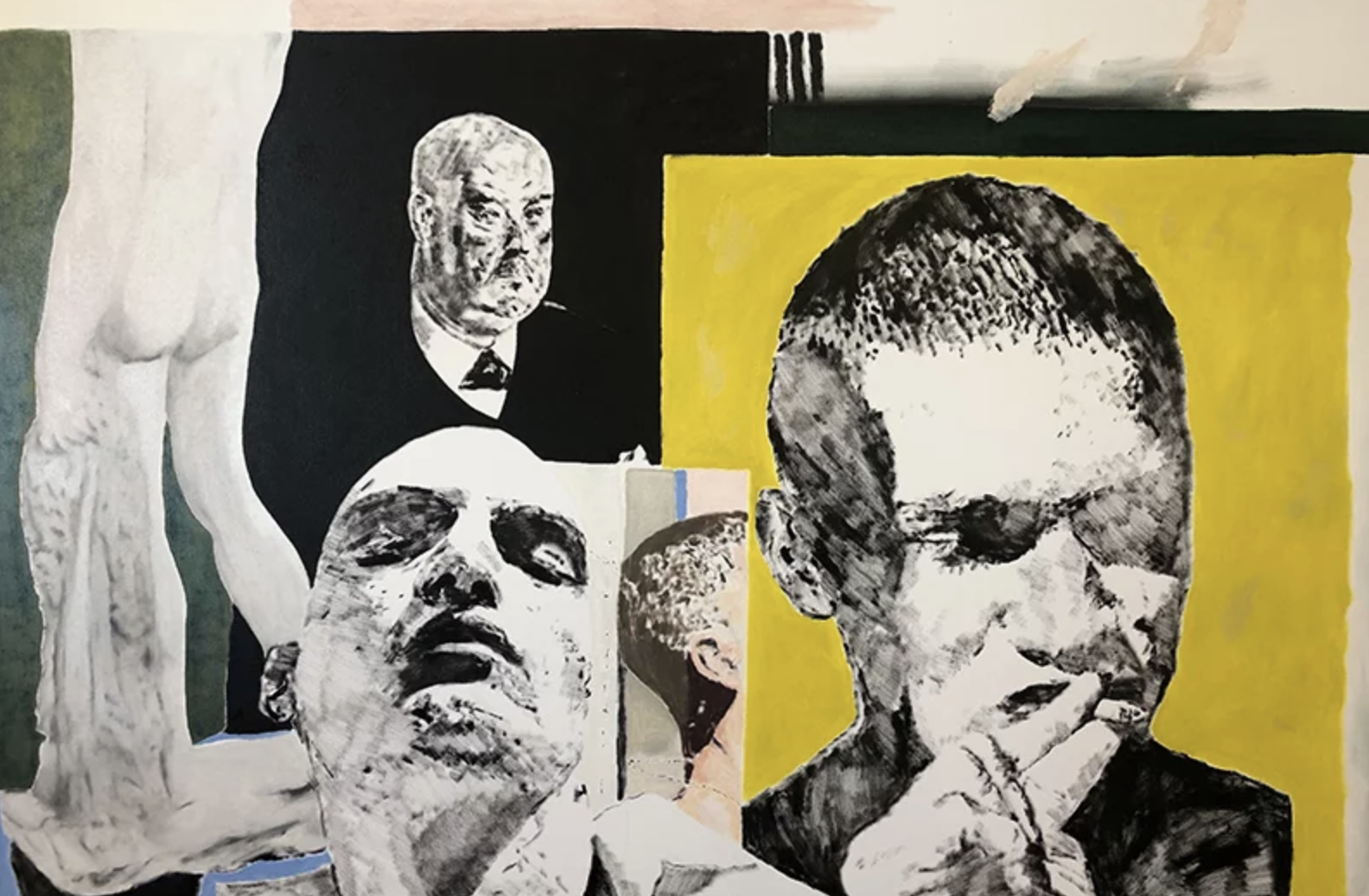 Photos: Courtesy of Moremen Gallery
A Map of Scents
Review
A Map of Scents
, currently on display at Moreman Gallery,
is the coalescence of John Brooks' painting, collage, and poetry practices. It is easy to see the influence of collage throughout the paintings: many of the compositions are seemingly fragmentary, comprised of hard-edged shapes that meld with more painterly flourishes. The artist's figures are often surrounded by blocks of color as if they have been ripped from the pages of a magazine. Connecting writing and visual art, Brooks titles his pieces after phrases from his poems. Poetry also takes on a more subtle and philosophical role—just as poetry uses enigmatic language, so too does
A Map of Scents
require a close reading. Brooks refrains from direct narratives and overt political statements; rather, meaning takes shape as each individual work contributes to a collective gallery of memories.
Throughout the exhibition, Brooks' muted palette and dry, palpable brushwork are consistent elements that contribute to the hazy, dreamlike quality of the work. Dusty pinks, light blues, and muted greens feature heavily throughout the paintings. These areas of paint interact with the subjects in different ways—sometimes forming a rectangular background, other times as an obscuring blotch. The figures themselves are rendered in flat, white paint and feathery black brushstrokes that detail their features, hair, and clothing. The result is more of an impression than anything approaching realism. Regarding the work, Brooks states, "I am not interested in creating anything concrete. I want things to be ephemeral, slightly out of reach but close enough to convince you that you can." In a few works, such as
Echo is How an Aura Roams (Darrell, Kifisia)
(2019), Brooks uses a particularly light hand; it almost seems as if the figure would dissipate if not held down by the weight of the surrounding colors. Much like memories, there are parts of each work that have eroded while others remain vivid and sharp; the paintings, as a whole, conjure something that is not fully in the present.
Composition works in tandem with painterly qualities in
A Map of Scents
to bring together images that are fractured yet undeniably interwoven. Working with compositions from his collages, Brooks utilizes marks of various colors and textures to meld together different vignettes.
An Abyss of Thighs
(2019) depicts seemingly disparate images that are placed across the canvas akin to the layout of a graphic novel. Breaking the geometry of the rest of the composition, a paved road, beach towel, and disembodied arm are layered on top of one another in the bottom right of the piece. While these objects are otherwise unrelated, they all share a similar form. This juxtaposition is evocative of how our minds see one picture and jump between other associated images.
Brooks not only references memory as a whole, but also specific memories through photographs of friends or family members from which he paints.
Elizabeth in the Same Hour
(2019) depicts the artist's grandmother in the center of the canvas. Notably, her mouth is covered by a black and white bandana as if he is filling in details that cannot be fully recalled. The use of both vintage and contemporary images removes any hierarchy between past and near-present. To consider the title of a work in the exhibition—
Sheer Time, It Was a Circle, Yourself Endless
(2019)—time can be seen as circular in the context of memory, in that it destabilizes a linear progression. To be lost in a memory is to return to an earlier moment in our chronology.
As anxiety about the politically tumultuous present and unpromised future accumulates, memory can act as a respite. It is easy to turn to simpler times such as one's youth when faced with distress. Brooks, however, does not hide from difficult subject material in his work.
Constant State of New Sorrows
(2019) may seem like another portrait of a friend or family member, but takes on new meaning when one realizes that it depicts Orlando Boldewijn, a Dutch teen who was killed after a Grindr date. While this story is poignant on its own, the victim's first name brought to Brooks' mind the 2016 Pulse nightclub shooting in Orlando. Memories can be a sanctuary when pleasant, but they can also connect to unrelated events and, in this case, act as sobering reminders of the hate queer individuals receive just by existing.
Topics such as memory, history, and time can be difficult to explore through visual art, but Brooks does so successfully by not over-explaining himself. As Pierre Nora states in "Realms of Memory," "The whole dynamic of our relation to the past is shaped by the subtle interplay between the inaccessible and the non-existent. If the old ideal was to resurrect the past, the new ideal is to create a representation of it." Brooks aligns much closer with the latter philosophy. In no way does he try to recreate the past; rather, his paintings work much the way memory does—incomplete, hazy, fractured, and amalgamative.
A Map of Scents
is ambiguous, but not in an obfuscatory manner; the artist has left enough room for viewers to become lost in the individual works as they draw connections between each element. Perhaps what this exhibition imparts most on its viewers is the ephemeral nature of memory as well as its sporadic failings, providing insight on both the artist and themselves.
-
A Map of Scents
is on display at Moremen Gallery through August 10th, 2019.
Moremen Gallery is located at 710 W Main Street, Louisville, KY 40202 and is open Wednesdays through Saturdays, 1:00pm to 4:00pm, and by appointment.
Notes:
Nora, Pierre. "Realms of Memory." In Memory: Documents of Contemporary Art, edited by Ian Farr, (pages). London and Cambridge: co-published by Whitechapel Gallery and The MIT Press, 2012.

Kevin Warth
Managing Editor, Contributor
7.29.19
You Were a Night Owl But it Doesn't Matter (2019), oil on canvas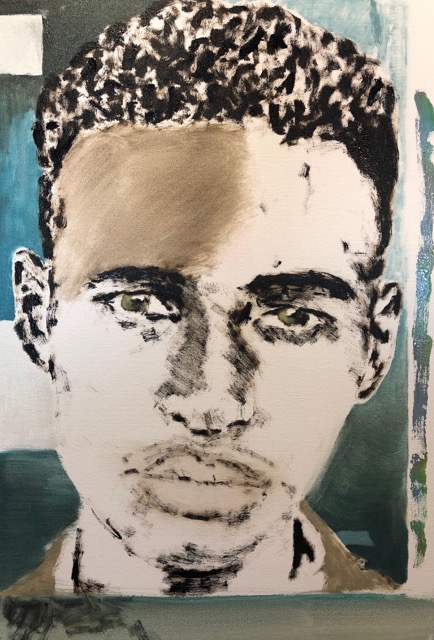 Constant State of New Sorrows (2019), oil on canvas
An Abyss of Thighs
(2019), oil on canvas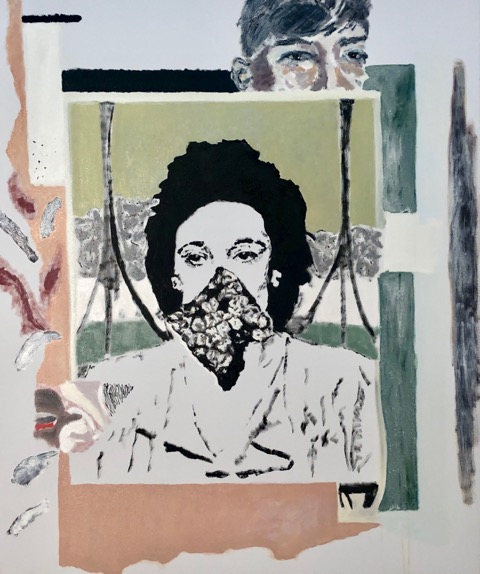 Elizabeth in the Same Hour
(2019), oil on canvas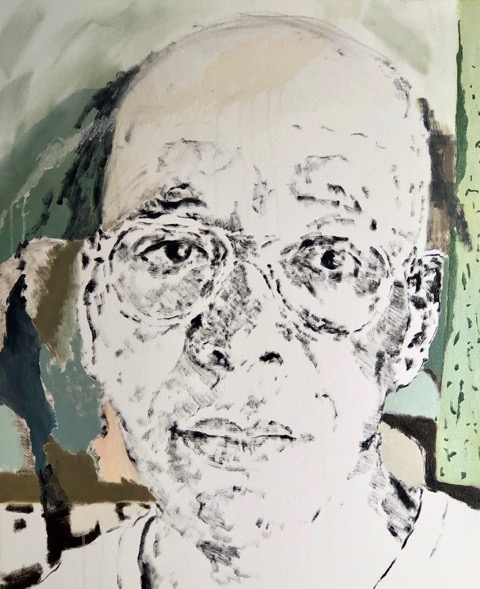 Echo is How an Aura Roams (Darrell, Kifisia)
(2019), oil on canvas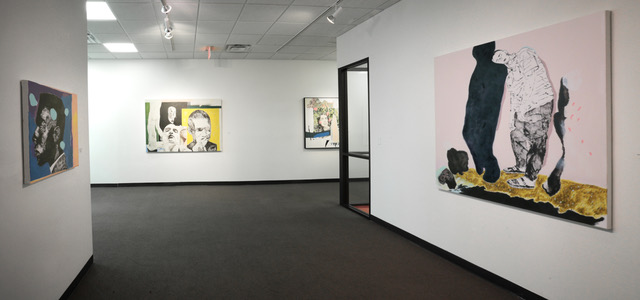 Install.