Above: Install of A Sort of River of Passing Events at Quappi Projects
A Sort of River of Passing Events

Review
Anna Blake
A Sort of River of Passing Events,
on view at Quappi Projects through July 25th, 2020, presents three artists whose work pushes and pulls the boundaries of our temporal perceptions. Work by Kiah Celeste, Dominic Guarnaschelli, and J. Cletus Wilcox exists together in conversation as they mine senses past, present, and future and the ambiguities of time. While the delicacy of Celeste's work forces an awareness of the ways our present bodies move through space, the visual heaviness of Guarnaschelli's contrasts and compels us to consider the relations of past and present. The extremely deliberate layering of paints on Wilcox's canvas encourages thoughtful consideration of factors in relation to one another. In a time where current events can feel static and unmoving, these works remind us of the impermanence of this moment.
Guarnaschelli's work establishes a clear motif of time that is present throughout the entirety of the show. Pieces incorporating printed canvas and steel explore the ambiguities of the cultural manipulation of scientific truth.
Monstrance
(2019) features a printed canvas depicting a prehistoric jawbone inserted within a tall steel frame. Notably, the jawbone was found in a paleontologically-rich area of Northern Kentucky that sits ironically close to the Creation Museum. This conflict of scientific truth in disagreement with cultural manipulation is explored further in
Ethics
(2020) and
Preface to Logic
(2020). These works employ found book covers that Guarnaschelli manipulates to remove all didactic information, leaving only the design and the presence of time in the wear and tear of the cover. The material contradiction of steel and wood that imitate the less permanent, more fragile book reflects similar contradictions in the cultural transformations of these objects, evidenced by tangible disagreement in the material—a concept taken further by the small steel motifs that reference sketches found in the notes of Charles Darwin. Meanwhile,
Votive
(2018) presents a commentary on perspective—cut steel appropriates a candelabra found in the work of the early Renaissance painter, Giotto. Guarnaschelli turns this candelabra upside-down, obscuring its intended appearance and changing the object from that of a representation of enlightenment to that of obfuscation as the placement interrupts the way the body moves through the space. Together, these works affirm the phenomenon of a subjective experience in a collective past.
A manipulation of the past is also found in Celeste's found object sculptures, as the individual units that make up each composition have been taken from their original function. The deliberate arrangements contrast with the spontaneity of the physical world that they seem so vulnerable to.
Gall Blass
(2020) consists of a granite slab and a sheet of glass, with precariously balanced croquet balls sandwiched in between and delicately resting atop the glass. The illusion of stasis has a direct effect on the way the body moves around the piece, as the glass seems like it would topple over at the slightest shaking of the ground or light breeze, initiating an anxious disagreement on the temporal permanence of the object. The marks of time are present in
Spring Themes
(2020) as rusted industrial elements mingle with worn ceramics. Viewed from the side, the composition resembles a post-human city skyline.
Two Valentines
(2020), comprised of a large clear plastic tube and an exercise ball, transcends the objects' individual nature and becomes a poetic blend of pastel blues and pinks. The absurd manipulation of these physical objects reflects another anxiety—that of an attempt to control in tension with uncontrollable factors.
We see the tension between known and unknown reflected in Wilcox's
Nostalgia
(2020) and
Heart Sutra
(2020). In
Nostalgia,
a fleshy-pink field of color is interrupted by photo transfers of portraits and ephemera that relate to the artist's parents—two portraits of a man, a series of Japanese characters and the English phrase "may peace prevail on earth," a small portrait of a woman, and what appears to be a domestic scene. It is unclear what relation each of these motifs have to one another, and their relation to Wilcox is only vaguely hinted at in the piece itself. As the paint attempts to bleed into the photo transfer's borders, some parts become more incorporated than others, appearing to be swallowed by a field of pink as others resist. Geometric blue lines surround the composition. Made of chalk, these markings have an ephemeral quality as they will undoubtedly fade over time, though the manner and appearance of this inevitable fading is left to natural forces.
Heart Sutra
features this same blue chalk, and, like
Nostalgia,
an overall field of black paint attempts to swallow the canvas whole. More subtle interruptions occupy the canvas, mostly all black but made visible by minor changes in finish and texture. These pieces work in conversation with Celeste's as they prompt similar anxieties of an unknown.
Guarnaschelli, Celeste, and Wilcox's work captures the zeitgeist as they work in conversation to push and pull against our perception of time and absolute truth at a moment when we are hyper-aware of our position in history. Contradictions in tension with one another are present in all these works - truth and fiction, permanence and impermanence, known and unknown; respectively. These themes reflect acutely on these times, and the works provide a critical postmodern perspective on our collective past, present, and future; affirming a sense of uncertainty of what is to come of this historical moment we find ourselves in.
-
A Sort of River of Passing Events
is on view through July 25, 2020. Quappi Projects is located at 827 East Market Street, Louisville, KY 40206 and open Thursdays 12-4p, Fridays 12-4p, Saturdays 11-3p, and by appointment.
Notes:
-
7.13.20
Anna Blake
Contributor to Ruckus

J. Cletus Wilcox,
Nostalgia
(2020), solvent image transfer, acrylic, spray paint, charcoal and oil pencil on canvas.
Dominic Guarnaschelli,
Monstrance
(2019), steel, inkjet print on canvas.
Kiah Celeste,
Gall Blass
(2020), glass, steel, granite, croquet balls, acrylic.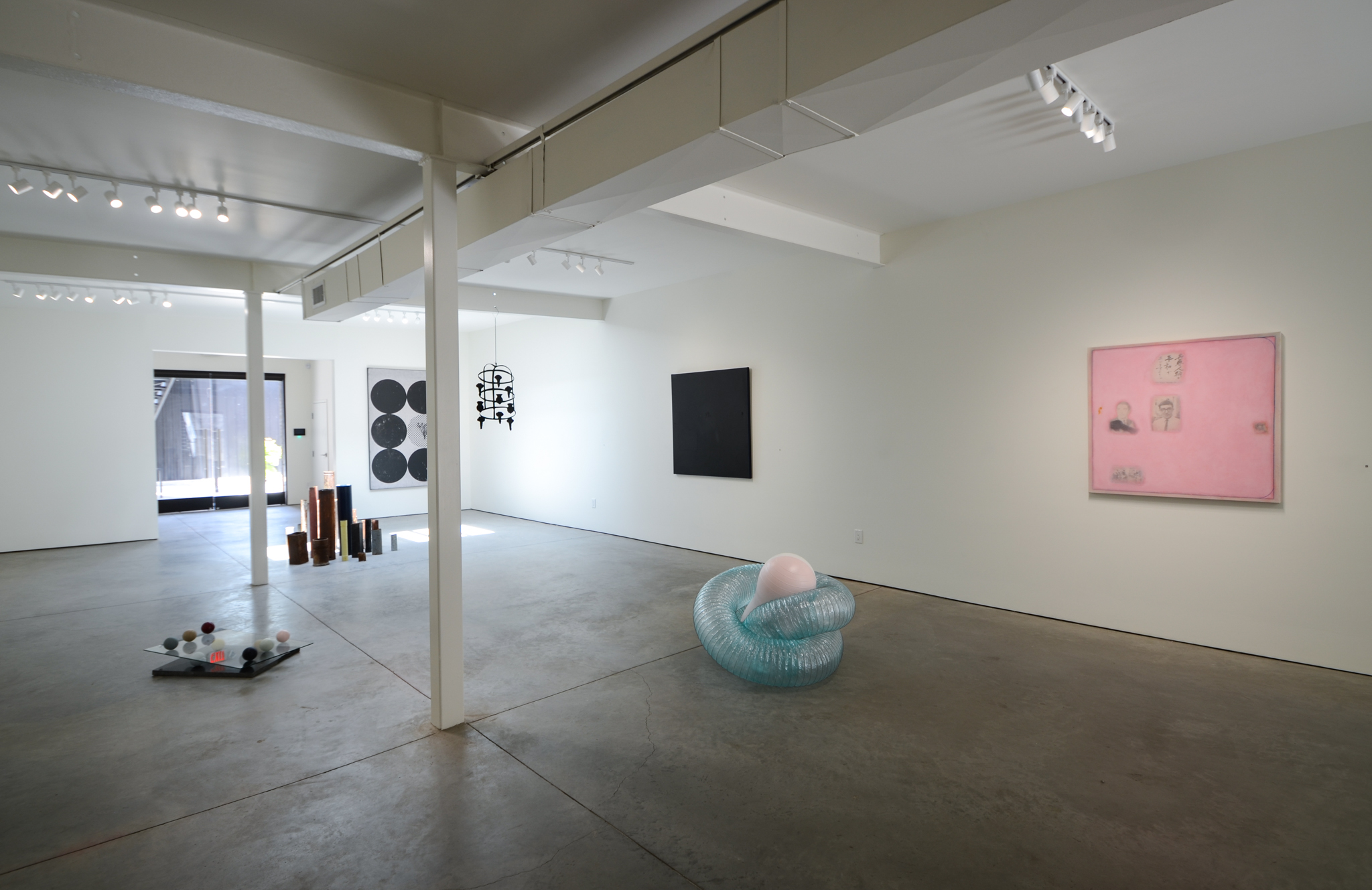 Install of
A Sort of River of Passing Events
at Quappi Projects
J. Cletus Wilcox,
Heart Sutra
(2020), spray paint, charcoal, oil pencil, chalk pastel and collage on canvas.
Kiah Celeste,
Two Valentines
(2020), mixed materials.
Dominic Guarnaschelli,
Ethics
(2020), acrylic, steel, inkjet print on canvas and wood panel.