Above: John Cherry, Michael Andrews and His Soybeans (2021)
Ate x 10
Review
Kenneth L. Woods

America has long been known as a place of plenty, of excess. America's relationship with food can be complex and The Carnegie Center's latest exhibit,
Ate x 10: A Group Exhibition about Food
, consists of artwork submitted by ten regional artists and they approach the theme in a myriad of directions. From the lack of access that some may have to food, to how food is marketed, the exhibit explores those topics. The Carnegie Center also tied in information about food insecurity and the regions of New Albany, Indiana that are considered food insecure, with vinyl lettering placed throughout the Center in between the visual artwork. This exhibit will not only inform the viewer of our complex relationship with food, but also highlights some of the tangible action that the city of New Albany has taken and is currently taking to help its citizens. There is a list of numerous local organizations doing their part to combat food insecurity and scarcity. To that end, it is fitting that the debut of this exhibit coincides with the one year anniversary of Floyd County Library's Community Corner Food Pantry, a symbol of the Library's commitment to do its part.
When you enter the Carnegie Center, one of the first works that may catch your eye is Taylor Sanders'
Empty Stomachs II
(2022), which consists of a round table filled with empty brown paper lunch bags, and a chandelier light with paper lunch bags attached at various points of the light fixed to the ceiling. The empty brown paper lunch bags on the table and chandelier instantly made me think of children from low-income backgrounds who depend on school lunches for daily meals, especially those affected by the schools shutting down in March of 2020 for quarantine. This work was created specifically for this exhibit, with Sanders noting that the empty bags also represent the urban architecture associated with low income areas. This display, consisting of materials available in many homes, does not take away from its impact on the viewer. When it comes to food and access, those who have no choice in what they eat, like children, are often those affected the hardest by food insecurity.
Food not only provides sustenance or nourishment, it is also used to celebrate different occasions. Brick Kyle's series of still life digital print photographs engage food to highlight milestones in the artist's life. Of all the prints on display, I connect with
Seasons Change
(2020). Kyle's inspiration for this series comes from the covers of vintage cookbooks piled high with food as if to tease the reader of all of the wonderful things they can possibly create.
Seasons Change
(2020) shows a table filled with food from two different seasons. The foreground has two large pumpkins with eyes glued on them, candy corn, Halloween themed Oreos, and many other items associated with Fall. As you move further into the background, we see Christmas decorations and drinks. Kyle doesn't elaborate on what this piece means personally, but I take it to mean that the time between Halloween and Christmas is as joyous as it is abrupt. The world goes from Halloween to Thanksgiving with Fall on its mind, to adding on layers and wishing for a White Christmas; all in the span of two months.
This sort of connection between food consumption and capitalist consumerism is also found in Olivia Lantz's glass casting,
Empty
(2019), which explores how companies market foreign foods to consumers. Many of these companies lean on the stereotypes associated with certain foods so much that they take on an identity of their own. Lantz asserts, "There is a common practice within Western and Eastern societies where companies are encouraged by popular perceptions of other cultures to promote stereotypical or stylized versions of food items. This marketing trend creates cross-cultural miscommunication regarding what is considered authentic. As these items are translated into foreign markets, these companies place a substantial emphasis on adapting them into a new culture that they often take on a whole new identity. The focus becomes placed on the food's novelty rather than nourishment or taste." Lantz uses glass castings of food to illustrate how corporations use the popularized or stylized versions of food to sell to their customers. Lantz makes use of the transparent nature of glass employing the technique "pâte de verre," where she gives the food moldings a lovely exterior while leaving an empty and transparent interior. In doing so Lantz interrogates the superficial focus of food companies on what the food looks like rather than its nourishment or taste, thus creating a caricature of the item.
On top of these commentaries provided by Kyle and Lantz, Jon Cherry's work of dye sublimation prints on aluminum present a different lens to think about the lives of Black farmers in the U.S.
Travis Cleaver and His Cows
(2021) we find Bonnieville, KY based farmer Travis Cleaver in his field with his arm outstretched, as if he had just cast a handful of feed onto the ground for his cows. There is a large bull in the foreground with his nose in the ground as he feasts upon the feed, with great detail placed on this bull as the viewer can see his eyes and the detail of the horns. Cleaver seems unafraid as he is surrounded by heifers and bulls, some standing and some lying down. This is just another day's work for him—he provides for these animals and they in turn provide him with milk and meat.
In another work by Cherry, titled
Michael Andrews and His Soybeans
(2021), we see an image of a third generation Black farmer Michael Andrews standing almost waist deep in his soybean crop. The image is almost entirely made up of a sea of soybean stalks stretching as far as the eye can see—even further than what the image can show. Andrews is the lone figure in this sea, and it is up to him to see that the soybeans are maintained and harvested. Andrews has his eyes closed, perhaps to pray or prepare himself for the long work day ahead. Cherry's work also explores the larger social infrastructure that facilitates farming. His photograph
Dr. Nancy Dawson Picks Vegetables
(2021) depicts Dr. Nancy Dawson, the founding director of Agfirst, a Black farmer's co-op that both teaches gardening skills to youth living in urban areas and supports disadvantaged farmers. In this, Cherry's work not only shows who is making our food in the Kentuckiana area, but gives the viewer insight on what a day in the life of a Black farmer can look like.
Food and our complex relationship with it, is the central theme of this exhibit. While this may be a broad topic, this just allows the artists to create art that touches on aspects of food that are important to them and it covers a wide spectrum. From Sanders' work highlighting students who have to go without food to Kyle's work presenting piles of food used to celebrate milestones in his life, the polarities of excess and access are both addressed. While Lantz's work considers how food is marketed to the consumer, Cherry's work gives the viewer an intimate view of who is making food for our local markets. There is information on the walls about food insecurity and its definition and who it impacts in the city of New Albany, Indiana,, but this focus didn't make its way into the art on display. Though the exhibit's debut on the anniversary of Floyd County Library's Community Corner Food Pantry solidified the fact that informing the public about food insecurity was the heart behind the exhibit, that sentiment wasn't fully expressed in all of the artwork. Sanders' work was one of the few pieces that spoke directly to this theme. "Still, this is not to say that The Carnegie Center didn't just point out the problem and address the solutions—the exhibition made a point to highlight a long list of local organizations that are doing their part to address the food insecurity problem, such as New Roots Fresh Stop Market and Community Kitchen Incorporated.
Ate x 10: A Group Exhibition About Food
, brings the viewer into a regional fight against food insecurity while also speaking to the questionable relationship many humans have with food.
Brick Kyle, Seasons Change (2020)
Olivia Lantz, Empty (2019), glass casting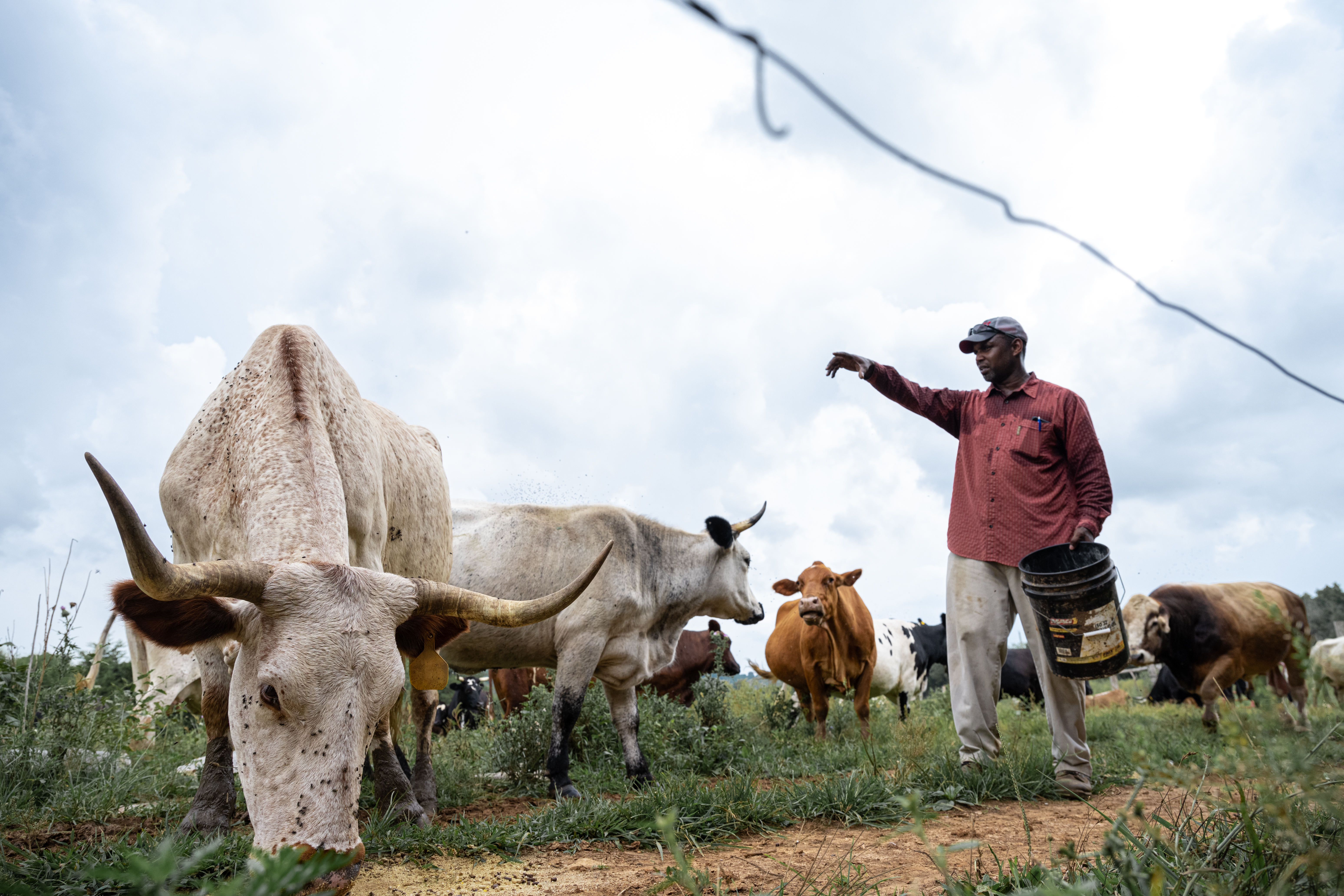 John Cherry, Travis Cleaver and His Cows (2021)
John Cherry, Dr. Nancy Dawson Picks Vegetables (2021)
-
Ate x 10: A Group Exhibition About Food
ran from August 4th – October 15th, 2022 at The Carnegie Center for Art and History in New Albany, IN.
-
Citations:
"Food Waste in America in 2022," RTS, accessed September 5, 2022, https://www.rts.com/resources/guides/food-waste-america
"Title 1," Indiana Department of Education, accessed September 5, 2022, https://www.in.gov/doe/grants/title-i/
"Global Food Security: Questions and Answers," Economic Research Service of the United States Department of Agriculture, accessed August 24, 2022, https://www.ers.usda.gov/topics/international-markets-u-s-trade/global-food-security/questions-answers/#security
-
10.26.22
Kenneth L. Woods (he/him), AKA "KennyFresh," is a spoken word artist, writer, poet and author. He's been servicing both Indiana and Louisville, KY for the past decade. Kenneth partners with non-profit organizations, businesses, and individuals to use the gift of poetry and spoken word to help others creatively tell their stories. In his spare time, Kenneth enjoys reading, hanging out with his pet tarantula, listening to music, and photography.