Above: Wendy Red Star (Apsáalooke, 1981), The Last Thanks (2006), archival pigment print, courtesy of the artist.

︎ Museum of Contemporary Art (MCA), Chicago
Based on a True Story . . .
Review
Megan Bickel
In the center of the Bergman Family Gallery at Chicago's Museum of Contemporary Art stand
May the Arrogant Not Prevail
(2010) by Michael Rakowitz. Mocking its own confidence, its 'cheapness' is a stab at its referent:
May the Arrogant Not Prevail
is a replica
of the replica
of the Ishtar Gate. At first, appearing sturdy, it's in fact fairly flimsy. If you are to walk around the installation, exposed 2x4s announce a cardboard base. Its mosaic pattern reveals itself as American and Iraqi waste: Pepsi logos and Iraqi packaging advertise themselves amongst the intricate patterning upon the model's surface. The, rather dazzling, patterning has been created by re-assembling industrially folded gold, phthalo blue, and indigo papers, providing an aesthetically enduring pointer finger to consumerism.
What I mean by "replica of a replica" is, like many works of cultural significance throughout the Middle East, the Ishtar Gate, built in 575 BC, originally stood in the city of Babylon, now Iraq. In the early twentieth century, however, it was dismantled by the direction of German archaeologists to relocate it to the Pergamon Museum in Berlin. A three-quarter scale replica was produced and left in its place. The model Ishtar Gate, in Iraq, is now a tourist attraction and popular amongst Western travelers. While Rakowitz is making a dour critique of the Western beneficiaries of stolen cultural artifacts, there is also a coyness to his delivery. An Iraqi-American who self identifies as "an artist working at the intersection of problem-solving and troublemaking," appears to be thieving from the thieves—making a 'cheap' replica of the replica, and placing it in a Western museum.
1
It's cheeky. It's angry, and it quickly catapults the viewer into a state of doubt, as well as play, however we'll be focusing on the 'doubt' here.
Now that we are thinking about copies of copies and historical misdirection, I'd like to introduce an idea that was essential to the core of this exhibition, as it was cited repeatedly in various wall placards. Bear with me.
In 2021 I read a specific essay by Carrie Lambert-Beatty, where she introduced a concept (don't worry, I'm being vague on purpose) by spending a good deal of time introducing a work by Michael Blum,
A Tribute to Safiye Behar
(2005). We are going to discuss this work for a moment, as it will simulate my critique of this exhibition.
In 2005, Blum was seeking a site to prepare for Istanbul's Ninth International Biennial. He discovered that the "apartment building that had been home in the early twentieth century to the teacher, translator, communist, and feminist Safiye Behar (1890-1965) was slated for demolition." Behar was a Turkish Jew who maintained a long friendship (or romance) with Mustafa Kemal Atatürk, the founder of the Turkish Republic.
2
Lambert-Beatty shares that the few surviving examples of their correspondence suggest that Behar had a notable influence on Kemal, particularly on women's rights in the new republic. In a tribute, Blume decided to recreate her home in Istanbul, signifying a memorial and introduction of an anonymous figure to the public. Through diligent research and interviews with her family, Blume recreated Behar's home, including photo albums, furniture, and encased documentia revealing her secretive, imaginative, fascinating, and romantic life as the muse of revolutionary.
Upon opening to the public, the exhibition maintained mixed local reviews but culminated as an essential work displaying the secret life of an extraordinary woman. However, there appeared to be widespread approval of the depiction of Behar, who represents the many invisible people who impact history and receive little to no credit or admonishment. Most essential, though, about the life of Behar is that Michael Blum made it all up. Including her.
In
Based on a True Story . . .
at Chicago's Museum of Contemporary Art (MCA), 20 artists play with fact, fiction, and the grey areas in between.
3
Primarily work from the museum's collection; artists the likes of Cindy Sherman, Walid Raad, Mariko Mori, Rashid Johnson, Matthew Barney, Lorna Simpson, Michael Rakowitz, Celia Álvarez Muñoz, James Luna, Wendy Red Star, and Sharon Lockhart, amongst others, pose to "wrestle with our understanding of truth and belief by exploring fiction: Some artists craft an identity or personal memoir. Others stage complex urban landscapes that confuse our perception of the world. Still, others challenge the way historians and institutions like museums portray the past.
Curated by Bana Kattan, the Pamela Alper Associate Curator,
Based on a True Story
invites visitors to question how we see the truth—and how fiction can help us imagine new realities.
Based On a True Story's
is curatorial staff describe the exhibition as parafictional, citing Lambert-Beatty's definition.
4
Lambert-Beatty introduced parafictions by describing her shock and confusion after a conversation with Blume about
A Tribute to Safiye Behar.
She described Blume as explaining the work without including her in the misdirection. In her feelings of embarrassment and frustration upon the announcement that it was all a lie, she realized that those feelings were critical to her understanding of Blume's installation, which was a work of fiction.
5
An essential component to parafictional works, or parafictional curation, is a certain acceptance that you need to deceive an audience temporarily. Parafiction leans into a vital ingredient for understanding fiction in a way that is psychologically convincing.
6
Parafiction leans into its own reliance on 'realness.' Those deploying it necessitate actively deceiving and subsequently revealing a truth. When this deception is prematurely explained or diluted, its power is destroyed. Though
Based on a True Story
includes a bold selection of artists that interrogate how the world's constructed truisms are actually composed, and oftentimes untrue, the curatorial goal of observing fiction in contemporary art was announced too soon.
In an effort at transparency, the illusion was broken. There was no space left for belief and thus no room for discovery. That feeling that you perhaps experienced when I announced that Behar didn't exist—it's needed in parafictional exhibitions.
Based on a True Story
maintains the zeitgeist's curatorial rules: exhibition title up front paired with a brief curatorial statement immediately after. Here, the tell is even more direct, pairing the announcement of fictions with photographic icons such as several of Cindy Sherman's
Untitled Film Stills
(1977-80).
Curiously, how would this exhibition unfold if these misdirections weren't so exasperantly announced?
Walid Raad responds to the rise of new art museums in the Arab world over the past several decades with
Letters to the Reader_002,004, 009, 005, 013, 015
(2014). Raad's installation is isolated from the remaining exhibition, allowing a darker space for the various light that shines through and around the six panels made of plywood and wallpaper and their subsequent shadows. The panels, approximately seven feet tall, stand about six inches deep, the usual depth of a wall in a commercial structure. The back of the forms expose the frame, similar to the work mentioned earlier by Rakowitz. The temporality of the structures points to the quick construction of the art museums that Raad is critiquing.
The panels represent varying museum room tropes: brightly colored walls extending above, baseboards of varying styles, and flooring of varying decadence. A sliver of a shape has been laser cut upon each wall, evoking the shadow of a missing artwork. The walls prompt the viewer to consider the circumstances with which the cuts were deployed. What were the conditions for the shapes that were used? If cut to evoke the shadow from an invisible frame, what did the frame once hold? What is being excluded? Who is being removed, and more importantly, why?
Raad uses the museum motif to question history's evolution, how it is shared or manipulated by those in power, and how funding structures impact these narratives. How will this erasure contribute to the documentation of Indigenous histories in the Middle East? How does Raad's installation reference the selective and deceptive nature of history-making that occurs through the practice of selecting who and what is documented and narrated to the public.
Again, similar to Rakowitz's copy of a replica: how does the indexical museum wall bear light on its construction's insidious repercussions? Raad has repeatedly described this act of erasure as forcing objects of cultural significance to 'lose their shadow.' Their permanence is subsequently called into question, causing a historical liquidation—a type of documentary erasure.
In Raad's critique of the Middle Eastern art world, he has mapped "the financial links between an artists' pension fund in Dubai and Israeli military intelligence and used a French museum residency to reimagine the antiquities of the soon-to-open Louvre Abu Dhabi as mutant hybrids. Has Raad chosen the wrong métier—would his research be better conveyed through straight documentary?"
7
In the face of institutional critique, one entangled with state-sanctioned violence, would it be more direct to document these investigations and share them through authorship? Or documentary-style film? I think not. Fiction provides Raad an avenue to investigate horrors of governmental deception with distance and, potentially, safety.
Based on a True Story . . .
evokes an interesting quandary into the art of presenting falsehoods, impersonation, and cultural misdirection that avoid theatrics in a gallery or museum. Here, it seems MCA attempted a feat with a lack of assuredness. Which is a shame as the excavation of governmental misgivings and purposeful historical deception are huge contemporary imperatives that desperately need resolution. If exhibition coordinators are interested in being public educators on the topic, want to bear light on the subjects, or even be a beacon for calls to action—how do they make fiction work? How do they deceive without being deceitful? If fiction, or parafiction, provides an opportunity to imagine alternate realities, new infrastructure, and better ways to exist with one another—how can fiction be made to work for us, and how can it be deployed ethically by curators and other organizers? It seems that MCA has revealed an imperative for cultural organizers to begin grappling with the repercussions, and more interestingly,
benefits
of benevolent deception and reveal.
Michael Rakowitz. Iraqi American, 1975, May the Arrogant Not Prevail (2010), found Arabic packaging and newspaper, glue, cardboard, and wood 194 ¼ x 235 ¼ x 37 ½", Collection Museum of Contemporary Art Chicago, gift of MarshallFields by exchange, 2015.4, copyright Michael Rakowitz. Photo Nathan Keay, copyright MCA Chicago.


Cindy Sherman, Untitled, (1975) Gelatin Silver Print 20 x 16", Collection Museum of Contemporary Art Chicago, gift of the Lannan Foundation, 1997.58, copyright Cindy Sherman, courtesy of MCA, the artist, and Hauser & Wirth.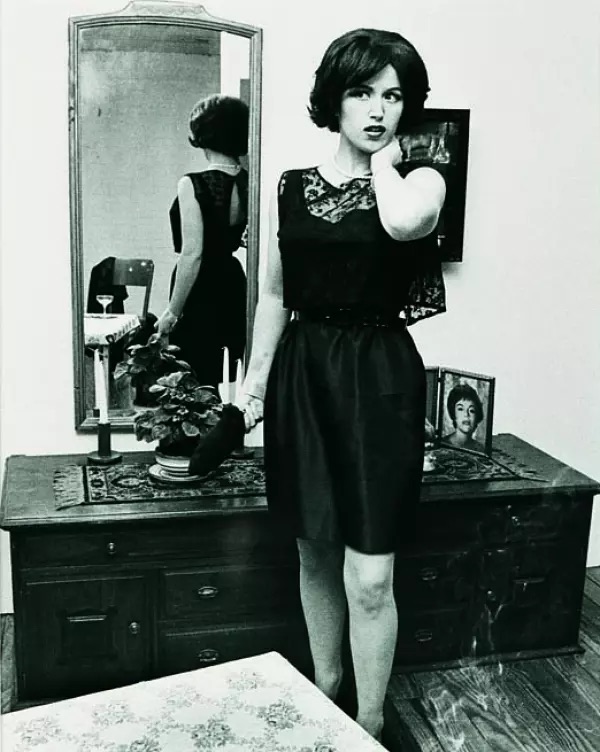 Cindy Sherman, Untitled Film Still # 14, 1978
Gelatin Silver print, sheet. 10x 8". Framed 16 ⅜" x 14 ½, Collection Museum of Contemporary Art Chicago, gift of Lannan Foundation, 1997.5, photo: Nathan Keay, copyright MCA Chicago.

Walid Raad, Lebanese. 1967, Letters to the Reader_002, 004, 009, 005, 013, 015, (2014), plywood and wallpape, Collection Museum of Contemporary Art Chicago, The Pritzker Traubert Visionary Art Acquisition Fund, 2017.2, Photo: courtesy of the author

Text paired with Walid Raad's Letters to the Reader_002, 004, 009, 005, 013, 015, (2014)
Photo: courtesy of the author.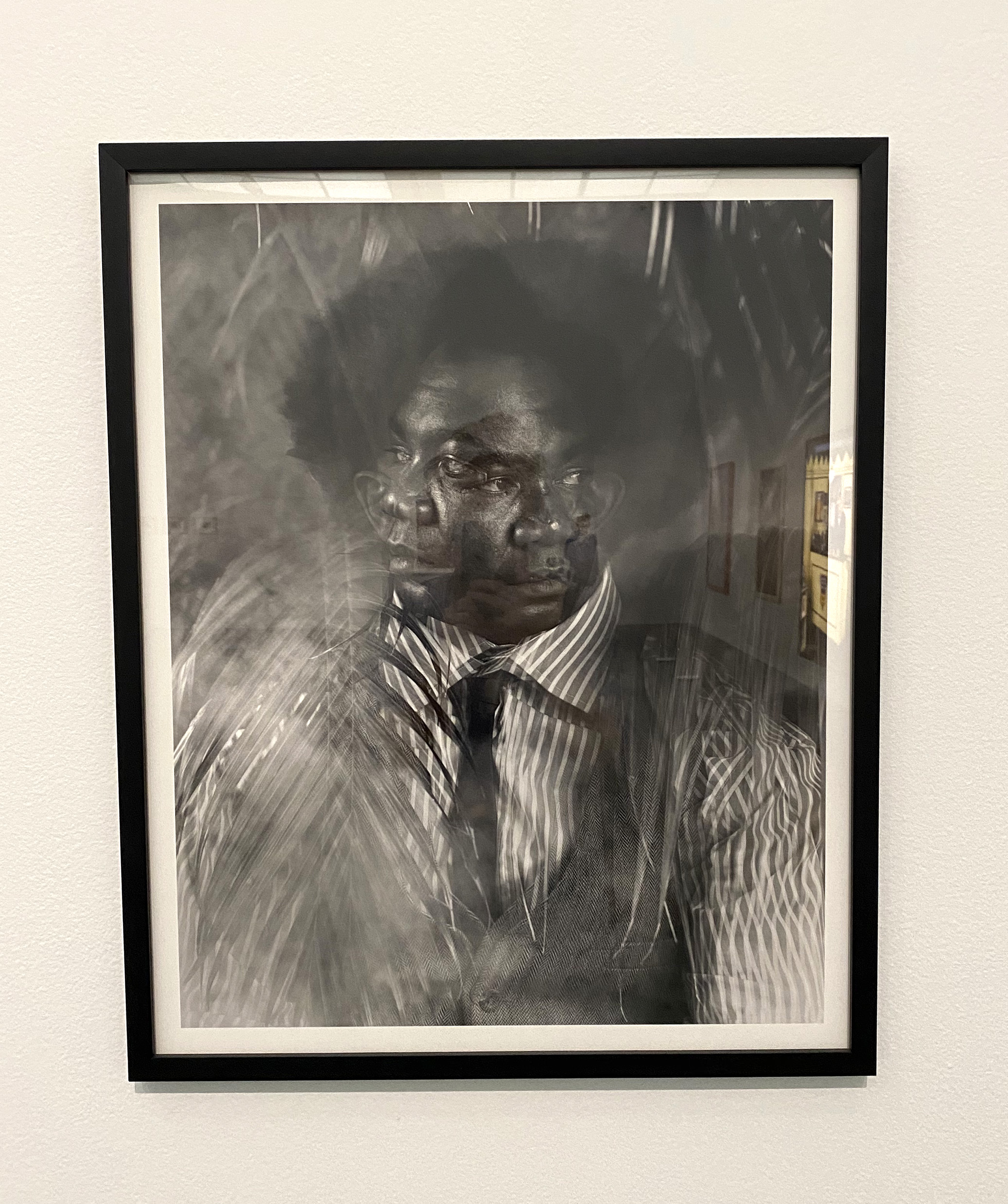 Rashid Johnson (American, 1977), The New Negro Escapist Social and Athletic Club (Marcus), (2010), archival pigment print, Collection Museum of Contemporary Art Chicago, Gift of Sara Albrecht, 2011.48, Photo: courtesy of the author.

-
Citations:
"Information." MICHAEL RAKOWITZ, http://www.michaelrakowitz.com/information.
Andrew Mango Atatürk: The Biography of the Founder of Modern Turkey, Overlook Press, 2002, ISBN 978-1-58567-334-6, [1]

"Based on a True Story . . ." MCA, https://mcachicago.org/exhibitions/2022/based-on-a-true-story.

Lambert-Beatty, Carrie. "Make-Believe : Parafiction and Plausibility." October 129 (2009): 51–84. http://www.jstor.org/stable/40368563.

Lambert-Beatty explains: "Fiction or fictiveness has emerged as an important category in recent art. But, like a paramedic as opposed to a medical doctor, a parafiction is related to but not quite a member of the fiction category as established in literary and dramatic art. It remains a bit outside. It does not perform its procedures in the hygienic clinics of literature but has one foot in the field of the real. Unlike historical fiction's fact-based but imagined worlds, in parafiction real and imaginary personages and stories intersect with the world as it is being lived. Post-simulacral, parafictional strategies are oriented less toward the disappearance of the real than toward the pragmatics of trust. Simply put, with various degrees of success, for various purposes, these fictions are experienced as fact."

There is a great deal of literature on the psychology of fiction. Here I reference studies that indicate that the neural network responsible for understanding fiction does so primarily by replicating a similar neurological response to the experience as if it were something in real life. A character in a text burns their hand, and your neurons fire in a process that simulates you burning your hand. For extended clarification on the subject, a great text is Keith Oatley's Such Stuff as Dreams: The Psychology of Fiction. (Hoboken: Wiley, 2011).

-
7.27.22
Megan Bickel [she/they] (MFA, MA) is a trans-disciplinary artist, data analyst, writer, and educator working at the intersections of painting, new media, and data visualization. She is the founder and organizer of houseguest gallery in Louisville, Kentucky.