Brennen Cabrera in their studio
Brennen Cabrera
Q&A
Nathaniel Hendrickson

Based in Louisville, Kentucky, Brennen Cabrera (age 26) brings forth a unique perspective partially shaped by a diagnosis of autism at a young age. Through their self-taught artistic practice, Cabrera explores various themes, including queer identity, neurodiversity, and the grime beneath the glamor of pop culture. With a keen sensitivity to painting and sculpture reminiscent of great artists like Francis Bacon and the queer Viennese Actionist group Gelitin, Brennen's visceral mixed-media paintings and sculptural works combine conventional drawing and painting materials with unconventional surfaces and constructions. Their fusions reveal provocative, abject imagery that blur the lines between clear eyed confession, opacity and erasure. Recently, they have ventured into performative work, employing immersive theatrics and provocative actions of self revelation that often assault the senses, echoing Antonin Artaud's theatre of cruelty. By delving into profound and singular subjects, Brennen's art serves as a catalyst for discourses around neurodiverse queer identities and non-hegemonic masculinities. Their performances seem to act as repositories for unrequited desire and the carnal prayers that underlie the austere modesties and rituals of everyday life. I had the privilege of speaking with Cabrera in their studio as they prepared for their performance event, Sparkling at Carbon Copy in Louisville.
This interview has been edited for clarity.
Nathaniel Hendrickson:
Can you talk a little bit about the origins of your artistic practice? When did it occur to you that you were making art?
Brennen Cabrera:
I think a lot of my work came from growing up listening and watching a lot of TV and movies that were not so child friendly. I would watch
The X-Files
and sometimes my family would have on
Law and Order
. After a while, I started to get into more macabre stuff, like
Halloween
.
In fact, I didn't start feeling the aspects of my disability until I was in middle school, and I think a lot of those early interests in TV and movies were related to it.
When I started making work, it was very vulnerable. At the beginning, the work was colorful and vibrant and there was a lack of care for what I was doing. I was still experimenting. Going into Highschool, I realize that I was very isolated. I started to watch a lot of obscure movies, especially Grindhouse films from the seventies and eighties. I was mostly shut in, and so watching a lot of arthouse movies and films that were very grim, especially films that tackled difficult subjects or were considered controversial, I think they helped me to find relativity in being different. And it seemed like the more serious themes connected more to my brain.
Also, I should mention that I'm self-taught. I didn't go to art school. I did briefly try to go to art school for a week and decided that it wasn't for me.
NH:
What role does language play in your work and how does it relate to the body? And what about your own body?
BC
: Sometimes it feels like I'm the only one who is feeling these things when I know that I'm not. But I know that whatever I put on the canvas or do during a performance, I feel reassured knowing that I'm not the only one feeling those things.
When it comes to the body, viscera comes to mind. In terms of words, I think that challenge is a big word that guides my practice.
For example, I want people to be challenged by their relationship with viscera and the thoughts or feelings that come along with it. I enjoy people's reactions to the more visceral elements in my work. Some people might say, oh that's disgusting, that's vile or that's cute. But honestly, that's what we're made up of on the inside. I am interested in why we fear this or why we are also fascinated by this.
Other concepts that guide my work, I think a lot about eroticism, carnality, and sexuality. Even though
Sparkling
(the performance at Carbon Copy) doesn't directly deal with sexuality, I plan to incorporate it in future performance work.
I find that another word that comes to mind with my work is transgression. For me, the celebration of transgression through queer expression is something that resonates with me.
NH:
What brings you joy? What inspires you right now?
BC:
Things that bring me joy are movies, exploring new places, those times I don't feel alone, the relief after catharsis, those moments of happiness that feel like a movie.
Lately, I haven't been spending much time in the garden or watching films, which are usually sources of happiness for me. But these elements are now being incorporated into an upcoming performance. I'm trying to step away from the deep, heavy stuff that's been going on and find some healing. It's a way for me to reconnect with the things from my past that bring me joy.
Sparkling
is a space between healing and pain. It's an exploration of different emotions and moments of relief. There's a brief sense of catharsis after completing a piece like this, as if I've purged something. It's a momentary relief, and I don't have to dwell on those intense emotions for too long.
NH:
How would you describe the atmosphere you create in your exhibitions and how this is related to your performance practice? I'm thinking of your paintings and sculptures that often seem like the remains of an action or a process that the material has passed through or seems to have passed through or has a kind of ritualistic aspect.
BC:
When I first considered delving into performance art, I immersed myself in various resources. I watched numerous documentaries and read extensively about this artistic form. One particular influence during that time was Marina Abramović, although I have mixed feelings about her work. While I appreciate some aspects of her art, I also find it overrated. I felt the need to explore other artists, such as Chris Burden, who intrigued me with his unique approaches. Another notable influence came from Herman Nitsch and the Viennese Actionists.
As for my own journey, meeting Hannah DeWitt played a significant role in my decision to pursue performance art. Without that encounter and subsequent friendship, I may have never ventured into this realm.
NH:
Can you talk about the evolution of your performance practice and seeds for the work called
Sparkling
that you are planning to share at Carbon Copy in June
?
BC:
Sparkling
came from an experience I had at Pride in 2020. I was amidst a healing process, trying to recover from retraumatizing myself with
Come to Church
. Despite that, I decided to attend the event. Trying to avoid the nonsense, I ran into a few familiar faces and was offered some glitter. I applied it to my face, chest, and other areas. Then I visited a booth that focused on suicide awareness, where I obtained three strands of beads. Each color represented something significant: one symbolized a person I knew struggling with suicide, another represented my own personal struggle, and the third showed support for suicide awareness in the LGBTQ community. Sitting on the ground, I stared at the beads, contemplating their meaning. It's unclear whether the beads triggered me, but my mind went blank, and I eventually walked the two-and-a-half-mile journey back home. I don't drive, so I walk everywhere. Upon arriving, I relapsed and resorted to self-harm which resulted in cuts all over my body.
So, I contacted Shohei and asked if I could do an action inspired by that event.
For me,
Sparkling
is in contrast to the more vulnerable performance,
Come To Church
. Embracing queer identity, it incorporates glitter, flowers, and emphasizes accessibility. Unfortunately, today's corporate-sponsored Pride events mask bigotry for profit. In the past, Pride was a community-led protest, not driven by harmful and exploitative companies in the many ways that it is now. So, in some ways the work is a reflection on that broader social and political situation but it's also a deeply personal and singular action.
NH:
How do you structure a performance? Do you make a score, or do you have a series of instructions that you go by?
BC:
So, I think the process is just something that comes with time. To be honest, I feel my performances are not really structured. I just let people, not every day, pass by me, and whatever pops into my head, I go, "Oh, this and this" That's why usually with my process, like big, large-scale performances, I give myself a lot of months to work on it, to think of this idea because there are a lot of elements involved, like with
Come to Church
. I love epic-scale stuff. I love powerful stuff. I love long-ass movies that are like 5 hours long. I just love grand things and stuff of that nature. And so, with
Sparkling
, I realized that I needed to focus on it for a lot longer than the short period of time I had to develop
Come to Church
. The ideas just develop over time. And then, once it gets to a certain area where we're like, "Alright, this is the idea we're going to be working on right now," then I start getting down to writing everything, scripts, and everything of that nature. So, with
Come to Church
I was basically all on my own doing the notes, tools, and everything. Now I'm doing the notes, instructions, rentals, and all that other stuff. And now with
Sparkling
it involves ten plus people and a theater director, Martin French, who I met at Carbon Copy a couple of years ago. And he reached out to help. So it just turned into this whole theater production where I'm basically a creative director and producer. I'm doing spreadsheets, visual instructions, because a lot of the people in this performance are neural-divergent and need accommodations. I write down clear, concise instructions for every one of them. Nowadays with performances, if I do another big-scale piece like this again, it will likely be treated like a theatrical production. So, the process is always changing.
NH:
How important is care in your work? I see a lot of violence and your work does have a lot to do with self-harm and in some ways social and political violence.
BC:
Despite what you see in my work, I am always considering the people around me and knowing that even though there are aspects that say, "Take this art personally," you learn something from it. There's a lot of violent subject matter, but also at the same time, I want people to know that they won't be in a situation that will completely harm them or trigger them. I wanted to try to leave some vagueness in the trigger warning for this one because I wanted to make something surprising but at the same time give them an opportunity to reach out to me and find out what else is going on, which is why I left it vague. So, care is always on my mind when it comes to my crew, my audience. I think that's a challenge because you need to build a lot of trust and communication with your audience. But it's something when doing work like this because it's not easy work. It might be easy to paint something like a flower or something of that nature, but when you're really digging deep into yourself and exploring those areas that you want to distract yourself from, some people want that, but others don't have that type of capacity, so you must let them know beforehand about those things. Care is one of my biggest priorities, especially when it comes to work like this. I don't want people to be thinking, "I am out to get them."
NH:
Are we going to hear you sing at Carbon Copy?
BC:
No, it will be completely silent. It's a work in silence. I might sing afterwards, though, because if I'm the last thing in Carbon Copy then, I mean, we better have a fucking party afterwards.
Still from
Sparkling trailer
(2023)
Performance of
COME TO CHURCH
(2022). Photo courtesy Bill French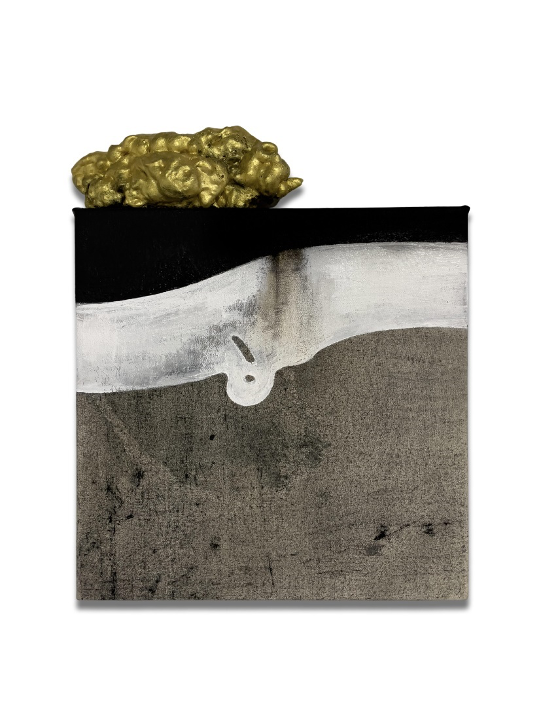 nugget
(2023), Acrylic and spray foam on raw canvas
found again
(2022), Acrylic, spray paint, spray foam, charcoal on stiffened canvas, 1 of 3
Brennen Cabrera in their studio
-

6.17.23; revised on 6.24.23

Nathaniel Hendrickson is an interdisciplinary artist, painter, curator, documentary filmmaker and freelance producer based in Casey County, KY.