Driving the discounted art of drag forward: Zsa Zsa Gabortion's design details demonstrate divine artistry

Profile
Spencer Jenkins
Glamour, glitz and debauchery filled 1950s Hollywood and at the center of it all was the actress, Zsa Zsa Gabor. Having made headlines as a bombshell blonde with Jewish roots claiming to have danced with Adolf Hitler—not just once, but twice—Gabor's name scattered across the tabloids until her death in 2016.
Gabor, the "husband collector" as many knew her as, was a force and phenomenon difficult to describe by her celebrity and socialite peers—little did they know that she would inspire girls, gays and "theys" with her flamboyant lifestyle for decades to come.
One such gay, Demeter Castillo-Rightmyer, also known as the drag artist Zsa Zsa Gabortion, said she originally based her drag duo performance number on Gabor and sister, Eva.
"My performer name changed a couple times before I realized that Zsa Zsa was just my name regardless of what kind of drag I [wore]," Gabortion said.
Gabortion, known for her hysterical and sometimes darker performances of pop culture characters like "Barb" from
Stranger Things,
"Pearl" from the movies
X
and
Pearl
all the way to Colonel Sanders of Kentucky Fried Chicken, creates each look from scratch. Can she work an audience with wit, charm and vulgarity? Of course, but the countless hours of planning, craft, design and execution of one performance look must not be ignored. Drag queens are true artists.
"I think the unfortunate thing about most art forms, particularly in late-stage capitalism, is that the final product is all anyone cares about," Gabortion said. "The casual observer of a drag performance has no idea what went into the costuming, the hair, the makeup and really only cares about the entertainment in that exact moment. A single drag performance can represent the culmination of dozens of hours of work by many different people!"
Not only is Gabortion known for her personal costume designs donned on the stage at PLAY Louisville, Le Moo Drag brunch, and countless other venues in the southeastern region of the United States, but Gabortion also gained notoriety with designs for RuPaul's Drag Race and Dragula star, Jade Jolie. However, she didn't start out her career designing costumes and performing with confidence—she started, like all drag artists, a baby queen.
"Like most tragic figures, my drag journey began on a fateful Halloween many, many years ago and I decided I was 'going in drag' for my costume at work," she said. "I borrowed a skirt from a friend, tucked a button up into it and did makeup that at the time, I considered good 'female' makeup and styled my hair."
After that Halloween, Gabortion decided that drag was something she really wanted to do in the future, but didn't set foot on stage for another 10 years. She took lots of time to prepare for her official drag debut by teaching herself makeup and sewing via youtube.
"My first few cautious outings in Louisville were to The Connection with friends where I decided to dress up in costumes I had made for myself from following tutorials or patterns haphazardly combined with what I thought of as 'club kid' makeup at the time," Gabortion said. "It was more about creating a look than anything else."
She then joined The Sisters of Perpetual Indulgence, a charity, protest, and street performance organization that uses drag and religious imagery to call attention to sexual intolerance and satirizes issues of gender and morality, where she started playing with makeup and gender in a way that wasn't as closely scrutinized as "club drag." Gabortion was also able to mix her love of drag with charity work which "truly spoke to her."
One of the greatest barriers to beginning drag is costuming, Garbotion said. New queens are frequently read (made fun of) for wearing primarily ready-to-wear and hand-me-downs. Though she had her store-bought pieces, she realized that all the queens she looked up to wore custom costumes and clothing items.
"Well, I own a sewing machine and I know where to buy fabric—I guess it's time to figure this shit out!" Gabortion said. "I was lucky to grow up with a very crafty mother—she was always working on something, whether quilting or baking bread."
After being gifted her mother's old sewing machine, Gabortion was determined to master it. Just like with learning makeup skills, she again turned to YouTube. She pulls inspiration from Louisville native and Project Runway's Gunnar Deatherage as well as extremely talented Black women running custom dress businesses like Daniela Tabois.
"My costume would be nothing without Black women," she said.
Like Gabortion, all modern drag queens owe their careers to Black and Latinx people. Although aspects of drag date back to the ancient Greeks, most of what we know of drag culture today was born out of Black and Latinx queer culture.
William Dorsey Swan is widely known as the first "Queen of Drag." He was born in 1858 as an enslaved person until emancipation on January 1, 1863. During Swan's life, he threw "balls," competitions between queens who perform different drag genres and categories for prizes or trophies, with his group of friends and mentees, or "House" of Swan.
Swan's influence on drag led to the more well-known ball scenes of the mid-20th century in Harlem where "voguing," or dancing to music in such a way as to imitate the characteristic poses struck by a model on a catwalk.
In the 1990 documentary
Paris is Burning
, Willi Ninja described voguing as a way of "throwing shade" or criticizing opponents on the dance floor. Terminology as stated in the above paragraphs can be seen in all modern drag across all races. There are even challenges between contestants on RuPual's Drag Race that involve reading and voguing.
"We would be nothing without the founders of drag and ball culture," Gabortion said. "Black women have taught me so much about pattern making and proper finishing techniques [to my costumes].
Garbotion's design process varies depending on the needs of the design, she said. Sometimes she spends months coming up with high-concept looks because of being inspired by an image, song, or vague idea.
"Sometimes I sketch out multiple ideas and sometimes there's no sketch and I just see fabric I like and buy it because an idea occurs to me," she said.
For example, Gabortion recently dressed as "Barb" for a
Stranger Things
inspired brunch. She spent time researching images of Barb and rewatching her appearances on the show. She then inventoried potential accessories that went with Barb's character and recognizable costume pieces to complete the look. From there, she determined that she needed a gingham checkered blouse with a tie around the neck and some lace details.
"As a plus size queen, thrifting pieces like this can be a real crapshoot so it was simplest to make it myself," Gabortion said. "I spent time shopping for fabric and trims and found an approximation I was happy with—I then set out to draft a pattern for a blouse with some details I thought would read nice on stage as well as provide some interest to myself to sew."
After drafting the pattern she spent a couple nights after her restaurant industry day job getting it sewn. Due to her skill, pieces don't take Gabortion too long to put together. She also saves every pattern she's ever made so she's less likely to draft something from scratch.
"I can usually modify something existing that I already know will fit," she said. "From there, it's a matter of lining up the rest of the details in hair and accessories, doing my makeup and showing up on time for brunch!"
Speaking of queens, Gabortion had the privilege of designing Jade Jolie's costume for Taylor Swift's
You Need to Calm Down
, music video. She spends more time on costumes like Jolie's and hyper-focuses on details, describing herself as a "terminal pedant."
"I joke a lot of times that my drag is for the nitpickers in the crowd," she said. "I derive confidence and power from knowing that I have stepped out of my house with every detail correct."
The labor intensive art of drag will grow more appreciated than just for a one-hour sticky champagne brunch. Just like the works of Picasso and Warhol, people will study the works of RuPaul and Gabortion that line the walls of museums and posh collectors' homes. Their influence on art and culture will live on for generations.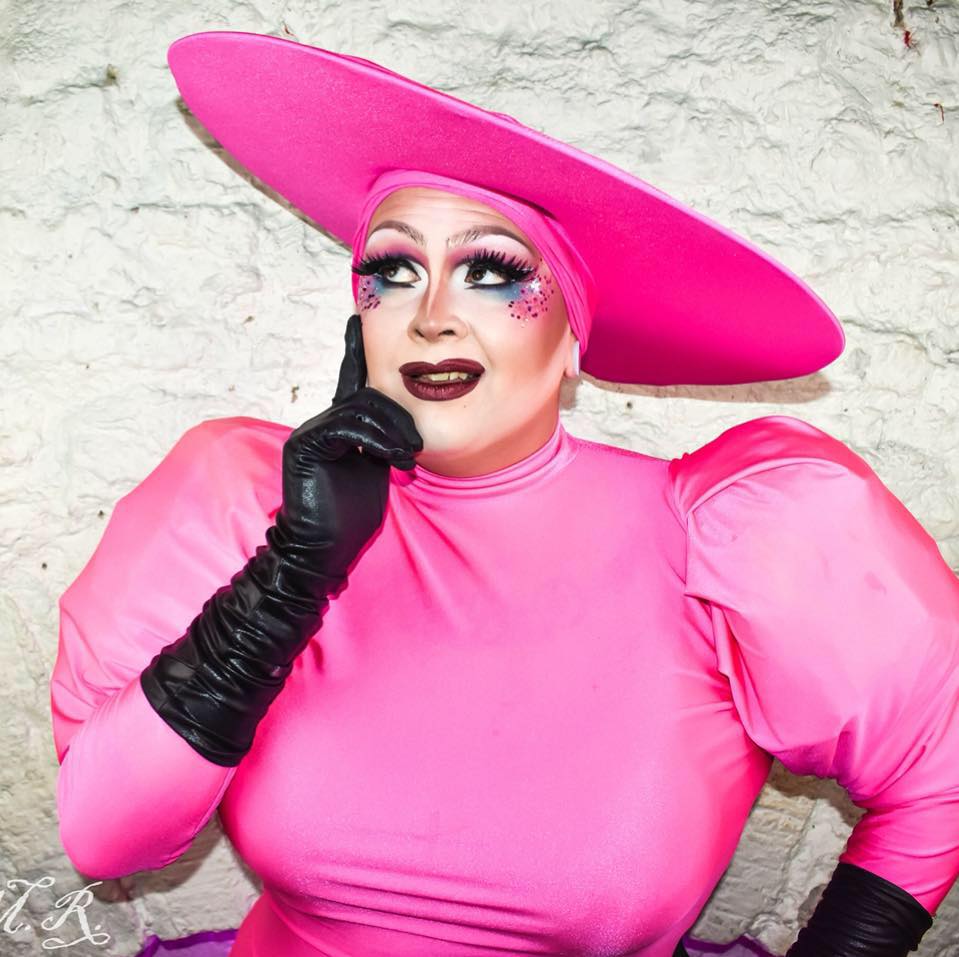 Zsa Zsa Gabortion, Photo by Trayla Parks.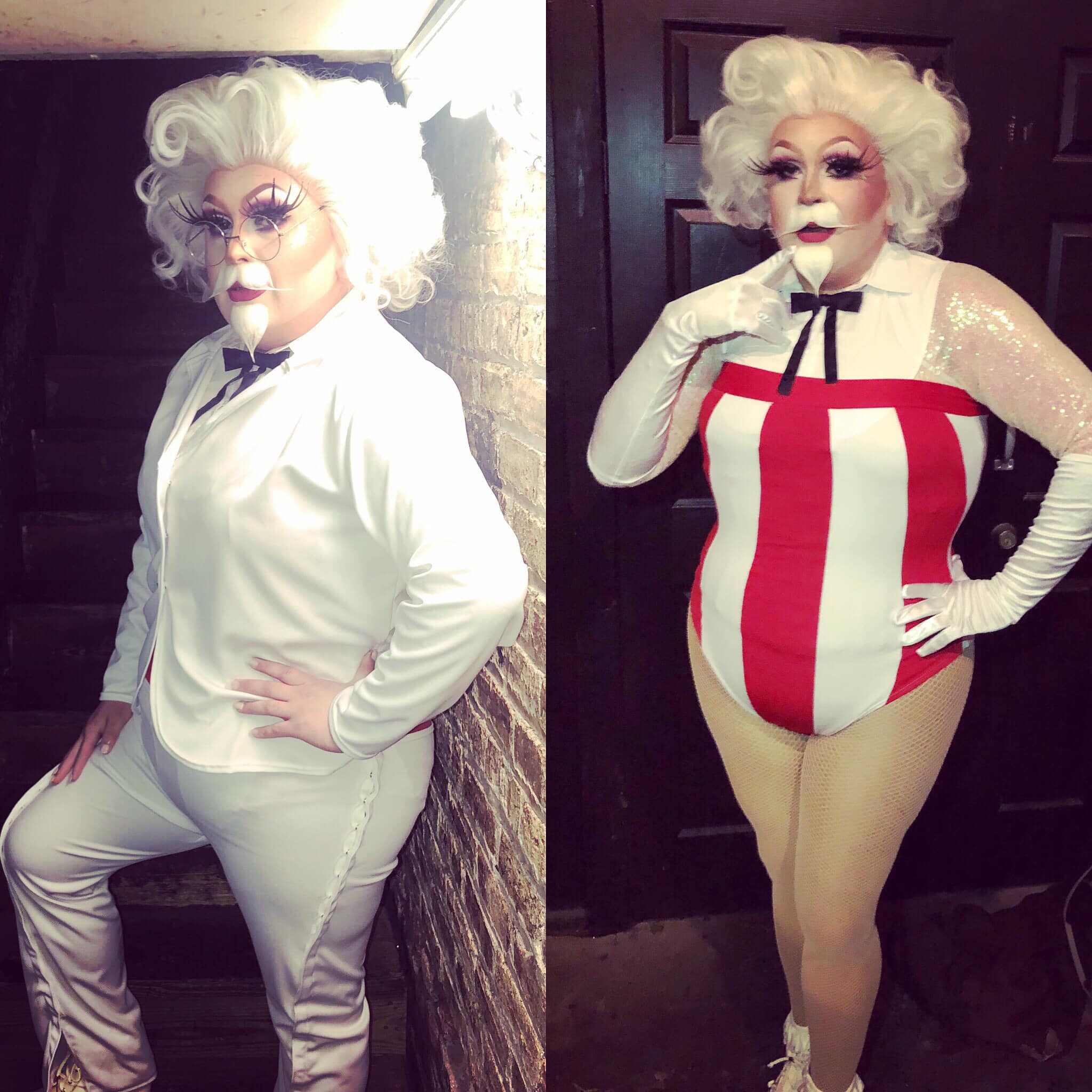 Sexy colonel Sanders
created for a 2018 Bourbontown Burlesque showcase. Photos by Umi Naughty.
The Weed Gown. Photo by Umi Naughty

.
Houndstooth neck corset. Photo by Zsa Zsa Gabortion.
Le Moo Drag Brunch's Stranger Things brunch, and features Stevie Dicks as Eddie, Eris Jolie as Robin, Champagne as Joyce, Gabortion as Barb and Umi Naughty as Will. Photo by Duncan Cherry.