Echoes
︎ Blue Spiral 1, Asheville
Review
Jessica Oberdick

Overwhelming feelings of nostalgia and melancholy capture my attention in the black and white charcoal drawings of Reuben Negrón. Recently on view at Blue Spiral 1 in Asheville, NC, Negrón's new series
Echoes
consists of highly detailed, meticulous drawings that reproduce bare interiors and sweeping landscapes. Despite his devotion to realism, there is no rigidity in his compositions. His works are atmospheric, hazy, and carefully balanced in shadow and light with areas of fine line perfectly blending into areas of unfocused fluidity.
Echoes
falls into what Barry Schwabsky defines as
new Romanticism
, a genre of art descending from its 18th century cousin that is full of longing and nostalgia. Within the genre, artists use the landscape as a tool for representing emotion.
1
Negrón's piece
Untitled (Echoes no. 9)
, for example, depicts a landscape of steep boulders forming the bank of a river that merge into a dense forest. Centered in the work a single figure stands with their back turned to us, head angled down, their posture forlorn. Light escaping through the thick leaves illuminates the upper back of the figure and is all that prevents them from disappearing into the trees. The emotive qualities of the work stem from the slumping of the figure's shoulders and are reflected in the still water and dark forest. This triggers a sense of quiet alienation that prevents us from feeling present in the work, a feeling of unease that interrupts our ability to appreciate the work for its aesthetic qualities alone.
These feelings are the lingering sentiments that unite all of Negrón's
Echoes
series. In
Untitled (Echoes no. 5)
our view is from the vantage point of a hallway: light pours down from the staircase on the left and directly ahead, a cluttered room soaks in atmospheric dust illuminated by a large window. At the base of the stairs, a trash bag and dustpan lay discarded—it is this hint of the lingering presence of others that interrupts the work
'
s otherwise mundane composition. The landscape
Untitled, (Echoes no. 6)
uses a similar feature to throw the viewer off guard. The drawing depicts a simple field
,
in the foreground abandoned equipment rests on carefully rendered blades of grass that appear dimensional enough to grab, but as the image recedes a thick fog lightly masks the diminishing landscape. In an otherwise bucolic landscape, the equipment serving as the remnants of human activity imbed the work with a feeling of abandonment. The presence of human production in Negrón's pastoral scenes contribute to what becomes an incomplete narrative within his works. Realizing both the presence of and incomplete nature of this narrative creates a work that simultaneously includes and excludes the viewer.
In the essay
Non-places
, Marc Augé defines the titular term as the result of what happens when humans no longer recognize themselves in a space. While the causes of non-place can arise from a myriad of reasons, a non-place occurs for the average individual due to a culture of over-excess.
2
Contemporary culture is oversaturated with images—of which we encounter through the media, our devices, and social media. We are consistently located in all places of the world, constantly connected yet constantly alone. We can "see everything" yet "do nothing".
3
This over-saturation of imagery results in our feelings of displacement. Suddenly all imagery, all places feel familiar. And it is this idea of non-place that is the exact emotive quality Negrón has captured in his drawings. He has skillfully managed to take what would be a simple, even an otherwise plain view of an interior or landscape, and embody it with an intimacy that is familiar but unreachable. In his references to human life, either through figuration, abandoned farm equipment, cleaning supplies, or a chain-link fence, we are able to grasp that we should or could be in these places, but at the same time we are alienated from them. Recognizing the characterization of non-place within Negrón's work, it becomes clear why the imagery feels so imbued with the emotive qualities of unease, melancholy, and even nostalgia, for we seem to be recognizing our own inability to connect with the world directly around us.
This inability to connect feels particularly mingled with the attributes of new Romanticism. While the emergence of new Romanticism dates back to 2005
4
its qualities—longing, nostalgia, the desire for a connection to nature—not only feel especially relevant today but are intertwined with Augé's theory of non-place. Augé speculates in
Non-places
that we are now more content to witness the world through imagery than directly connect to it.
5
Perhaps we often are able to find more connection in the display of the world than the world itself. But in the case of Negrón's work—we are reminded that we are alienated from the displays as well.
-
Notes:
Schwabsky, Barry. "New Romanticism" in Landscape Painting Now, NEW YORK: Distributed Art Publishers Inc, 2019. p.141

Augé, Marc, "Non-places" in Architecturally Speaking : Practices of Art, Architecture, and the Everyday, London: Routledge, 2000. p.8

Marc Augé, Non-places, p.8

Barry Schwabsky, New Romanticism in Landscape Painting Now, p.141
Marc Augé, Non-places, p.11
-
5.24.21
Jessica Oberdick (she/her) is an independent curator and writer whose research focuses on themes of identity and social perception. She currently works as the Exhibitions Assistant at the University of Louisville.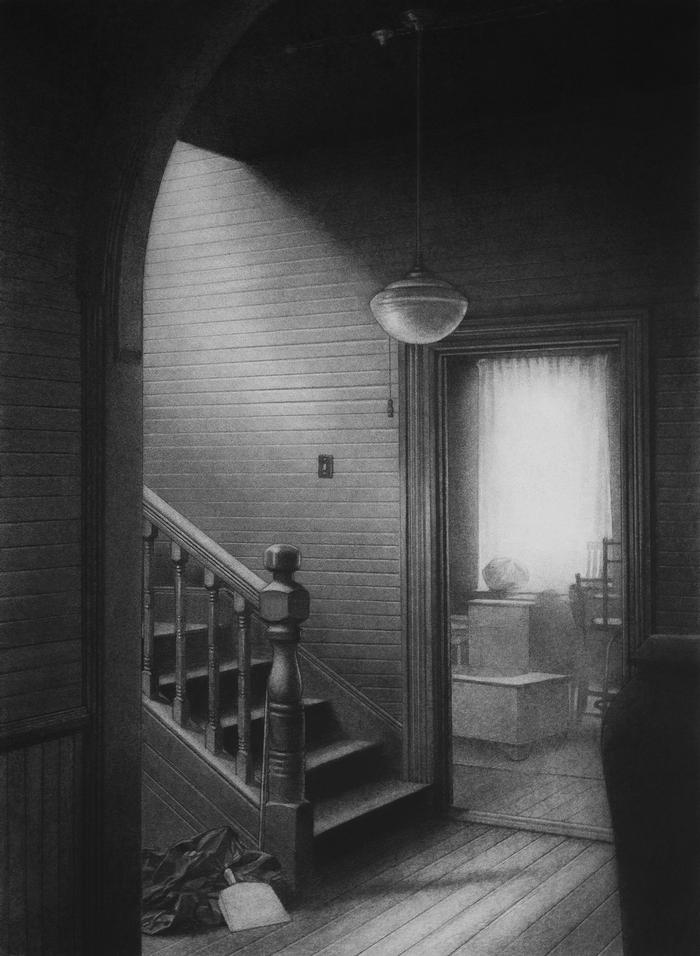 Untitled (Echoes no. 5)
, Charcoal on paper mounted on aluminum, 30 x 22 in. All images courtesy of the artiat and Blue Spiral 1.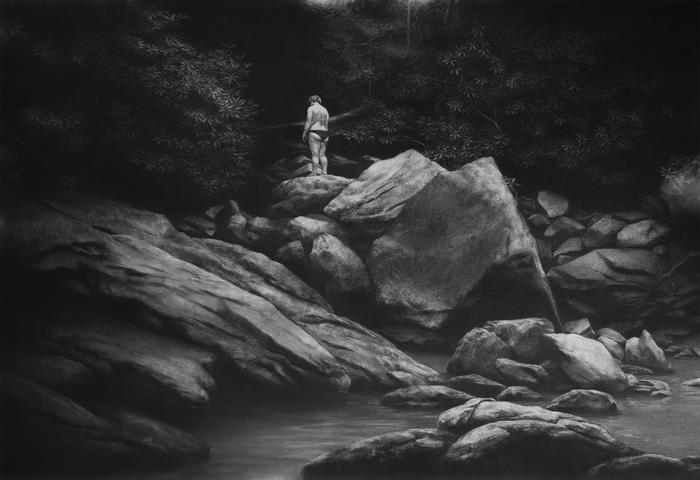 Untitled (Echoes no. 9)
, Charcoal on paper mounted on aluminum, 30 x 44 in.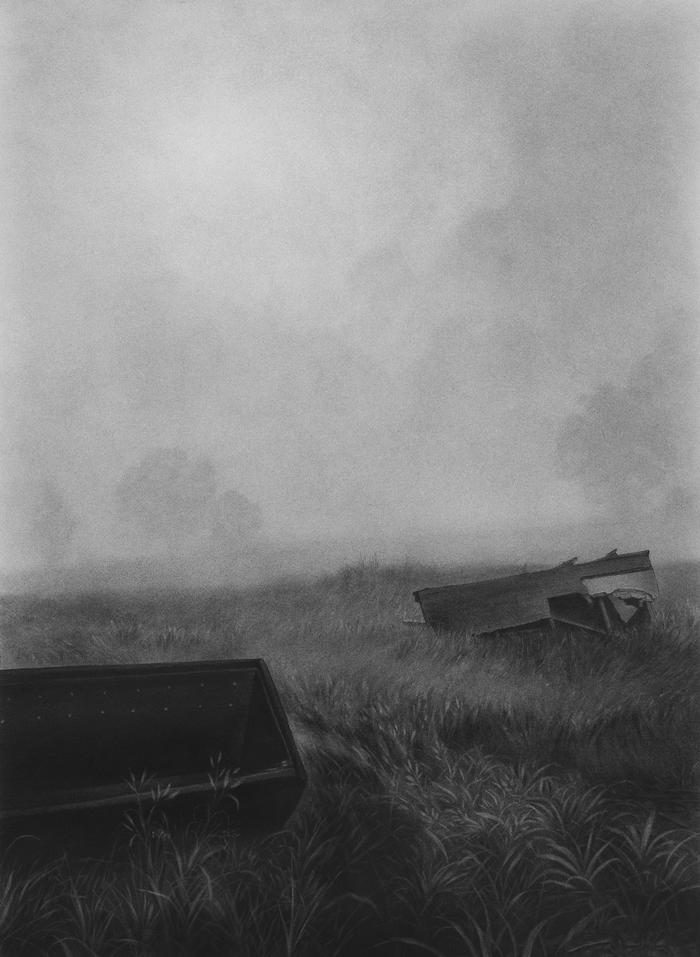 Untitled (Echoes no. 6)
, Charcoal on paper mounted on aluminum, 30 x 22 in.