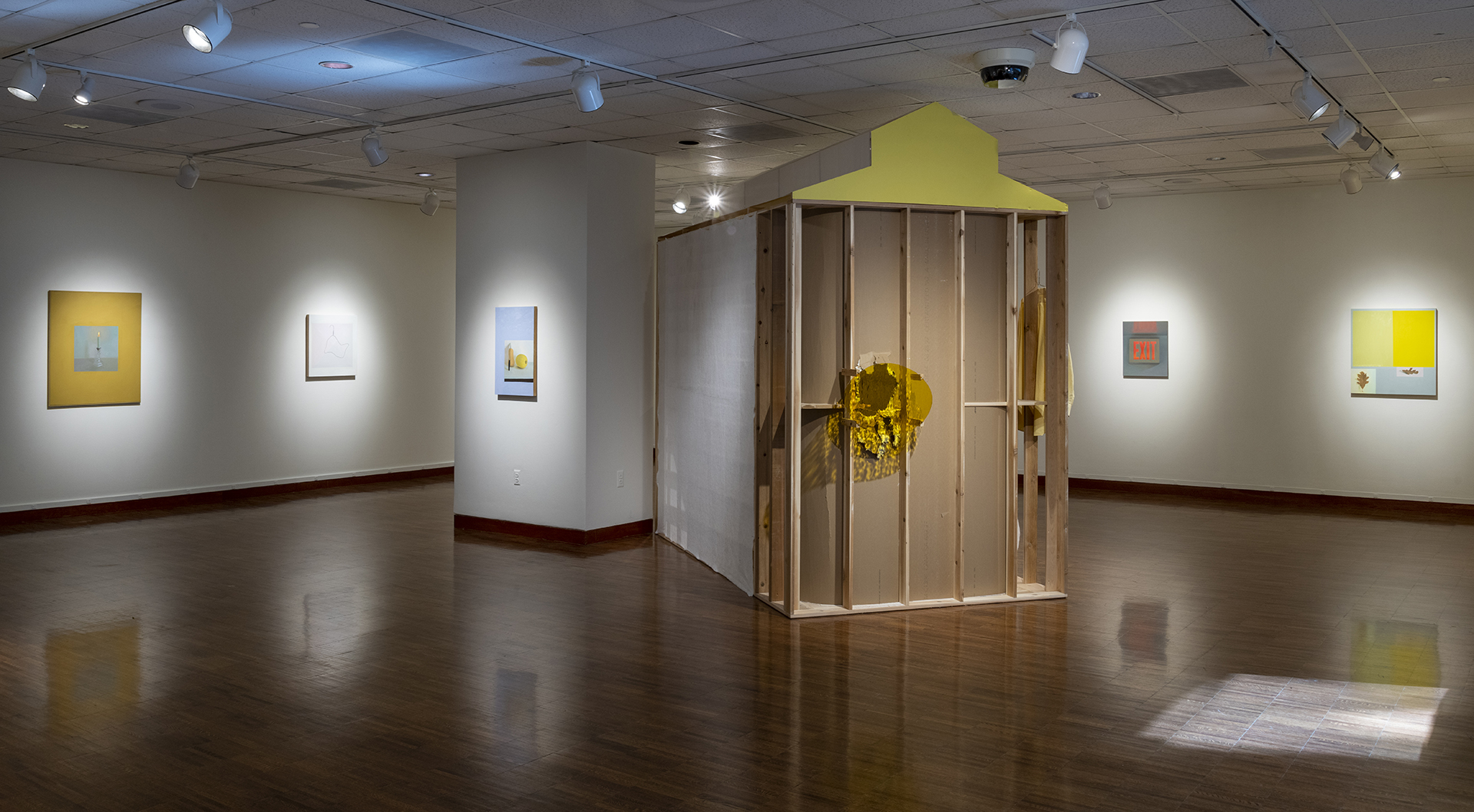 Above: Emil Robinson: Evidence, Installation view. All photos courtesy of Tony Walsh.
Emil Robinson: Evidence

Review
Megan Bickel
Orange Pyramid
(2020) depicts a stack of mandarin oranges on a gray table with a black background. The oranges waif in space and time, existing in ambiguity—declared by neither background nor light source, they are impeccably rendered. The oranges are not what hold my gaze, but rather, the table's surface. The surface reflects battling light sources, vibrating and shining across the surface of the painting. It requests that I deploy patience and quietly try to discover its appearance. Painting, the action, not the subject, is the performance of documenting that act of witnessing and resolving. This occurs minute by minute, day by day, sometimes month by month, and occasionally year by year. It is painfully tedious, romantic, tirelessly useless, fleeting, flexible, and critically important. However, I won't paint platitudes about the criticality of slowing down.
Emil Robinson's exhibition
Evidence
at Weston Art Gallery in Cincinnati, Ohio, is a festivity for painters. It excavates from their memory every painful still life painting and every desire to accurately figure out what makes a particular shadow a little bit of naphthol red, a pinch of phthalo green, a smidge of quinacridone, and a corner of lemon yellow simultaneously. Painting is, thus, universal, specific, and at times antagonistic. However, Robinson resolves this understanding and skill by never permitting grandiose paintings but rather patient executions of mundanity with tremendous affection and skill.
The artist refers to his preferred working methodology as "relying on a hunch." This hunch feels reminiscent of finding that which makes itself available to us–an omnipresent force implying we seek it out further.
Arrangement with Lit Candle
(2019) holds its own as an accomplished study, but it permits itself to be somewhat incomplete and sobering. What I find striking about Robinson's work is the consistent ability to tell me nothing and everything.
Lit Candle
does this. It consists of a soft yellow rectangle with a square vignette displaying a worn candle in a small glass or crystal candle stick, alone and seated upon an off-white, or perhaps birch, table. The wall maintains a white-blue hue. The candle and you, the viewer, are in a room with natural light; perhaps, it's a cloudy day. The flame casts a warm glow upon the wall, but it isn't harsh; perhaps the candle is close to the wall. Though monumentally simple, the painting is gratuitously generous in what it gives: I'm granted the opportunity to convince myself that meaning is represented by this lone light in a gray room. And here is the power of Robinson's exhibition—it casts painting as an ode to meaningfully observing moments and attempts to figure out how they happen. Though 'slowing down' and 'self-care' are platitudes with which Western society has commodified, it's a skill left uninstructed. Painting as an act is the careful concoction of respite, consideration, and slow problem-solving that nervous systems seem to require. Paint is enormous, even compared to more technologically impressive materials and subjects.
When entering the gallery, you see
Lit Candle
on the back wall, directly behind the back side of
Arena
(2023).
Arena
is an installation that takes the form of a three-dimensional symbol of a house under construction. The work is tall and narrow, contains a pitched roof, and consists of 1 x 3 boards and thin filament on the exterior. The interior has rectangular wood grids for walls, black and white square tile on the floor, and a gorgeous curved wall with a section carefully removed, intending to look like a rip in the plaster. This hole permits a yellow piece of transparent plastic with a wavy three-dimensional texture to distort any light entering the space and provides an atmosphere of yellow and teal waves across the top of the interior—a private place to indulge in the magic of light and form. It offers a moment to observe the same magic of light, form, and space that so characterizes Robinson's paintings. A decoder ring.
There are several objects of illumination throughout
Evidence
. When exiting
Arena
I noticed a painting of what appears to be, at first, a folded hanger, resembling an astrological marker within a black sky. Upon closer glance, we find that it is a
trompe-l'oeil
rendition of a folded hanger dangling fearlessly from a thumbtack that has been pushed into a corkboard with a black sheet of paper adhered to the entire surface. This work,
Arts and Sciences
(2021), surprises you with the meticulous rendering of transparent thumbtacks on black matte paper. A quick spin on the heels, and I found similar hangers:
Three Hangers
(2023). I worked to avoid diving too far into the Peircean semiotic wormhole—the sign and the signified being so close in proximity.
1
Another type of decoder, such as
Counter
(2023), is a sculpture consisting of twelve empty, unlabelled, green champagne bottles, repurposed as legs for a hickory countertop that are stripped-down incarnations of the paintings—observations of a moment, quieted from the chatter of objects, people, and yet still holding space for life. This is new work for Robinson, and its purpose within the exhibition never clarified itself to me, however that didn't negatively impact how I perceived it. Sculptural moments such as this had the same level of consideration and craft as the paintings. They read as moments for the viewer to summate in the same way he has for himself.
Robinson's paintings of oranges and squash, button-downs, and t-squares are too joyously earnest in their presentation and story. Here, I'm asked to consider the reality
physically
before me, not the imagined and intellectualized interpretation of my understanding. And though I find that helpful, there is something philosophically endearing about standing still. Something decidedly thoughtful and exhaustive.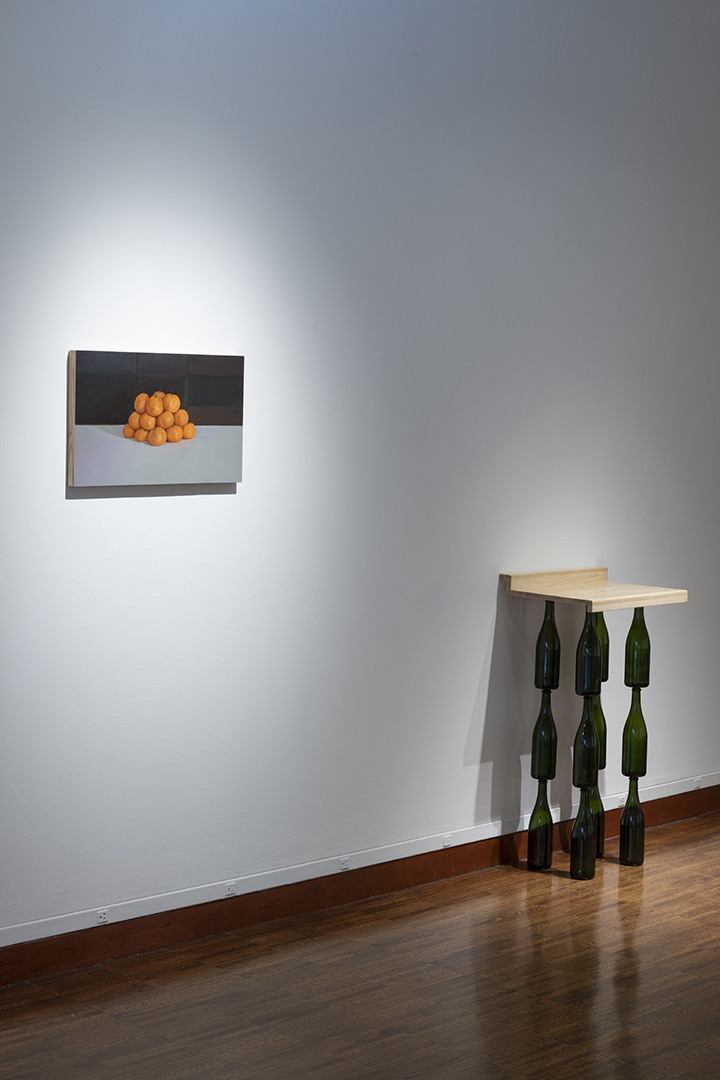 Emil Robinson,
Orange Pyramid
(2020), oil paint on panel, 15" x 24" From the Collection of Joseph Previte & Andrew Bell.
Emil Robinson,
Arrangement with Lit Candle
(2019) oil paint on panel, 40" x 30" From the Collection of Cole Carothers.
Interior detail of
Arena
(2023).
Installation view of
Emil Robinson: Evidence
at Weston Art Gallery.
Notes:
1. Peirce's Sign Theory, or Semiotic, is an account of signification, representation, reference and meaning. Although sign theories have a long history, Peirce's accounts are distinctive and innovative for their breadth and complexity, and for capturing the importance of interpretation to signification. To summate, the argument holds that a picture relays an idea to the viewer as an object, however it is never the object itself, and thus the sign is never that which is signified.
-
Emil Robinson: Evidence
was on view at Weston Art Gallery from January 20 through March 5, 2023.
-
6.xx.23

Megan Bickel [she/they] (MFA, MA) is a trans-disciplinary artist, data analyst, writer, and educator working at the intersections of painting, new media, and data visualization. She is the founder and organizer of houseguest gallery in Louisville, Kentucky.