Above: Installation view of Emptiness and Substance, courtesy Quappi Projects.

Emptiness and Substance
Review
Anna Blake

Through vinyl-coated yarn, Deborah Levine invokes ambiguous forms in her hand-knitted work, allowing the material to appear organic despite its static rigidity. These pieces emerge from the walls in a quasi-three dimensional manner. In
Linearly,
five vertical lines erupt from the gallery wall, varying in length and stopping just short of the floor. Their form resembles hanks of yarn, perhaps hanging to dry. As the viewer moves closer, loops and stitches reveal themselves, transforming the piece into one reminiscent of a shed snake's skin. Similarly,
Whole Cloth
appears deceptively fluid. Invoking the draped canvases of Louisville-artist Sam Gilliam, Levine's piece layers monotone vinyl-coated yarn. Depending on the layering, the piece shifts from opaque to translucent, exposing the unique properties of the medium.
Echoing this use of unconventional materials are Bette Levy's finger-knitted wire pieces,
Eruption
and
Geysir.
Super-fine strands of copper wire nearly blend into the walls, their shadows almost more visible than the piece itself. Though static, they seem to flit in and out of view as the eye makes its way from metallic flashes, shadows, and organic forms reminiscent of patterns found in snakeskin or fishing nets.
Part of
Emptiness and Substance
, on view at Quappi Projects until October 30th, 2021, these pieces by Levine and Levy are presented in conversation with each other. Sharing a similar aesthetic language, their work consists of knitted and crocheted materials that diverge from the archetypical fiber art toolbox. Having met through
Louisville Area Fiber and Textile Artists
, this is Levy and Levine's first time exhibiting together. Their work affirms the binary of gender as it relates to labor division—a theme not uncommon in fiber art—as it upholds craft in a time when self-sustainability feels increasingly relevant.
It isn't a coincidence that, somehow, every millennial I ask will say their dream is to live on a self-sufficient homestead. We are acutely aware that many of the luxuries afforded to us thanks to a globalized economy will become less reliable with extreme climate-induced weather patterns. Additionally, the fatigue of navigating through a post-MAGA America, rising costs of living, and a pandemic-induced supply chain failure has made the idea of living off the land and making our own goods not just sound favorable, but downright seductive. But self-sufficiency has its barriers, and the high labor commitment required for it is a big one. So, we compromise. We bake our own bread, pickle whatever we manage to grow in our balcony gardens, and teach ourselves skills that we never thought we'd use beyond home economics class. It's with this reality—and that future—in mind that these works become recontextualized.
In her 1978 essay "Something From Nothing (Toward a Definition of Women's 'Hobby Art')," Lucy Lippard compares the stitch, so synonymous with the labor of self-sufficiency, to "the ancient, sensuously repetitive, Penelopean rhythms of seeding, hoeing, gathering, weaving, spinning, as well as to modern domestic routines."
1
In this context, Levine's use of unexpected and industrial materials with Levy's contrasting of radial crocheted forms and farm tools shifts their work into a representation of craft at its core: not to be relegated to the under-validated realm of "women's work," but rather as the act of making something out of nothing; ungendered labor crucial to a society, pre-, peri-, and post-industrial.
I felt most drawn to Levy's radial works like
Compass
and
Solar Flare
, paralleled by Levine's
Tree Rings
with their rounded forms repeated by looped stitches. While Levy's radial crocheted pieces are often interpreted as a comparison between binary coded labor, these works felt different. With
Solar Flare,
a pair of rusty two-person saws frame crocheted nylon starburst, suggesting collaboration rather than individual responsibility.
In conversation with each other, Levy and Levine's pieces remind us of the non-linearity of time in a time when we are hyper-aware of our place in history. They feel refreshing, even comforting in the face of climate grief and anxiety as they recall an alternative way of living, detached from our dependencies as consumers and, ultimately, allow us to envision a future.
-
Emptiness and Substance is on view at Quappi Projects in Louisville through October 30th, 2021.
Citations:
Lucy R. Lippard, extract from "Something from Nothing (Toward a Definition of Women's 'Hobby Art')," Craft: Documents of Contemporary Art, ed. Tanya Harrod, (Cambridge: MIT Press, 2018), 31-36.

-
10.26.21
Anna Blake (she/her) is an independent curator and writer, and an editor for Ruckus. She is a recent graduate of the University of Louisville, where she earned her MA in Critical & Curatorial Studies.
Left to right: Deborah Levine, Whole Cloth; Bette Levy, Truncated; Bette Levy, Compass; Deborah Levine, Linearly.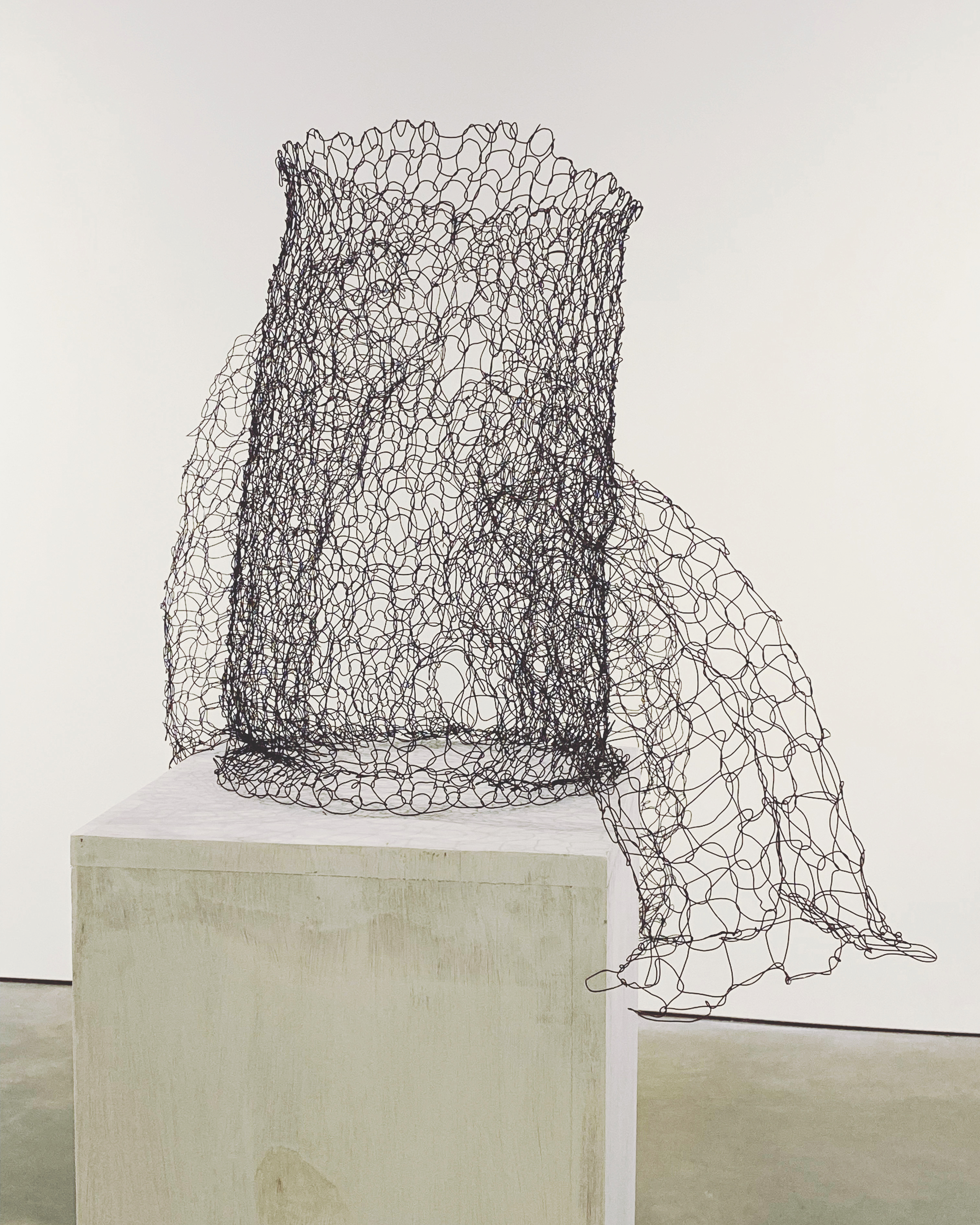 Bette Levy, Truncated.
Deborah Levine, Shadow Cascade.