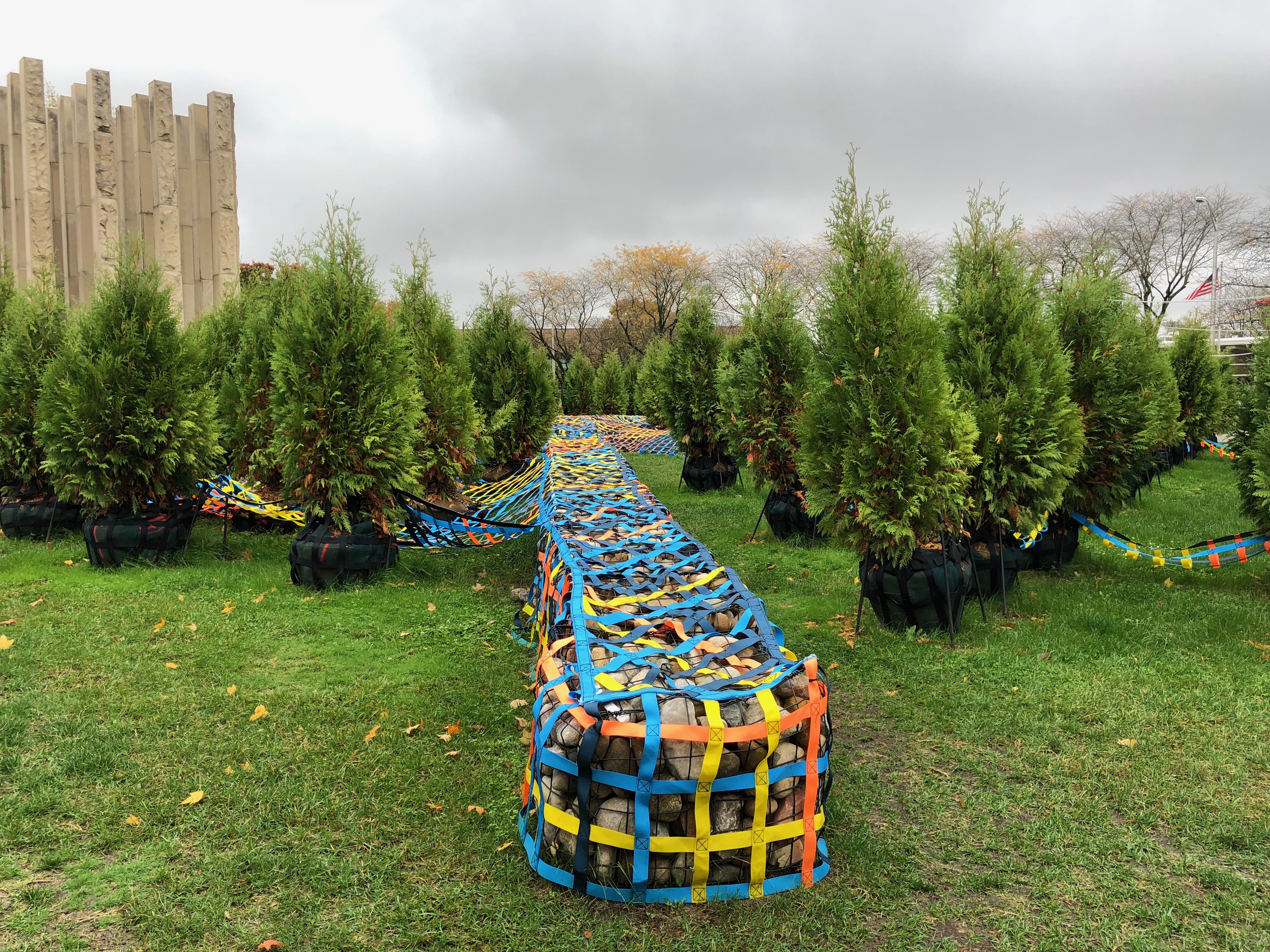 Above: Into the Hedge, SO-IL.
︎ Exhibit Columbus, Columbus
Exhibit Columbus
Straddles the digital vs. the lived experience
Review
Sean Starowitz
In recent years we have seen an increase in city-led biennials, museum triennials, and visual arts festivals rippling throughout the Midwest and South. These events are intended to function differently from coastal cultural institutions, which often examine contemporary artistic American practices without investigating the rich experiences and production of the Midwest and South (see
hyperallergic
).
Prospect,
New Orleans,
Counter Public
, St. Louis, and
FRONT Triennial
, Cleveland come to mind. Southern and Midwestern cities that produce these high-profile art biennials have provided new art experiences to mostly under-resourced and overlooked landscapes, while the exhibitions themselves have been received with mixed intentions and outcomes (example
Open Spaces
KC).
Exhibit Columbus
presents an intriguing model in this growing trend within the Midwest. Columbus, Indiana is the
home
of a mid-century modern architectural survey that is equally stunning and bewildering. J. Irwin Miller, the CEO of Cummins Inc. (Diesel Engine Manufacturer), paid for the architects' fees for both public and private projects around Columbus. Seven buildings constructed between 1942 and 1965 are on the National Historic Landmarks Register, while approximately another 60 were built in the mid-century modern style. All the greats of this era are represented: Eero and Eliel Saarinen, I.M. Pei, Robert Venturi, Cesar Pelli, and Richard Meier, in addition to great public art throughout the city, such as Henry Moore's
Large Arch
.
Fast forward 50 years, the architectural momentum has halted significantly. The surrealness recalls the dystopian modernity of J.G Ballard's novels⁠—visitors exit off the highway after miles and miles of cornfields and farms and then pull into a small town with international-recognized architecture everywhere. It's like a set piece for a 1970's sci-fi film that never got completed⁠—equally eerie and fascinating.
Exhibit Columbus
comes along as a way to celebrate contemporary design and engage in architectural preservation. The exhibition features 18 "site-responsive installations" by architects, designers, academics, and artists. Every other year, designers create outdoor installations using Columbus' built environment as inspiration. According to their mission, they aim to inspire communities to invest in architecture, art, and design to improve people's lives and make cities better places to live. The 2017
Exhibit Columbus
delivered a series of thoughtful and radical art-meets-architecture responses to a town through its innovative pavilions, some of which still inhabit public spaces. Lamentably, the 2019
Exhibit
doesn't uphold the same level of respect and quality design.
As I walked through the various installations this year, I kept asking myself, "Who is the intended audience for
Exhibit Columbus
?" If the point was trying to make design and architecture look stunning on the 5.6-inch screen, then consider
Exhibit Columbus
successful. There is an immense disparity between the digital experience of this project versus the experiential and lived environment in which these works sit. The installations looked stunning in their online presence but, in person, craftsmanship was a bit rocky and the overall experience felt underwhelming. We live in a time of visual currency, and most "viewers" consume artwork through digital screens, but what about the actual communities and residents that live in and around these installations? A significant criticism of the biennial trend is that art producers are trying to get the attention of coastal cultural elites rather than lifting local or regional practitioners and communities.
The overall theme of this year's
Exhibit Columbus
imagines the midwest through a "flyover country" prism. Currently, Indiana has more than 80 percent of its land devoted to farms, forests, and woodland. The urban centers in the state are not urban by coastal standards, considering the proximity of parks, nature preserves, state forests, or wildlife sanctuaries. Most of
Exhibit
's pavilions include some natural/native plant elements. One pavilion features floral planter boxes that showcase local "native species" alongside benches on the sidewalk. This would make sense for highly urban areas like Chicago or even Indianapolis (both cities have exceptionally limited to no green space) but not Columbus. These projects fall short of any radical ideas, as though community members and farmers aren't being affected firsthand by
climate change
in the state. It is unclear if the designers are complicit with climate change as a way to force-fit their work into a relevant conversation rather than offering new solutions to the very dire situations communities face.
A work by Mass Design Groups'
Corn / Meal
project embodies the white savior design complex. According to their concept: "Fifty percent of the habitable surface of our planet is dedicated to food production. It is the world's largest industry, yet our cultural, spiritual, and historical relationship to how we cook and what we eat is largely disconnected.
Corn / Meal
asks us to reflect on how we can strengthen our relationship with our food, taking familiar elements of the American Heartland—a field of corn and the classic picnic table—and shaping them into an interactive landscape of living architecture where students and the public alike are invited to reconnect to what we eat and how we cook."
Their project makes a slight nod to indigenous communities and envisions an alternative model for Thanksgiving. It doesn't acknowledge specifically any of the indigenous communities or the stolen land the project stands on. By referencing indigenous communities, viewers may think that restorative justice work is being done, but the gesture is empty and outright exploitative. If the project had partnered with Indigenous communities/partners to reimagine the farm to table system or work with
the Edible Schoolyard project to
be part of the school curriculum year-round in Columbus, it would have had lasting effects outside of the scope of the three-month-long installation. Can social change, sustainability, and equity be addressed in a three-month timeframe?
It's rare to see so many projects that didn't seem to offer any dialogue around sustainability, community, or equity. In terms of equity and access, all projects are compliant with standards set through the Americans with Disabilities Act when it comes to temporary public art structures but some have limited view points and make it difficult to fully experience. One pavilion cuts off the most public building in Columbus, the public library, with a
Tilted Arc
inspired installation with haphazardly planted vegetation. How can we uphold something this biased and outright inattentive as "good" design?
Exhibit Columbus
offers some ADA assistance, but you have to schedule ahead of your visit. Accessibility needs to be addressed in the design guidelines before completed projects are realized. Residents of Columbus and the greater region deserve to see good design and practice in action.
Too often, we see derelict or vacant space that formerly brought joy to the public waiting for regeneration. This burden of public memory is very real for smaller towns and rural communities. Borderless Studio's
Love Letter to the Crump
seems to beckon that another way is possible for the vacant downtown theatre. Though the project itself teeters on the complacency of the empty theater, it does a considerate job of paying tribute and activating the nostalgic chip on Columbus' shoulder. People for Urban Progress' installation,
Jungle Subtraction
offers a fun, wacky throwback of space-age interaction with the main street. Stunningly simple reflective surfaces on overlooked infrastructure beckon the imagination to consider how to play with the city. The project brings forth joy to a stoic built environment.
Jungle Subtraction
is likely the least Instagram-able of the projects, and that may have something to do with its brilliance. La Mas manifests Josef Abler's
Interaction With Color
into the built environment.
Thank U, Next
offers a resting area in an odd, overlooked green space between a parking garage and the main street. The project has seen a high level of communal interaction from lunch breaks to the local teens hanging out after school in a new social space.
Overall,
Exhibit Columbus
straddles the tension of the lived versus the digital experience. This is not indicative or unique to Columbus - all types of art festivals occurring across the United States box themselves into this grey zone. Regrettably,
Exhibit Columbus
favors the digital in 2019. Instagram and the other online platforms will never measure to the real experiences of how we interact with space, buildings, and the cities and towns we call home. No matter how much smartphones are becoming less phones and more cameras, or how augmented reality will become an everyday experience, designers, artists, and architects must find balance in these immensely nuanced worlds we live in, both the real and the digital matter. While the digital may give us the appearance of accessibility it never allows for the immense joy that can come from the lived experience. In 2021, I hope Exhibit Columbus looks hard at the writing on the wall and rises to the challenge that they claim⁠—a challenge to a city and its residents to be a better place to live, beyond just receiving the fleeting double-tap on an endlessly scrolling phone app.
-
Edited: 11.4.19 - an earlier version of this article contained an innacurate statement regarding ADA compliance and has since been removed.
-
Sean Starowitz
Guest Contributor
10.31.19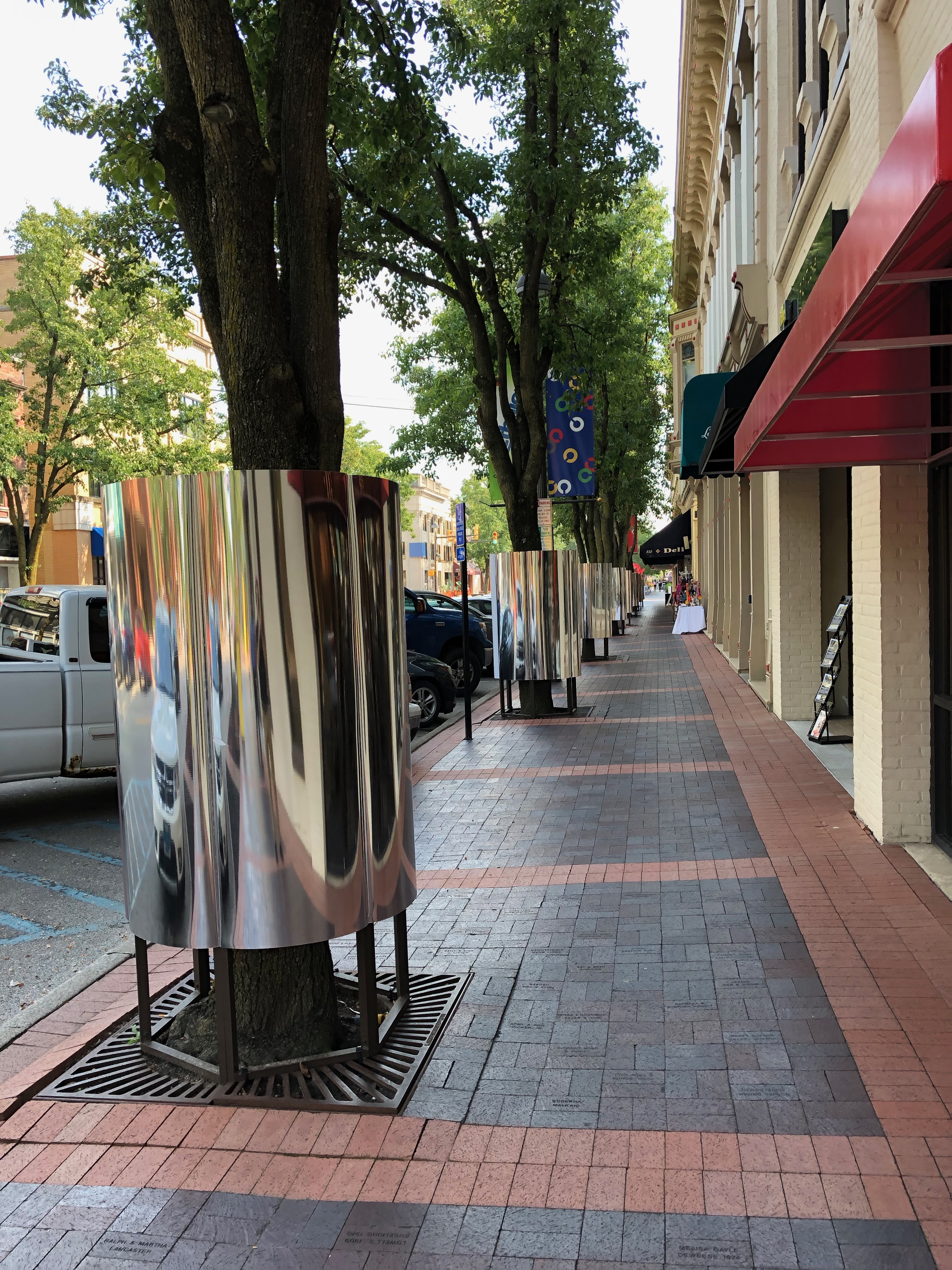 Jungle Subtraction
, PUP.
Corn / Meal
, Mass Design.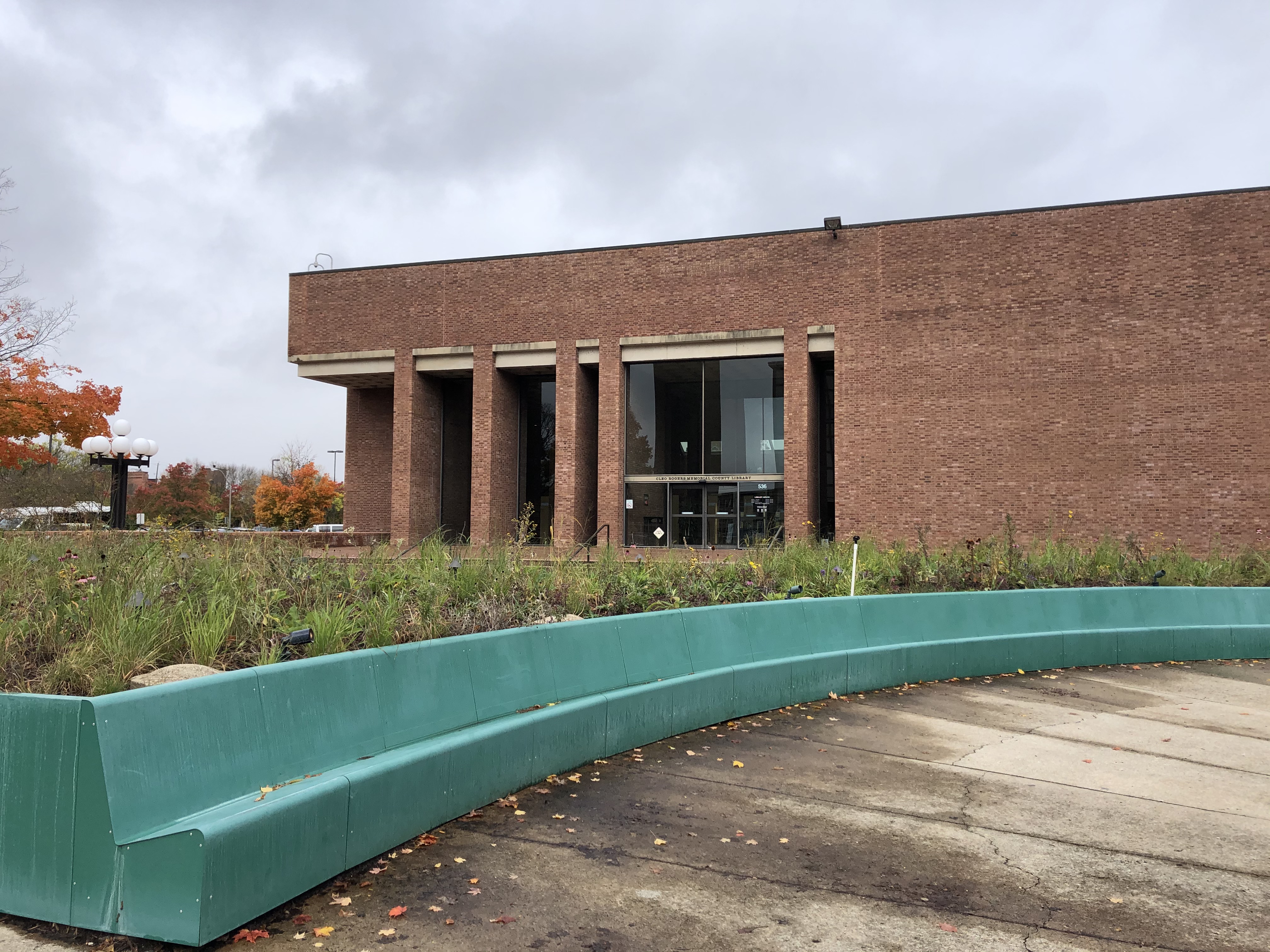 Untitled
, Frida Escobedo Studio.
Love Letters to the Crump
, Borderless Studio.
Thank U, Next
, La Mas.