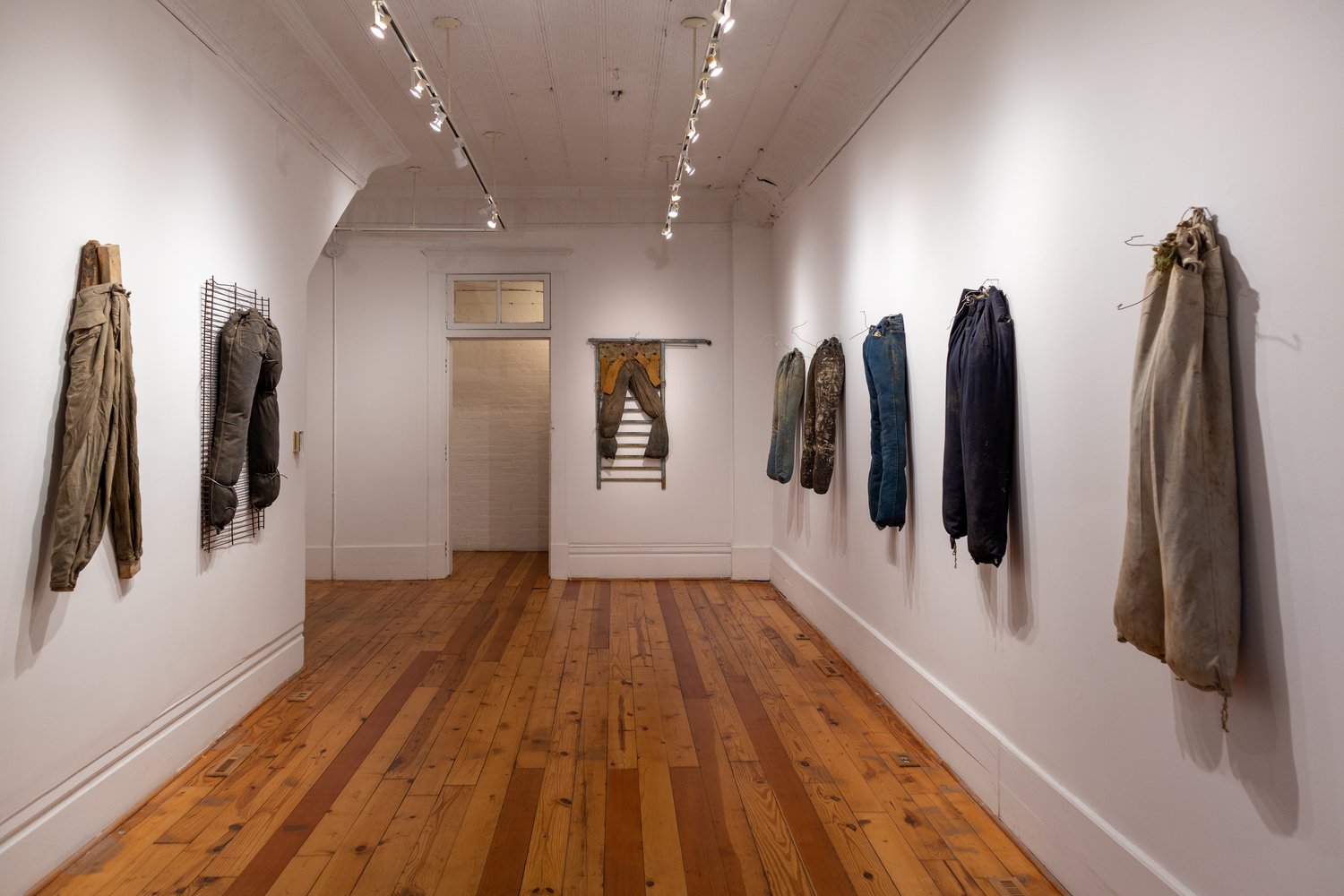 Above: Installation view at Institute 193
Hawkins Bolden: Seated
Review
Ragged from age and exposure to the elements, nine pairs of stuffed pants curiously bulge off the wall in
Hawkins Bolden: Seated
at Institute 193. While the artist is most well-known for scarecrows made from found materials, this exhibition focuses on pairs of pants that were originally displayed in his garden. The discarded clothing is stuffed with leaves, straw, and other materials that lend it an eerie sense of reality. These sculptural objects, in spite of their sleek presentation, tell a story of gritty, rural Americana upon first glance, but become more nuanced the more one looks. Focusing on these particular works within Bolden's larger oeuvre encourages the viewer to more closely examine the treatment of the body, importance of tactility, and effects of nature in his work.
The stuffed pants seem simple, but offer a multitude of small details to take in. They all show signs of wear and tear: small holes that expose the stuffing, patches of dirt, and splashes of paint. It is unclear whether these marks were already on the pants when Bolden acquired them, or stem from years of display in the artist's yard. Some pairs are stuffed so full that the legs hover off the wall, as if trying to escape their confinement. Of the nine works in
Seated
, two untitled works that are attached to supportive structures offer the most visual interest. One of these is attached to a metal shelf with the rear facing the viewer. Bolden attaches a wire midway up the right leg, causing it to shift as if bending the knee. In the other piece, he uses the frame from a baby bed to support the pants and incorporate other materials. The artist punches multiple holes in a metal sheet, the larger of which he threads tongue-like pieces of foam through. It is interesting to see Bolden's treatment of these items and how he combines otherwise disparate pieces into sculptures that emphasize surface texture and form.
While viewers may try to ascribe narrative to the work, perhaps personifying the pants based on the scuffs, dirt, and holes they bear, it is critical to examine the context in which Bolden created. He lost his sight at a young age, instead relying on his sense of touch to create. He worked exclusively with found objects, prioritizing texture and form over visual appearance. As the artist described it, "I started making faces and things out of stuff I found, probably about 1965. One of my nieces said, 'Put them in your garden to keep the birds out.' So I guess you can call them things scarecrows."1 The pants displayed in
Seated
, as well as the rest of Bolden's work, decorated his yard, transforming it into a lively, otherworldly landscape. Slides depicting the work
in situ
are readily available on Institute 193's website but not present in the installation, leaving in-person viewers without this important context.
Bolden's work could easily be flattened by a white-walled gallery, but
Seated
instead provides another way of viewing the objects that is distinct from their display in the artist's yard. By thrusting them into this new space, the exhibition asks viewers to appreciate their sculptural qualities while affirming Bolden's place within art history. But does this presentation do justice to Bolden's original vision? There is a long history of collectors and curators sweeping through rural areas, acquiring artists' work, and centering themselves in the narrative. I say this not to accuse collector William Arnett and Institute 193, but to assert that, now more than ever, curators must attend to the context in which these artists are exhibited.
In the article "Curatorial Ethics and Outsider Art," author Nick Moss argues, "I'd contend that there is, then, an ethical duty which falls upon the curator of 'outsider art' – however broadly conceived, and however crude and containing a descriptive term it is. Given that this is art produced by people who, whether because they are not sanctioned and validated by the art education production line, or because they produce art in situations of confinement, struggle to be heard; the duty of the curator is to ensure that it is the artist's voice that predominates–to step out of the way and allow the messages in the bottles to be fully understood."2 Certainly, there is a discrepancy between the way Bolden's work existed
in situ
and the way it is presented in the gallery; were Institute 193 to find a point in-between the white cube and the artist's yard, the viewer could more easily comprehend the context in which he created.
Seated
is emblematic of the crossroads that art institutions find themselves at. Individuals like Bolden, who create without formal training and exist outside of traditional art ecosystems, deserve to have their stories told and their life's work experienced. When artists' narratives are not centered, however, curators and institutions run the risk of emphasizing colonialist ideologies by presenting themself as a "discoverer" and then profiting off the artwork. How can museums and galleries, most of which exist outside of the communities in which the work was created, ethically display folk art? Largely due to a presentation that eschews any reference to Bolden's yard,
Seated
does not quite stick the landing but, in all fairness, Institute 193 did not set out to answer the questions I have posed. Still, the walls of the gallery provide an unimpeded, necessary opportunity to examine the curiosity and magic present in Bolden's work.
-
Notes:
Phillip March Jones, "Hawkins Bolden," accessed February 5, 2022, https://www.outsiderartfair.com/artists/hawkins-bolden.
Nick Moss, "Curatorial Ethics and Outsider Art," last modified July 26, 2017, https://kdoutsiderart.com/2017/07/26/nick-moss-curatorial-ethics-and-outsider-art.
-
2.15.22
Kevin Warth (he/him) is a Louisville-based artist and art historian whose research emphasizes queer identity, alternate temporalities, and hauntology.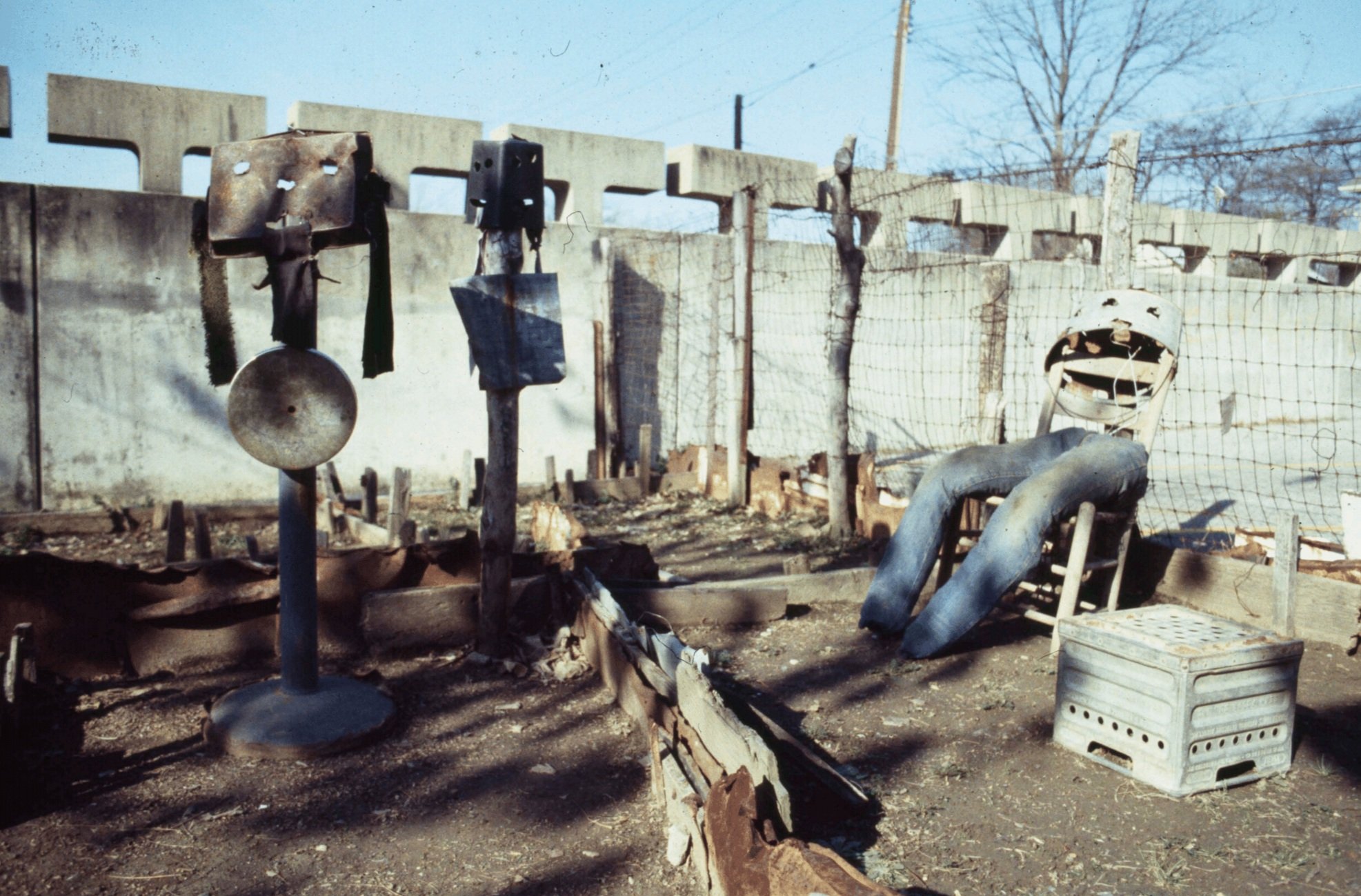 Hawkins Bolden's yard in Memphis, TN, circa 1987. Color 35mm slide. Photograph by William S. Arnett.
Hawkins Bolden, Untitled, 1980s, jeans, leaves, straw, grass, metal wire, baby bed frame, foam, twine, 55 x 42.5 x 6 inches.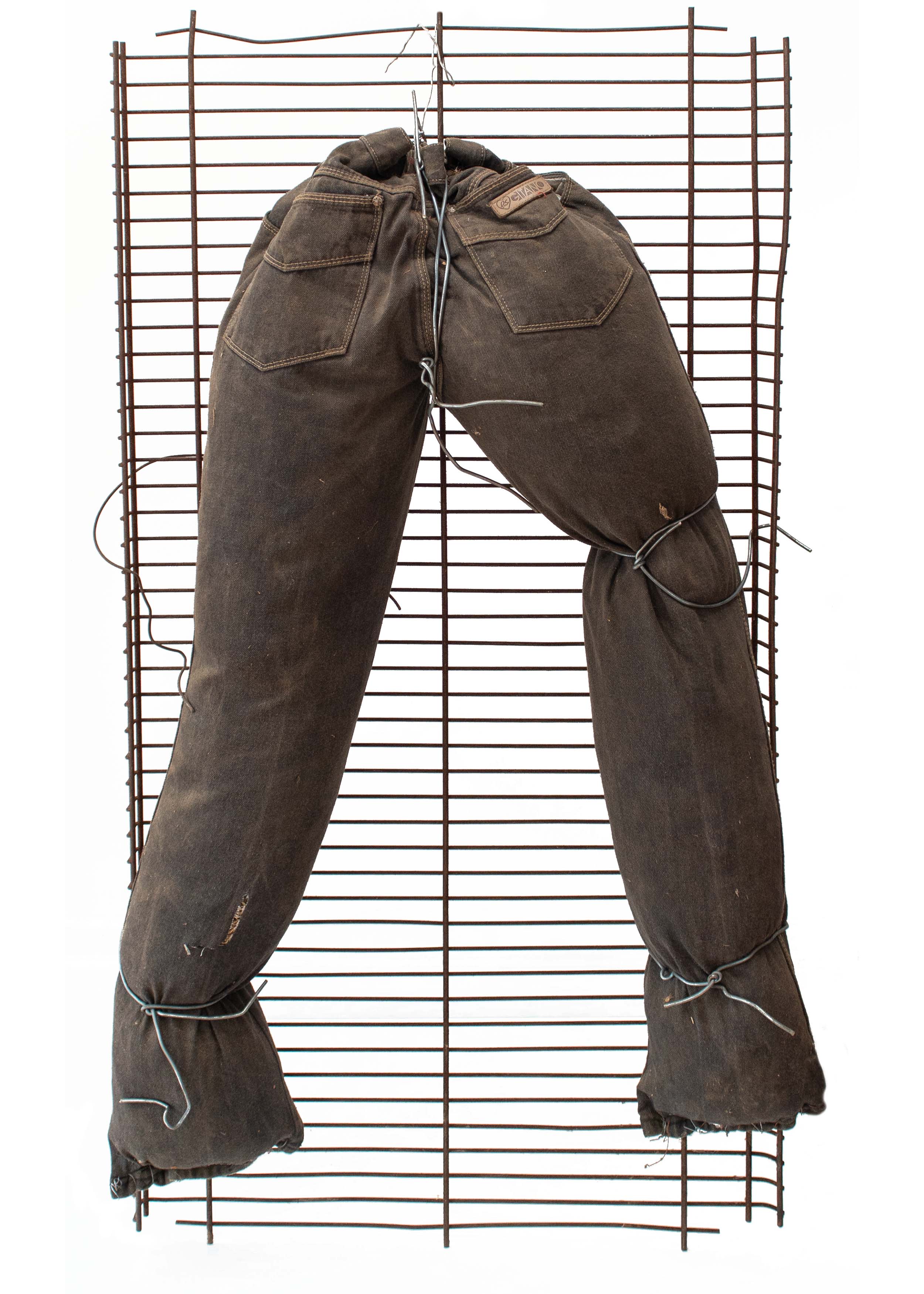 Hawkins Bolden, Untitled, 1980s, jeans, metal wire, metal shelf, leaves, straw, grass, 47 x 24.5 x 7.5 inches.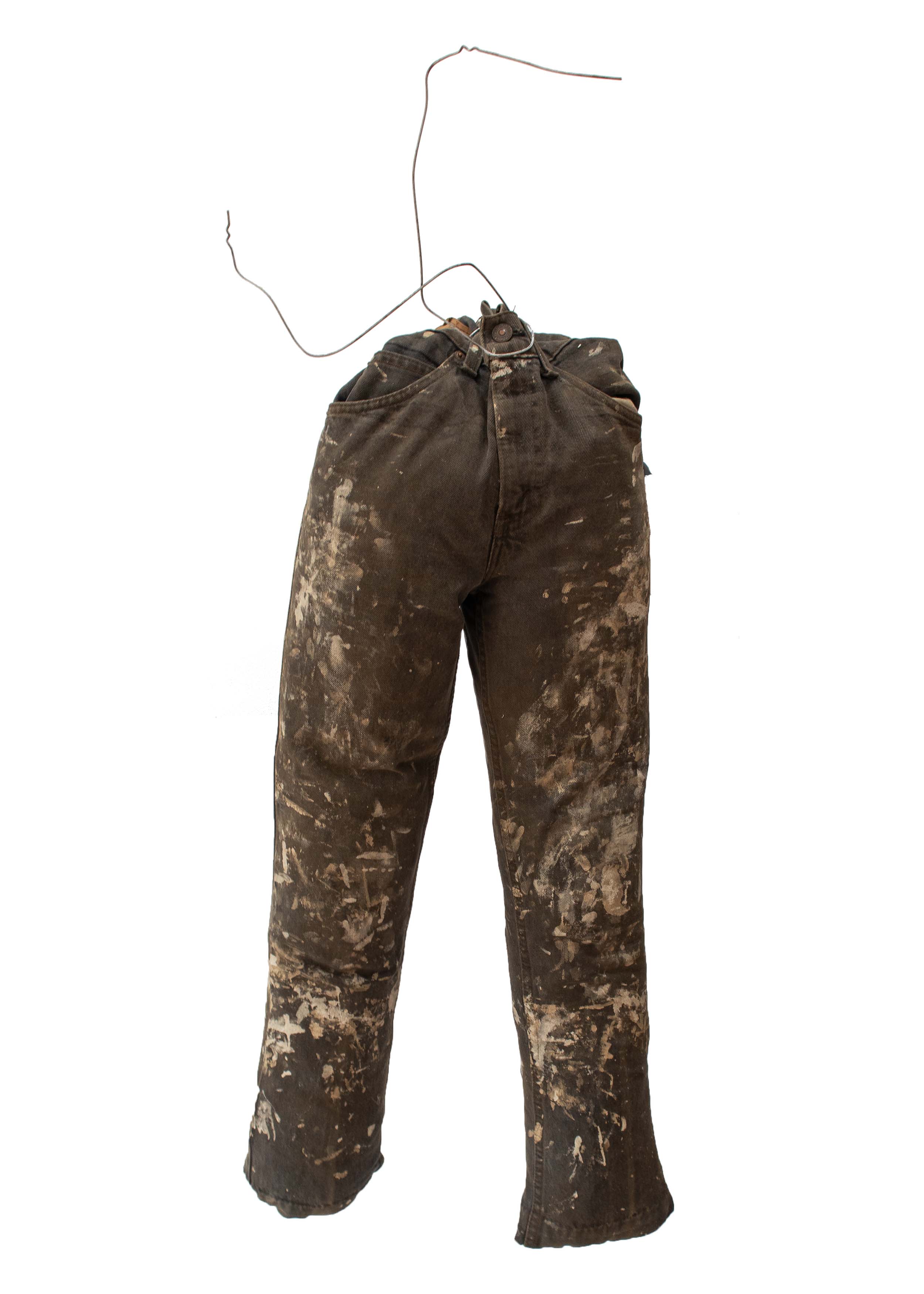 Hawkins Bolden, Untitled, 1980s, jeans, leaves, straw, grass, twine, coat hanger, 37 x 12 x 7 inches.