Above: Install at Quappi Projects

I Do Not Ask Any More Delight: the body and contemporary intimacy

Review
Sara Olshansky
The recent resurgence of portraiture and figurative works in contemporary art has inspired artists around the world to renegotiate the politics surrounding the body. Before this trend surfaced, the figurative canon brought to mind an antiquated tradition rendered obsolete by mass distribution of cameras and rejected at the advent of modern abstraction. Almost exclusively in this tradition, a heteronormative, white, male gaze projects upon one type of body. Now, as artists like Kehinde Wiley, Kara Walker, and Jenny Saville have entered the arena, a space is opening beyond that narrative. From this space, artists are revisiting the tradition, appropriating and democratizing the canon in the name of inclusivity, and expanding the narrative to encompass the many facets composing bodily identity today.
Along these lines, curator, artist, and gallery-owner John Brooks set out to exhibit a conglomerate of works by local and international artists all concerned with "the body and contemporary intimacy." The result is a smart and dignified presentation of artworks that successfully embody these trends in portraiture and figuration. The gallery space softens beneath the array of personal works. One after the other, they lay themselves bare for the audience to witness. Curatorial details down to the hand-written names below the artworks in place of vinyl labels contributes to the overall diary-like feeling of the exhibition, the sense that the viewer is reading private, autobiographical musings about these artists' own experiences in their bodies. At times, the viewer is challenged to question how they think about intimacy and what constitutes a "normal" body. At the close, viewers may settle into a quiet celebration of the increasingly healthier ways society frames these issues.
Rafael Soldi's autobiographical photo series
Cargamontón
(2019) introduces intimacy as it relates to violence when traditional masculinity and queer identity collide. Standing ceiling to floor in the center of the gallery wall, a vertical reel of faint video stills illustrates a progression of interlaced bodies moving across a claustrophobic space. The viewer attempts to decipher whether the bodies are experiencing pain or pleasure and, upon failure to recognize either, must accept that they are convulsing somewhere between the two. The ambiguity of the image combines pain and pleasure into a new category of feeling altogether. As boys' bodies crash on top of each other—a hazing ritual from Soldi's past that is at once hyper-masculine and riddled with queer desire—the artist is conditioned to associate intimacy and physical closeness with feelings of fear, anxiety, and confusion.
Directly across the gallery space, and facing Soldi's photo-series, Nina Kersey's
We Were Both There
(2019) explores projections of violence and sexualization onto bodies. Kersey's figure appears to be imploding as they pose half-naked for the audience. The viewer's gaze is confronted and subverted as a sense of discomfort overwhelms the interaction. Both Kersey and Soldi destabilize heteronormative definitions of intimacy, highlighting the ways in which popular understanding can cause great damage to the lives of marginalized people.
Flanking either side of Soldi and Kersey's works are photographs by Kenyatta Bosman, Bearykah Badu, and Clifford Prince King. These more tender pieces provide relief from the aforementioned violence as these artists celebrate Black, queer identity. Often, Black bodies are presented as threatening and hypermasculine; they are branded violent and fetishized. These three works present a different reality, in which we see flowers, elegance, and vulnerability. In
NYFW
(2018), Bosman's figure poses as if from a fashion magazine, with eyes closed, relaxed and confident. Part of a gold frame embellishes the corners bringing to mind the regal displays of Blackness popularized by Kehinde Wiley's modulation of traditional portraiture. In their self-portrait
Handsome Lavender
(2019), Badu stands assertively, looking directly at the viewer. Badu anticipates the white, male gaze and matches it confrontationally with their eye contact. Yet, the portrait is unmistakably soft and beautiful. The wooden stool they stand by is empty, suggesting an invitation for the viewer to enter the picture plane and join the artist so long as we do not bring with us our socially conditioned preconceptions about their body.
Clifford Prince King's photograph
Untitled
(2019) displays a beautiful representation of affection between two figures surrounded by flower petals in a scene reminiscent of early 1900 landscapes. The two figures embrace each other smiling, devoid of the politics surrounding Black, queer bodies brought about by such visibility. These three artists' gesture of proudly displaying themselves is also inherently an act of social activism. When the presence of Black bodies in society is met with controversy, certainly, the image of queer, Black individuals celebrating themselves will not be accepted in the mainstream either. Artists working in this nature perform an important function that will lay the groundwork for continued visibility and collective understanding.
Privilege can blind people to the complicated ways in which marginalized individuals relate to intimacy and the body.
I Do Not Ask Any More Delight
is a reminder that with every positive display of one's identity, there is an equal and opposite, hostile reaction from the parts of society unwilling to accept people different from themselves. The pool of artists included are diverse, coming from many parts of the world, at different stages in their careers, and representing a myriad of obstacles in attempts to exist in their own skin. The diversity of artists and unity among them in their approaches to the theme of the exhibition point to the ways in which politics surrounding the body and intimacy can be traced on a global scale, still prevalent, still in need of correction.
Normalizing marginalized identities by adopting the visual tradition which has historically described white bodies and heteronormative intimacy is one way that contemporary artists have forced the public to see outside their own realm of personal experience, to see the inclusive collective. While the exhibition may feel comfortable, personal, and celebratory, it is in spite of the lingering oppression still prominent in today's society that the artists are able to make work that does so. Underlying
I Do Not Ask Any More Delight
is a call for continued change and social justice.
-
Artists included in this exhibition: Clarity Haynes, Patrick Donovan, Kenyatta Bosman, Bearykah Badu, Rafael Soldi, Kevin Warth, Stephen Irwin, Chris Radtke, Thaniel Ion Lee, Christian Schoeler, Scott Csoke, Clifford Prince King, Nina Kersey, Mychaelyn Michalec, LaNia Roberts, Gabriel Pessoto, Adam Chuck, Jordan Lanham, and Luke Abby
-
I Do Not Ask Any More Delight: the body and contemporary intimacy
is on view at Quappi Projects until April 4th, 2020.
Quappi
Projects is located at 827 East Market Streeet, Louisville, KY 40206 and open Thursdays 12-4p, Fridays 12-5p, Saturdays 11-3p, and by appointment.
Notes:
-
Sara Olshansky
Contributor to Ruckus

3.19.20
-
Editors Note: This article was updated on 1.3.21 for a name correction.
Clifford Prince King,
Untitled
(2019), photograph. Courtesy of Quappi Projects.
Bearykah Badu,
Handsome Lavender
(2019), digital photograph. Courtesy of Quappi Projects.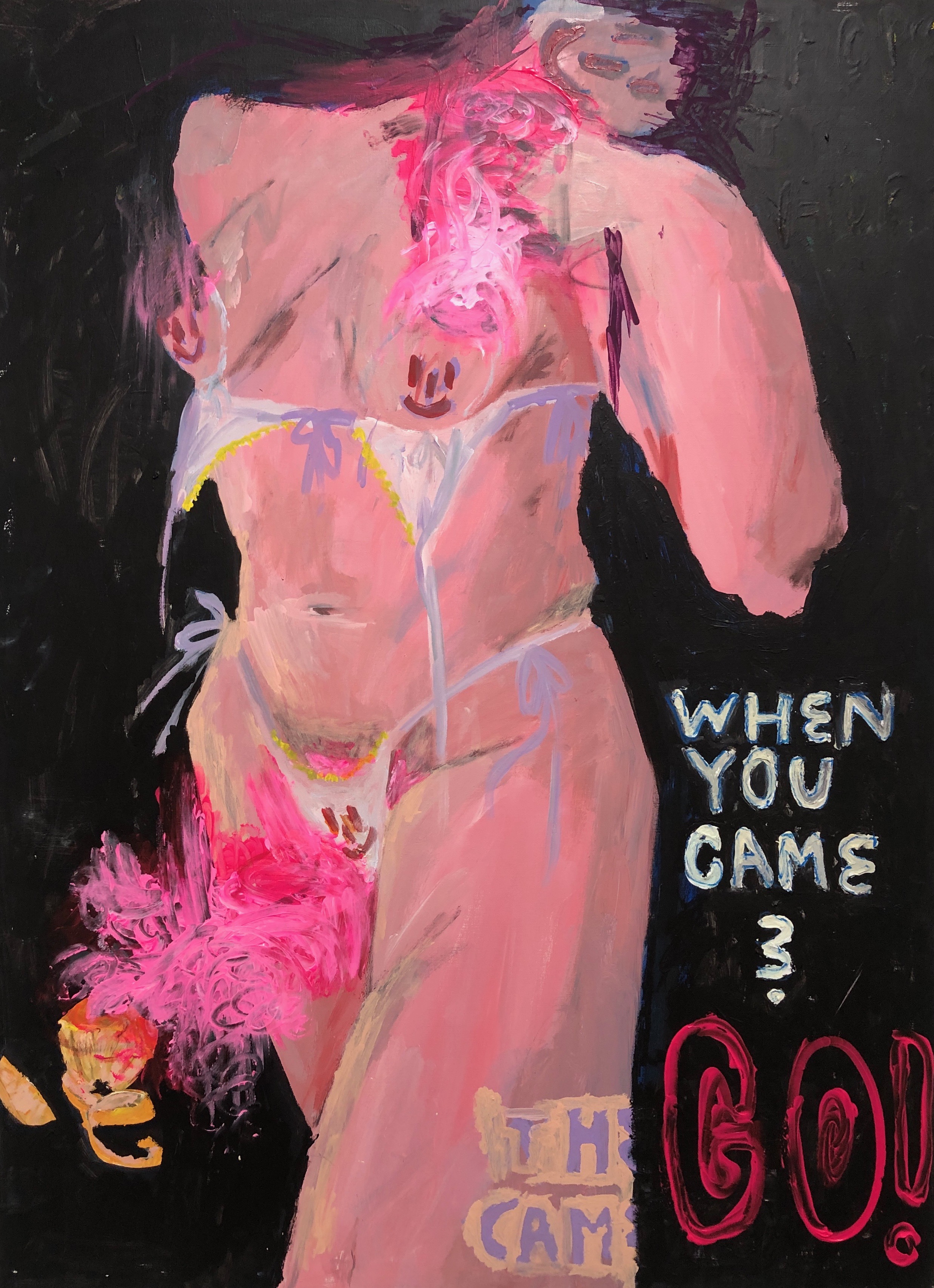 Nina Kersey,
We Were Both There
(2019), acrylic on canvas. Courtesy of Quappi Projects.
Kenyatta Bosman,
NYFW
(2018), digital photograph. Courtesy of Quappi Projects.
Install.
Rafael Soldi, detail of
Cargamontón
(2019), vinyl wall decal. Courtesy of Quappi Projects.