Above: Installation at YARDSIDE
Industry Fossils & Germinating Sunshine
Review
Tatiana Ryckman
If you pass by YARDSIDE in Louisville at 2721 Taylor Boulevard, you may think someone had begun and abandoned an ambiguous building project. Bits of industrial detritus are tethered and leaning in the grass. In the summer, flowers bloomed in clumps in the yard, and insects made their home under a sheet of plastic. Now that it's winter, squirrels climb on a giant block of Styrofoam to eat nuts and paint has steadily chipped from the mysterious sculptures. The flowers have lost their blooms. And under those unnatural materials, the grass has surely died.
But if you stop to read the statement accompanying the installation, you'll find the work is still in process, it's just been outsourced.
Industry Fossils & Germinating Sunshine
by Kiah Celeste and Mariel Gardner is a yearlong collaboration with nature.
In
Dirac's Equation
by Kiah Celeste, the artist assembles a huge block of painted Styrofoam, rubber, a curtain rod, plastic, a metal coil, a croquet ball, marble, and pigment into a constellation of objects that could each be seen as independent, or as parts of some greater whole.
"The equation is regarded as particularly beautiful," Celeste says of
Dirac's Equation
, "due to its incredible simplicity and symmetry. I was drawn to Paul Dirac's methods of reasoning because I find myself thinking similarly in regard to my work. Not that my work is necessarily symmetrical, but I approach it with a natural and unforced flow, alluding to nature and letting the materials glide into what feels like their intended place."
But the borders of the work are as ambiguous as the sculpture itself. All of Celeste's pieces in this installation are just another part of her series
I Find This Stable
, which explores industrial materials "extracted" from their typical locations and placed into new environments. In addition to shifting locations, which Celeste describes as pulling the materials from the process of entropy, the works are also shifting with time. "Yardside is different for me," the artist says, "because it is no longer the installation I created in August... It is not the type of installation meant to withstand the elements, but to change, or maybe wilt, throughout the year… I have the urge to 'fix' it back to the way I originally made it, but that would defeat the nature of the installation; to move with the flow of time."
Of course, weather and insects are not the only forces acting on these works. The croquet ball has vanished.
Light Falls On A Surface Like a Gentle Hail Shower
, a piece by Celeste in which an orange exercise ball is wedged into a plexiglass box, keeps changing location as people try to take it and then find it too annoying or cumbersome to carry and put it back. One could see these as acts of vandalism, but those gestures raise an important question: Do we assume we are in opposition to nature, or a part of it?
In
The Winner's Circle
by Mariel Gardner, black-eyed susans and sunflowers make a horseshoe in front of Celeste's huge block of Styrofoam. Gardner is a food justice advocate and gardener who grew up in Baltimore and Louisville, both horse racing cities, and uses symbols from horse racing as a personal reference as well as a nod to a complicated institution.
"I've discovered how much of my ancestral story is tied to the horse racing industry," Gardner says of the symbol's significance, "African Americans building the equine industry in Kentucky—African Americans not getting credit for building that industry in Louisville."
This festive floral arrangement, so close to Churchill Downs, is a reminder of how the community that surrounds the race track doesn't stand to reap the same benefits from the Derby that the rest of the city does. Yet, the flowers—like the Derby parties they nod to—nevertheless engender a feeling of celebration, and even community. "When you think about the majesty that comes with horse racing," Gardener says, "those are the things we all love about the Derby growing up... Now I look at that differently. You take a piece of a person when you shut down their traditions."
Black-eyed susans come with their own complicated history too—the flower once went by a racist name that has thankfully been discontinued. But they are also known for being tough drought-resistant flowers, and like echinacea, immune-system-supporting.
Both sunflowers and black-eyed susans are perennials and will be replanted at Gardner's farm as part of a pollinator garden. Gardner references a banner carried this summer in honor of Breonna Taylor that read, "They tried to bury me, but they didn't know I was a seed."
Celeste, too, anticipates mining the installation for its parts and creating something new from them, which is perhaps just another step in the process of evolving "I force myself to accept and give into the fate of the pieces," she says.
"That's what happens with these flowers," Gardener says, "they do what they need to to come back."
-
12.30.20
Tatiana Ryckman is the author of the novel,
The Ancestry of Objects
, the novella,
I Don't Think of You (Until I Do)
, and three chapbooks of prose. She is the editor of the independent publishing house, Awst Press, as well as a co-founder of Rosy Interiors, and has been a writer in residence at Yaddo, Arthub, and 100W. Her work has appeared in
AIGA Eye on Design
,
Glasstire
,
Louisville Magazine
,
Tin House
,
Lit Hub
, and other publications.
Kiah Celeste,
A Breakup
(2020). Rubber, granite.
Kiah Celeste,
Each Sound A Different Color
(2020). PVC tube, chair frame, cinder block, nylon, wax, pigment, sheet metal, styrofoam.
Detail of
Each Sound A Different Color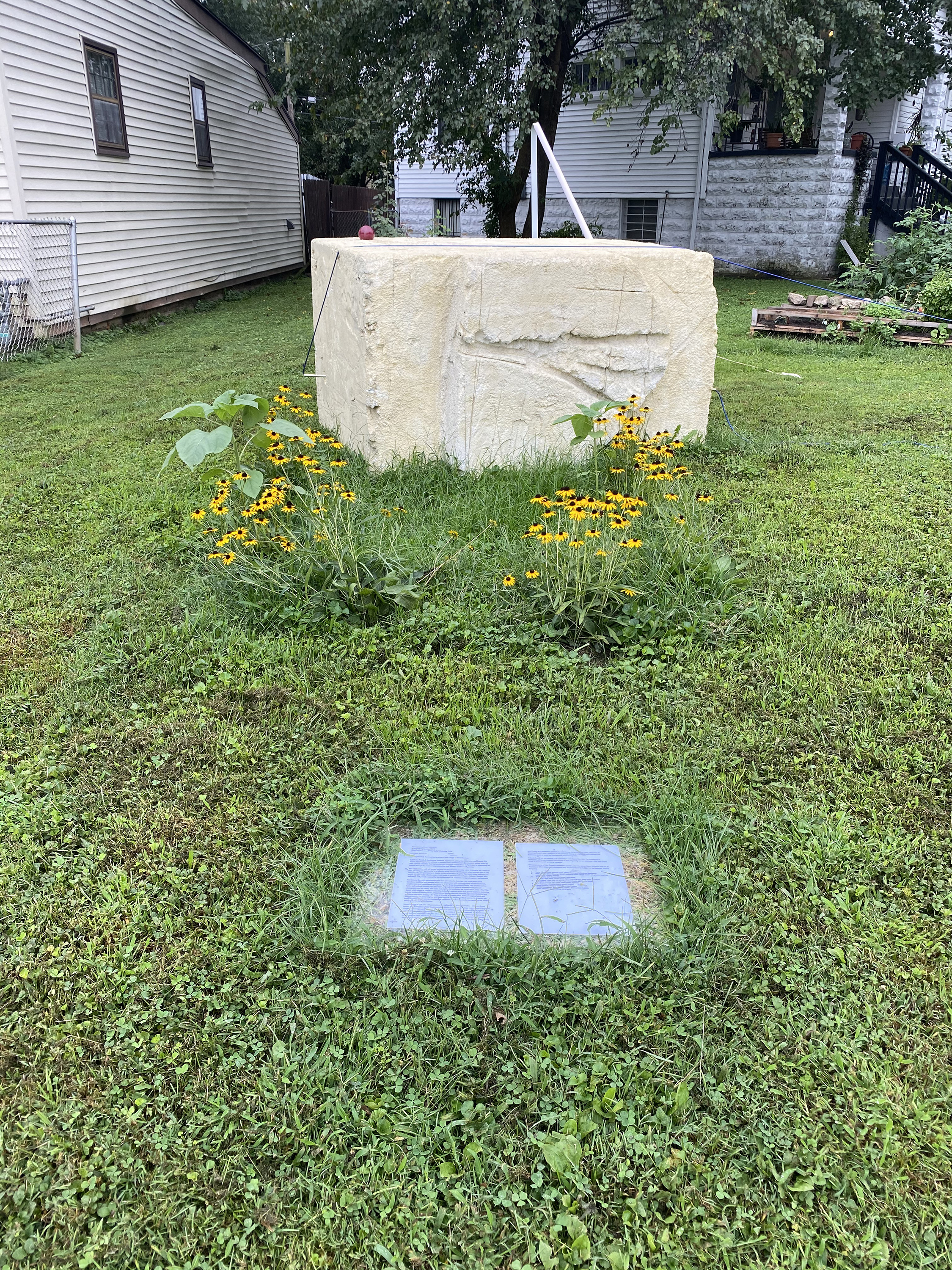 Front: Mariel Gardner,
The Winner's Circle
(2020). Black-eyed Susans and sunflowers.
Back: Kiah Celeste,
Dirac's Equation
(2020). Styrofoam, latex rubber, curtain rod, plastic, metal coil, croquet ball, marble pigment.
Kiah Celeste, Light Falls On A Surface Like A Gentle Hail Shower (2020). Plexiglass, exercise ball, metal, latex rubber, pigment.