ABOVE: Install.
Images courtesy of 21c.
Interwoven: A Tribute to Enid Yandell
Review
2019 marks the 150th anniversary of the birth of Enid Yandell (1869-1934), a sculptor from Louisville who garnered international recognition for her public monuments and portraits, and one of the first women to be inducted in the National Sculpture Society. To commemorate Yandell, recent exhibitions are revisiting her life and lineage. At 21c Museum Hotel, a project entitled
Interwoven: A Tribute to Enid Yandell
features work by five members of
ENID: Generations of Women Sculptors
, a group of female artists from Louisville dedicated to empowering, educating, and mentoring women in the visual arts. The exhibit probes the material and conceptual potential for nature to address themes such as environmental usurpation, time, as well as labor and gender.
By confining artificial grass within square frames, Leticia Bajuyo emphasizes the omnipresence of inauthentic landscapes, especially within metropolitan areas, and the ways in which the containment of nature is a common element in urban design. Bajuyo's works read like city blocks awaiting construction to begin or as small patches of green space accompanying sidewalk paths. Depictions of buildings and highways are missing in
Hyperglass: Triple
(2018), but spherical contours colliding with the frame and each other stress the extent to which nature can become a tertiary factor in city planning, relegated to the status of destination or momentary adornment.
The othering of the organic within the artificial is echoed in Valerie Sullivan Fuchs'
Floating City
(2018), a video of the New York City skyline viewed from the southern banks of the Hudson River. From the vantage point of a drifting ferry, visitors to 21c are offered a collection of skyscrapers seemingly reflected on water. Gone, however, are the natural ripples of the tide or gleam from the sun upon the river's surface. Through digital manipulation, Fuchs identifies a midpoint merely feet above ground level in which buildings are horizontally inverted to generate a doubling effect. In turn, the artist removes the Earth from view—save for small protrusions of foliage—so that metallic edifices dominate the frame. Like
Bajuyo, Fuchs chronicles the growth of industrial municipalities, often at the expense of verdant spaces.
Floating City
considers the range of impact that systems like New York City possess.
Interwoven
makes implicit the occasions when a city's needs are privileged to the detriment of the environment—an acute reminder that innate ecosystems are frequently marginalized during urbanization. Political theorist Jane Bennett, in
Vibrant Matter: A Political Ecology of Things
(2010), suggests that classifying nature and other non-human entities, at both micro and macro levels, as secondary to the ambitions of humanity is a motif in contemporary consciousness. "Though the movements and effectivity of stem cells, electricity, food, trash and metals are crucial to political life (and human life per se)," Bennett states, "almost as soon as they appear in public (often at first by disrupting human projects or expectations), these activities and powers are represented as human mood, action, meaning, agenda, or ideology." According to Bennett, denying certain types of matter an identity removed and separate from humanity is "preventing us from detecting (seeing, hearing, smelling, tasting, feeling) a fuller range of nonhuman powers circulating around and within human bodies."
The artworks in
Interwoven
align with the propositions in
Vibrant Matter
.
Hypergrass: Triple
and
Floating City
upholds nature as an independent force and advocates against its relapse. Others, such as
Gathering
(2015-7) by Joyce Ogden, function as a witness to nature's cyclic movements and the depth of nonhuman forces that Bennett describes. Ogden mounts twelve circular flasks, each sealed with beeswax, within a hanging vitrine. The flasks coordinate with calendar months, and within them the artist has collected natural substances taken from local sites. Here is confinement in a quantitative sense: by displaying (melted) snow, daffodils, and other seasonal materials side-by-side,
Gathering
illustrates the totality of nature as an organism capable of supporting other forms of life.
Adjacent to
Gathering
is a presentation of scientific objects. Discarded medical equipment, notably painted test tubes, are arranged to produce a multicolored likeness of a human skull in Linda Erzinger's
Crown
(2016). The artist expresses she has "been fascinated with mass consumerism, waste and our relationship with the possessions that inhabit our contemporary lives." There is a certain potency in Erzinger's straightforwardness; the deathly image incites our collective fate should we continue to enforce unsolicited synthetics upon the planet. The mosaic of lab equipment aligns with Bennett's intention, in publishing
Vibrant Matter
, to "promote greener forms of human culture and more attentive encounters between people-materialities and thing-materialities." Erzinger's sculpture, cynically marked by candor and familiarity, is a siren for more sustainable modes of disposal.
One could argue that ecological responsibility begins at the ground level—that is, the land itself. Bette Levy's
Scythe
(2012), an enlarged doily framed by the angles of an antique farming tool, pairs indicators of physical and domestic household labor. Given the advancement of technology and automation used in agricultural production, Levy employs more traditional equipment to recall the ways in which humanity has tangibly connected with and benefitted from the environment.
Scythe
also explores the history of gender roles, particularly how gender is prescribed to realms of the household. In crocheting a doily larger than customary size to contend with the scale of the farming instrument, Levy is "subverting the traditional gender division of labor and power, creating a more balanced pairing."
Of the artworks featured in
Interwoven
, Levy possibly captures Yandell's spirit most poignantly—that of the defiant woman, upending any predetermined expectations designated upon her because of her assigned gender, equating herself with—and indeed, surpassing—men in her field. Yandell continues to serve as a muse for artists and groups like
ENID
, whose multimedia projects such as
Interwoven
are a testament to the achievements of women who came before them. While
Interwoven
does not prioritize defining what it means to be women (or more broadly,
femme
) artists in Louisville, the exhibition, and ENID as a group, does expand Yandell's singular legacy into something more. After all, the collective, much like their latest exhibition, implores parity at every level, else our own shortcomings may be our undoing.
-
Interwoven: A Tribute to Enid Yandell
is on view at 21c Museum Hotel until October 2019. 21c Museum Hotel is located at 700 W Main St., Louisville, KY 40202 and open 24/7.
Notes:
Bennett, Jane. "Vibrant Matter: A Political Ecology of Things." In Nature: Documents of Contemporary Art, edited by Jeffrey Kastner, 57-60. London and Cambridge: co-published by Whitechapel Gallery and The MIT Press, 2012. Originally published in Vibrant Matter: A Political Ecology of Things. Durham, NC: Duke University Press, 2010.

Hunter Kissel
Guest Contributor for Ruckus
5.29.19
Hypergrass: Triple (2018),
Leticia Bajuyo.
Framed artificial grass.
Floating City (still), (2018),
Valerie Sullivan Fuchs.
Single channel video (3:50 minutes).
Gathering, (2015-2017),
Joyce Ogden.
Repurposed science lab flasks, bees wax, steel.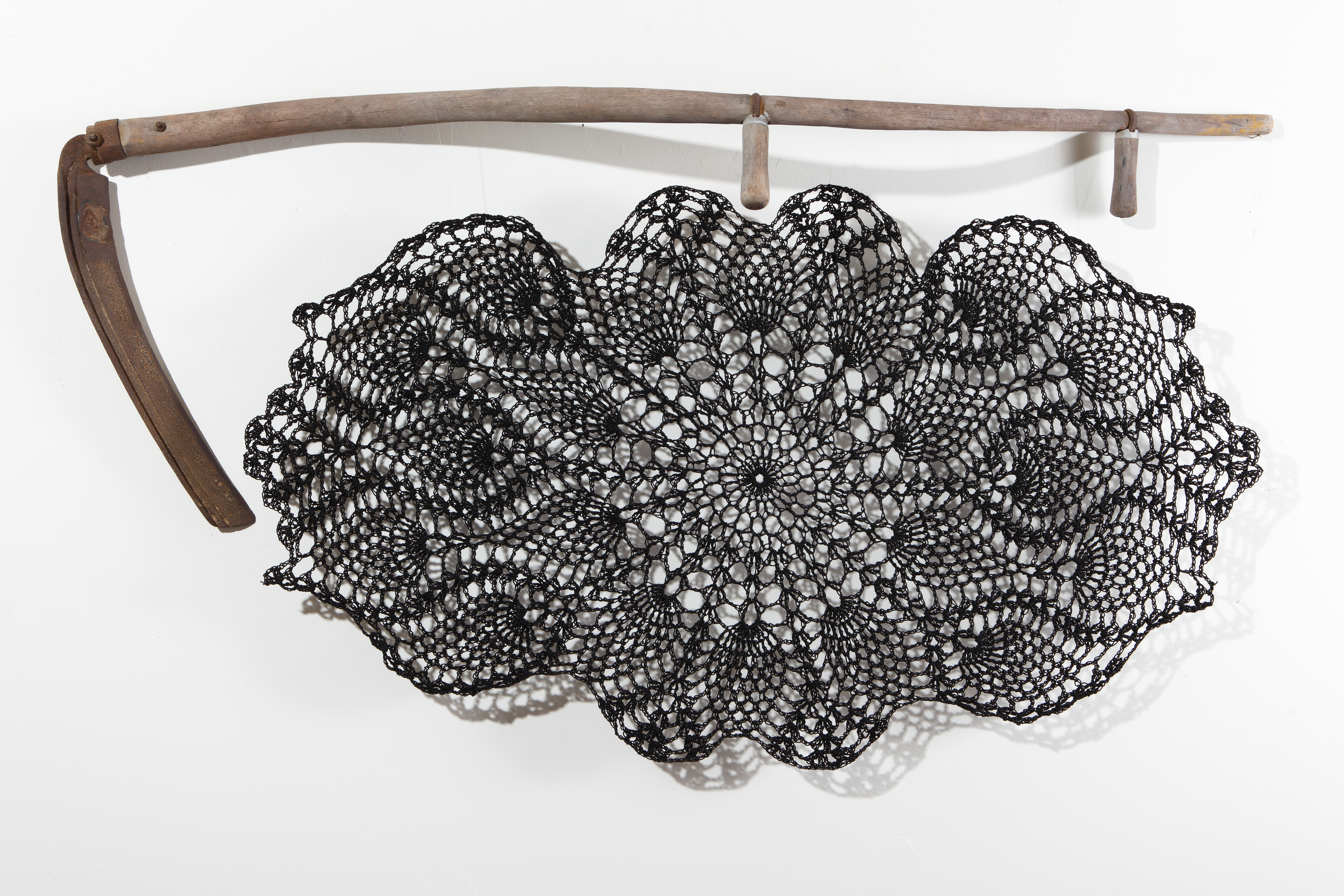 Scythe, (2012), Bette Levy.
Vintage scythe, synthetic cord, crocheted doily, paverpol.
Install.