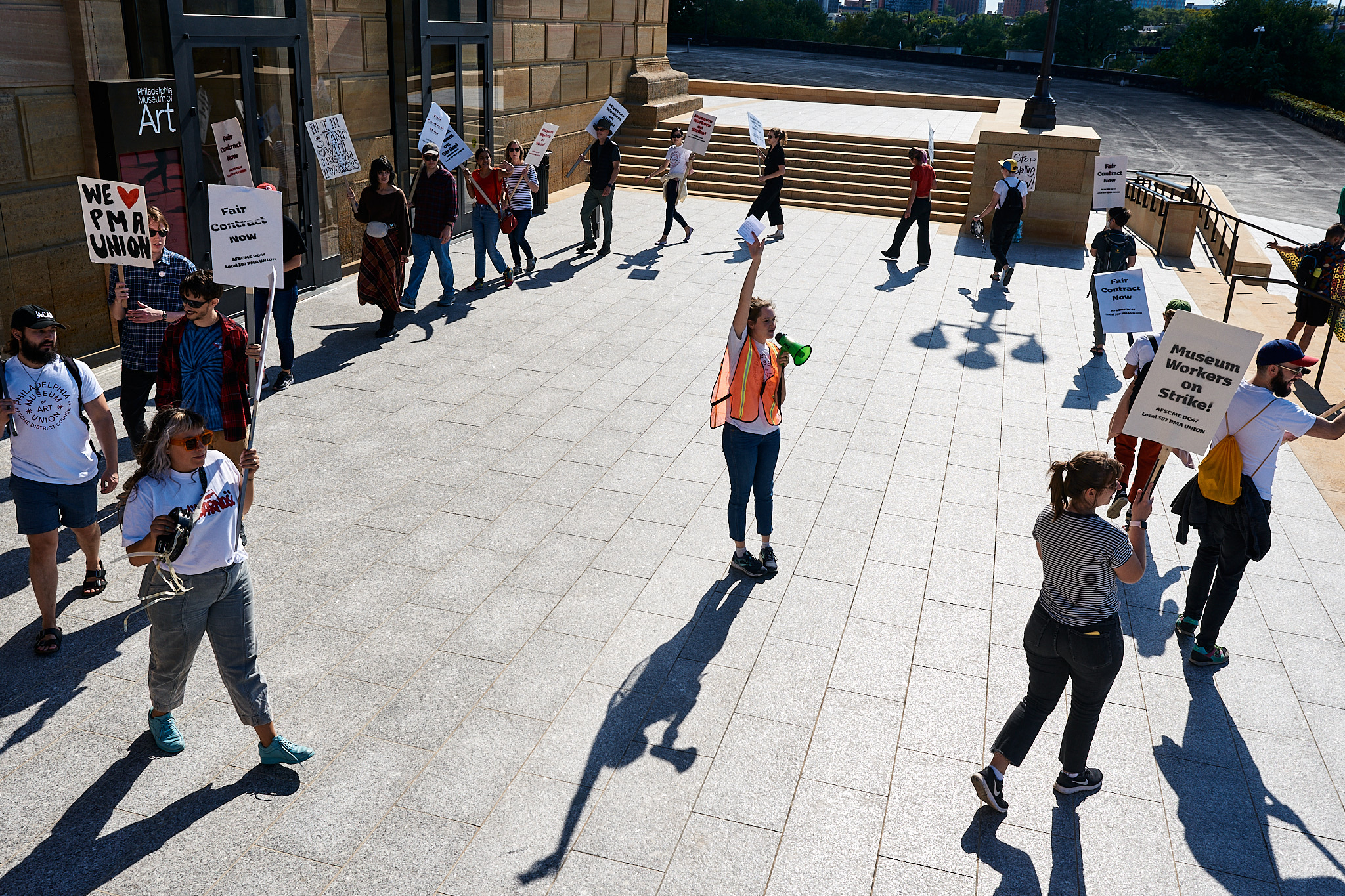 All images: Members of the PMA Union-AFSCME DC 47, Local 397 during their 19-day strike in front of the Philadelphia Museum of Art in 2022. Photo credit: Tim Tiebout
︎ The Philadelphia Museum of Art, Philadelphia
Lessons for Workers at Smaller Museums from the Successful PMA Union Strike

Essay
L Autumn Gnadinger
&
Emily Rice
If one assumes that the ever-accelerating trend of U.S. museum unionization holds true in the near future, then it is reasonable to imagine that many workers at smaller cultural institutions in the South and Midwest might be asking themselves right now: is it time? And if so, how? While there are many resources available that detail the basic nuts and bolts of unionizing
1
, and additionally many new museum unions to look to as a model
2
, there are some urgent and unique lessons to be taken from the workers at the Philadelphia Museum of Art.
3
Having just secured a new contract after a year of organizing, over two years of active negotiations, and, most recently, after a successful and historic 19-day strike, the PMA Union-AFSCME DC 47, Local 397 (PMA Union, from here), have laid out a playbook for other U.S. institutions. While the PMA Union's model is not always applicable to every specific regional circumstance, it reveals much about the kinds of things that are worth considering: what to expect from Museum management, fellow union members, the surrounding community, and the larger art and museum worlds.
The following is a list of key takeaways from the PMA Union's ongoing strike for soon-to-be, or freshly formed unions at a U.S. museum or cultural institution:
After voting to unionize, anticipate and strategize around a long negotiation period.
After successfully voting to unionize, the real work of negotiating begins. This is an arduous process that can take an incredibly long time and is often a step in the process that anti-union (or at least change-adverse) managers and board members might try and use to slow things down. This is to their advantage in a variety of ways.
One is that initial demands made by a newly formed union might be well beyond what a given management is willing to agree on at the time negotiations begin, but multiple years later, might be more agreeable. This was the case with the PMA Union's 24-month negotiation before finally going on strike, where the exact meaning of their demands have changed substantially within the larger context of the inflation of the past year. As such, consider how closely your demands will meet you and your fellow workers' needs one or two years out.
What is key in this process is building support for each other within the union. Your greatest strength is this support, and during long negotiations, it is easy to get discouraged. Build communication channels between workers, so people know whom to ask questions and raise concerns. Develop a list of key priorities for your negotiations, and check in regularly as negotiations progress to understand which issues are most important to your members.
You will find solidarity from unexpected places, but not necessarily the traditional ones.
Philadelphia is one of the United States' most ardently pro-union cities and has experienced overwhelming support from the surrounding community, both in person and online. While achieving this level of support is a great goal, if you are in a region with a different civic relationship to labor advocacy, it is reasonable to expect slightly less from your community, at least at first.
In Philadelphia, not only is public opinion slanted in favor of workers and workers' rights, but the city also has a literacy of the basic mechanics of labor advocacy, which may or may not exist in the same way where you live. Education may need to be core to the efforts you are engaged in, in addition to the work of advocacy and negotiation at your workplace itself. For instance, people might not even know exactly what a picket line means, or what it means—functionally and symbolically—to cross or hold one.
Furthermore, regional differences in culture and expectations might need to inform the exact shape of your tone when communicating with the public. While museum unionization efforts are becoming more well-known, they may still be a new concept for the general public. Even union supporters may be confused or uncertain of what a union at a museum means or would look like. Exact copying and pasting of language and public communication from the PMA's Union, while having found success in the Mid-Atlantic, might be the very thing that drives would-be supporters away in the Midwest or South. As museum workers, you are already skilled in building connections within your community, and now is the time to use those skills to your advantage. Build new solidarity networks with the people and communities that support you.
Plan and build a strike fund.
In the luckiest case, the management of your institution will agree to bargain in good faith and settle on a mutually agreeable contract before a strike is necessary. But if a strike must happen—and if the PMA's strike was any indication—anticipate the need to strike indefinitely, and plan for that both emotionally and financially. If you are a current or future union leader, it might be worth asking yourself: what does a strike fund need to look like to adequately support our employees while on strike? How are we going to raise those funds, and how long will that take? Keep in mind that simply starting a strike fund may be enough to move contract negotiations forward. Creating a strike fund does not mean you have to use it, but it is better to have that safety net in place before you reach the point of calling a strike.
4
In addition to the PMA Union's robust community support, where a healthy amount of its strike fund came from, they also received substantial financial support from its parent union, ASFCME.
5
For this reason alone, it is worth weighing carefully the decision to join (or not to join) a larger existing union.
Don't expect the rest of the museum world to care, or substantively support you.
While support from the larger art world should be de facto, anyone who has lived in the country's interior knows from experience that this is not necessarily the case for middle America. With rare exceptions, art news from the Midwest and South usually does not reach the art press in larger art centers and is even rarer to reach ordinary national news.
Even less likely is support from the kinds of national accrediting bodies of museums like the American Alliance of Museums. Despite many actions by PMA's management that, ostensibly, would jeopardize its accreditation
6
based on the standards provided by the AAM (the governance of which being its primary function in the museum system in this country), they have yet to release a formal statement or position on the strike.
7
It follows then, that unless something changes about their position, they are not going to be all that interested in the goings-on at your museum, either—accredited or not. This is not necessarily surprising, as it is the old power structures that are creating the poor working conditions leading many museums to unionize in the first place.
Understand the motivations of your administrators and board.
As a union, you must find leverage anywhere you can get it. To do so requires understanding where your institution's
real
motivations lay. For instance, the PMA's building and operations costs are enormously subsidized by the city of Philadelphia,
8
so the active burden of paying those costs may be less of a motivation to settle due to low attendance revenue caused by an ongoing strike. Similarly, if a museum is predominantly funded by a small group of individual donors (as many museums are), or otherwise does not have a very diverse revenue stream, management may not be all that responsive to the needs of its community over this smaller group.
Still, it is important not to completely rule out the importance of softer power during this process. Two weeks after the PMA Union went on strike, the museum closed comments on some of its social media channels due to the overwhelming volume of public support and outcry. While it is unclear how much public opinion weighed on the PMA's decision to finally settle, it is certain that the unwavering online support for the union forced them to acknowledge public dissent for their position, and helped to rally broadband support for the union during the strike. Questions worth asking: is my museum's management motivated by the bottom line every month, or can it hold out indefinitely? And what revenue streams do the workers have influence over? Whose opinion tends to move the attitudes and actions of management?
Don't wait.
If it can be helped, don't wait until dire times demand action. If relations between management and rank-and-file workers are relatively amicable now, and major changes aren't necessarily a motivation for your workplace, do not delay putting together the very first steps of beginning a union. While circumstances may not require it now, having the initial mechanics in place can save enormous time and work later if and when things change. Furthermore, do not consider only what unionizing your museum can offer you now, but also what it can offer its future workers as well.
These lessons should not discourage or overcomplicate. Ultimately the fight for a fairer world (in art and otherwise) cannot be motivated only by the relative promise of success, but instead by the fact that it is prudent, and necessary, and must be tried for always.
-
The strike fund of AFSCME Local 397 also supports union members at places like the Penn Museum, who are actively in contract negotiations.
To donate to the strike fund follow the link here.
-
Citations:
NPR reports around two dozen new museum unions have formed since 2019: https://www.npr.org/2022/10/07/1127400793/what-a-strike-at-a-philadelphia-museum-reveals-about-unionizing-cultural-institu
Once a strike fund is established, used or not, it can go on to support future contract negotiations represented by your union.
The AAM did not answer any inquiries on the subject for this piece.
-
10.17.22
L Autumn Gnadinger (they/them) is an artist, writer, and educator based in Philadelphia, PA and is an editor for Ruckus.

Emily Rice (she/her) is the Collections Assistant for the department of European Painting & Sculpture at the Philadelphia Museum of Art and a member of the PMA Union.