PHOTO: Intersection of East Market and South Clay Streets

Maintaining the Momentum: The Evolving Climate of Louisville's Art Scene
Thoughts On
Jessica Oberdick
In March of 2014, the
LEO Weekly
published an article titled "Art in Transition" by Michael Jones, in which he discussed the evolving climate of Louisville's art scene. At the time, Tim Faulkner Gallery had recently relocated to the Portland neighborhood, Zephyr Gallery was implementing their Project Series, and the influence that Instagram and Facebook were having on the relevance of traditional galleries was a growing concern. Five years after the publication of this article the momentum of change has yet to cease. We have since seen the opening, closing, and relocation of numerous galleries and exhibition spaces. Popular spaces like Zephyr Gallery, the Green Building Gallery, and Kaviar Forge Gallery have ceased their exhibition programs, while others like PYRO Gallery and Tim Faulkner have moved to new areas of the city.
The everlasting fluctuation of East Market Street has been a constant from 2014 to today. Despite this, the East Market District, or NuLu, is still primarily considered the arts district of Louisville. Once a seldom-visited part of town, the area developed into a small arts community that attracted the various bars, restaurants, and boutique shops it is known for today. Before the development of NuLu, "Louisville didn't really have an arts center," Chuck Swanson, owner of Swanson Contemporary, tells me as I sit down with him and his gallery assistant, Nicholas Cook, one warm Thursday afternoon. When Swanson Contemporary first arrived on East Market Street in 1998, he was one of the first galleries along with Zephyr and Billy Hertz. In its height, he estimates that the area had nine or ten galleries in addition to numerous artist studios in the area including Bryce Hudson and Stephen Irwin. Angie Garner of Garner Narrative has similar insights about the development of the NuLu district: "Back when we opened I'd say we were a destination gallery, located near some other destination galleries. If contemporary art was your thing, you'd have to make a special trip down here to see it." she says. Garner co-founded Garner Narrative in 2011 with her mother, artist Joyce Garner.
As restaurants began to move in, there was a period of balance between art and food. As development continued, however, the number of exhibiting galleries in the area has dwindled as spaces look for more cost-effective areas of the city to operate. "In becoming an "arts district" where other kinds of businesses and organizations would want to be, NuLu, at that exact moment, became a not-an-arts district. We were an arts district for maybe five minutes when we were first promoted as one. I think we knew we were not being promoted as an arts district for the sake of the art or the artists; it was about other things." says Garner
Newer spaces such as Moremen Gallery began in the Butchertown neighborhood before transitioning to their current home on Main Street. Other artist-run galleries have developed out of individuals homes and studios. houseguest gallery for example, which originated in 2018, is located in the front of owner and artist Megan Bickel's home in South-Central Louisville, while Sheherazade, also formed in early 2018, is housed in a studio/garage space on Magnolia Street in Old Louisville.
In many ways, these studio and home-run artist spaces are an answer to the problem of covering overhead costs. For many galleries, the need to rely on sales to keep the lights on limits what the gallery can and cannot afford to show in their space. "For it to be any fun" Swanson says, "you need to be able to take chances and show things the public maybe isn't ready to buy… And not just what they want and will pay for." With the rising costs associated with NuLu's development, it becomes harder to be able to take these risks. It is easy to understand why new galleries would be unable to operate in the area – and why older ones would feel the need to relocate. "Our art spaces in NuLu," says Garner, "have always depended in part on our apartment rentals. To be here, I am a landlady. This frees me up to paint work that won't sell easily, and to show work that won't sell easily."
"you need to be able to take chances and show things the public maybe isn't ready to buy… And not just what they want and will pay for."

Without these limitations, spaces like houseguest and Sheherazade have the freedom to experiment with the exhibitions they plan and the artists they showcase. In return, artists are also afforded the opportunity to push their current processes and show work they may be unable to show elsewhere.
"I felt that artists needed more opportunities to show work, and I had the space and the desire to try to make that happen" says artist John Brooks on why he originally opened his gallery Quappi Projects in his art studio in Portland. Formed in 2017, like Sheherazade and houseguest, Quappi Projects started as an artist-run space that did not face the same limitations as a traditional gallery. "I didn't know to what degree people would engage with the space but there was obviously a hunger for it because the art community has really supported Quappi Projects in such wonderful ways."
Our community benefits from these spaces as well. Often, their exhibitions respond to current social and political issues and give the community an outlet to consider and discuss them. In the age of Instagram, provocative exhibits and spaces keep galleries relevant—they offer a lot more than something that can be captured in a photograph. Such exhibits remind us that the role of artists in our community is not just to decorate the wall space behind our couches, it is to create culture and dialogue. "I am not interested in exhibiting art that feels comfortable or easy. I want to challenge people, give them opportunities to experience new things, expand their knowledge, help them grow. Great art can do all of those things." says Brooks on his continued goals for Quappi Projects, who recently had the opportunity to join the NuLu neighborhood with a new space in the 800 block.
The original galleries of the NuLu district were critical in the area's development, just as art districts and cultural centers are critical in the development of cities around the country. Research surrounding the importance of a city's creative capital is becoming more relevant as cities strive to brand themselves and appeal to new business and tourism. In
Cultural Policy as Development Policy
, Elizabeth Strom argues that
a city must have a unique identity. Strom finds, "that even if the arts have a smaller economic impact, their value as symbols of good taste and excellence may give them a more powerful indirect impact."
2
In other words, people are more likely to be attracted to a city that values its art and culture and has more to offer than chain restaurants. One of the reasons Louisville thrives, after all, is its commitment to being weird, celebrating diversity, and encouraging people to actively participate in the arts. Richard Florida's research in
Cities and the Creative Class
is similar. Florida establishes that creative people are the driving force in regional and economic growth, and that people are not simply making choices about where they reside based on job opportunity but on what an area has to offer. Florida has found that creative people tend to prefer places that are "innovative, diverse, and tolerant."
3
The NuLu arts district is all of these things. As it has evolved, however, it has grown to cater more to foodies and shoppers looking for small gifts and souvenirs and less to the innovative galleries that brought it to fruition. Even nights that used to be dedicated to the galleries, like the First Friday Hop have become more about specials occurring at the various restaurants and bars. Started in 2001, the Hop was once a big night for the galleries in NuLu. "I think the Hops brought in a lot of people to galleries, people who might not otherwise have come." Garner tells me, "This is why I still believe in them and still do them. It's about accessibility." As the area changed, however, attendance has dwindled as more and more events hosted on the same evening compete for audiences. New restrictions preventing galleries from serving alcohol at events is also looked at as a factor in the dwindling attendance.
Recognizing the indirect benefits of galleries and the people they bring to the areas they operate can be an important tool as we consider the development of neighborhoods. "Those of us in NuLu whose pursuits are creative need to continue to stick together." says Brooks, "What we need from the broader community is support. Engagement in any way is appreciated, but we specifically need financial support. Part of my job as a curator and gallerist is to develop a network of collectors, but that also depends upon the collectors themselves… Without a robust community of collectors, artists will either move away from Louisville or pursue other endeavors."
"As the area changed, however, attendance has dwindled as more and more events hosted on the same evening compete for audiences. New restrictions preventing galleries from serving alcohol at events is also looked at as a factor in the dwindling attendance."
"With so much more housing in the neighborhood and more coming, it may be that NuLu will become a good location for fine arts and crafts." says Garner, in response to how she thinks the neighborhood is evolving. New housing in the area include 310 @ NuLu and the Main and Clay apartments. "I am half tempted to try and then I tell myself to get real." Garner continues, "Much depends on how people feel about collecting art while renting… Art collecting may come to make perfect sense for people who rent, because of the power of art to define that rented space as your home." Chuck Swanson is less optimistic about the influx of housing and its ability to generate sales, noting the small square footage of the apartments and high price points.
The city of Louisville has considerable support for its arts and culture: in 2017 Fund for the Arts and Arts & Culture Alliance announced that Greater Louisville's nonprofit arts and culture industry generates $462.5 million in annual economic activity. Still, we need to support our commercial and for-profit spaces as well and recognize the innovative and important exhibitions they bring us. In the National Endowment for the Arts' research report 59,
When Going Gets Tough: Barriers and Motivations Affecting Arts Attendance
, they note the importance of attending arts events to communities:
In particular, we observe that attending the arts presents individuals with opportunities both to define their own sense of identity, and to socialize and deepen bonds with others in their families and in their broader communities— whether they be communities of geography, communities of shared cultural heritage, or communities of common interests.1
Despite all the transitions of the last 5 years, a few things about the arts in Louisville are clear: gallerists are committed and prepared to present high-quality exhibitions they feel will inspire and move the public while championing their fellow artists and arts organizations. "There is palpable energy in the art scene" says Brooks, "The scene is expanding, evolving. We just have to maintain the momentum." Garner reiterates what both Swanson and Brooks expressed about the shows they present: "The kind of art I like to show is made by people who generally do care about connecting to a wider public. It matters for them and for me that all kinds of people can walk in and spend time with the work, whether they knew they wanted to see the show or not." It is also clear that there are measurable benefits for our community when we have a thriving art scene and benefits for those of us who attend exhibits as well. As the arts continue to evolve, it is certain we will see more transitions in NuLu and all of Louisville, but it is also certain that there is a lot of opportunity for growth, for our artists, curators, and galleries.
-
Notes:
Strom, Elizabeth, Cultural Policy as Developmental Policy: Evidence from the United States, Cornwell Center Publication Series, Newark: NY, 2013, p. 8
1. NEA Research Report 59, "When Going Gets Tough: Barriers and Motivations Affecting Arts Attendance", January 2015, pg. 1.
2. Elizabeth Strom, Cultural Policy as Developmental Policy: Evidence from the United States, Cornwell Center Publication Series, Newark: NY, 2013, p. 8.
3. Richard Florida, Cities and the Creative Class, Carnegie Mellon University: Pittsburgh, PA, 2003, pgs. 7-8.
Jessica Oberdick
Contributor for Ruckus
8.26.19
View outside of Swanson Contemporary
View outside of Quappi Projects
View outside of Garner Narrative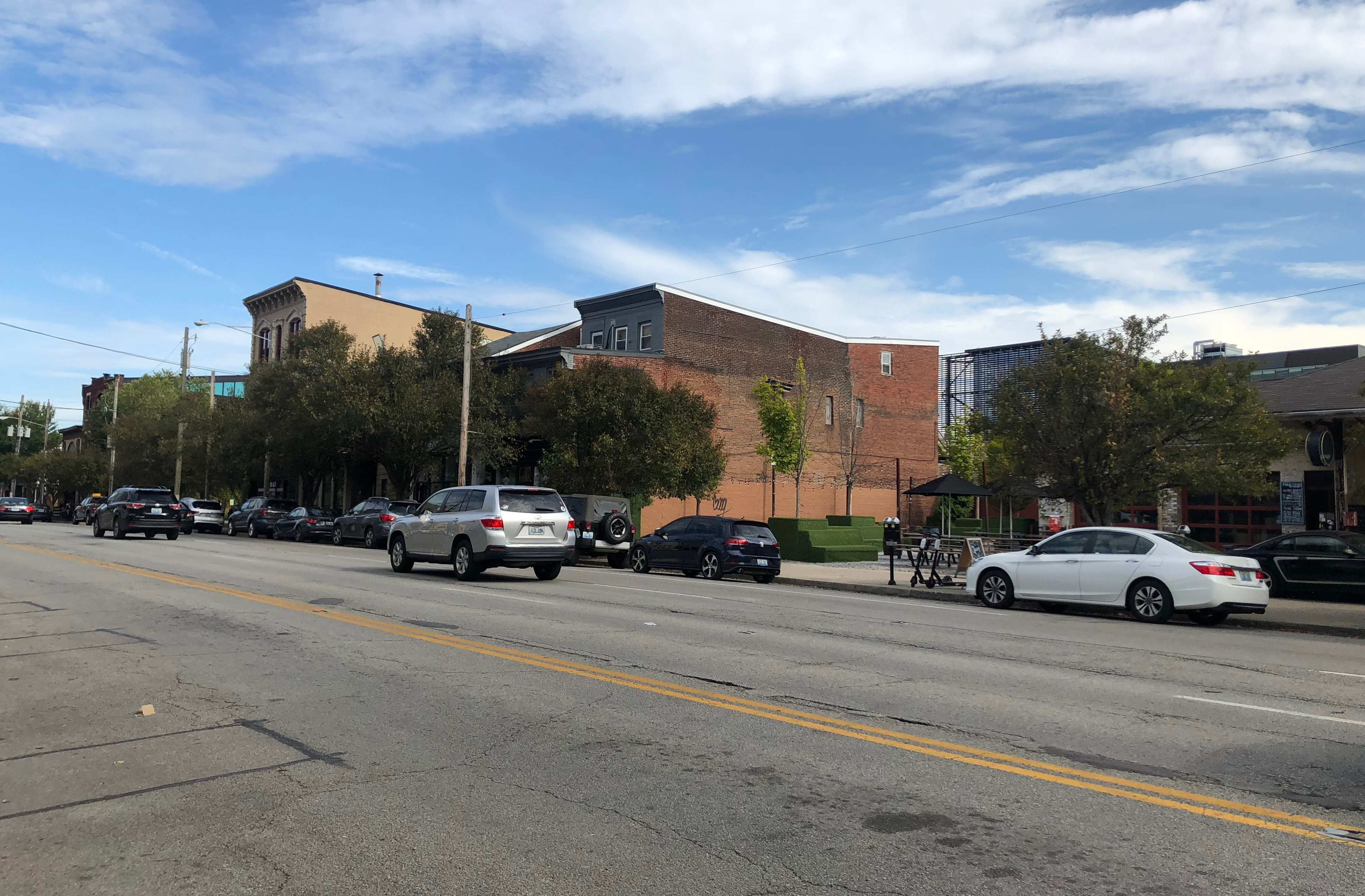 East Market Street