María Magdalena Campos-Pons
Q&A
Jenny Wu
María Magdalena Campos-Pons (b. 1959, Matanzas, Cuba) is a multimedia artist known for making installations, drawings, paintings, and performances that interrogate the historical formation of Afro-Cuban kinships and identity. She has had solo shows at the Museum of Modern Art in New York, the Indianapolis Museum of Art, the National Gallery of Canada, and elsewhere. Her work has also been featured in the Dakar Biennale, the Johannesburg Biennial, the Guangzhou Triennial, and other international art showcases. Since the beginning of her practice, Campos-Pons has treated art and sociability as two inextricable halves of a humanistic endeavor. Often calling upon motifs such as feminine labor, hair, flora, and the sea, her work reveals and honors the ties that bind individuals to one another, as well as an individual to their ancestors.
This year, the Nashville-based artist, academic, and curator is serving as the Consulting Curator for the inaugural Tennessee Triennial, which opened January 27 and runs through May 7, 2023. The triennial, whose theme this year is
RE-PAIR
, sprawls horizontally across four cities, drawing an imaginary line across the map of Tennessee, from Memphis to Nashville to Knoxville to Chattanooga. Seventeen participating institutions, including university art museums,
TONE
, the
Parthenon
,
Tri-Star Arts
, and Campos-Pons' own
Engine for Art, Democracy & Justice
(EADJ), have prepared independent, thematically linked exhibitions and programming in hopes of drawing art enthusiasts to the state. One afternoon in January, Jenny Wu called Dr. Campos-Pons—"Magda"—from Brooklyn, to find out what went on behind the scenes in the making of the festival.
This interview has been edited for clarity.
Jenny Wu:
I was excited when the first-ever Tennessee Triennial was
announced
. I grew up in East Tennessee, so it feels special that something like this is happening. For readers who might be unfamiliar, can you speak a bit about the triennial? I'm assuming it's been in the works for a long time.
María Magdalena Campos-Pons:
The triennial has been more than ten years in the making. It is an initiative of two artists and cultural workers from this region,
Brian R. Jobe
and
Carri Jobe
, the co-founders of Tri-Star Arts. I was invited to join the project at a moment of difficulty. They'd tried to launch the triennial previously with an extraordinary group of curators; then the pandemic came and interrupted the work that they were trying to do. So I was brought in after that to see if this project could, you know, come to fruition. So I want to say that the credit belongs to them—Brian and Carri Jobe.
JW:
You were brought in because of your experience organizing biennials.
MC:
I have done biennials in other places—for example, in
Matanzas during the 13th Havana Biennial
in 2019. I am trying, with the expertise that I have gained from previous projects in other places, you know, to be a conduit, to try to launch this project here in Tennessee. This is important as a statement and also as a recognition of the effort people from this region have made to bring visibility and energy to the visual landscape of the state. I'm fairly new to the area; this is my fifth year in Nashville and at Vanderbilt, where I teach. I've witnessed fractures and complexities, and these have been the conditions–the convictions—from which this project has evolved, at least in terms of my engagement with it.
JW:
I see.
MC:
I think the invitation to serve as Consulting Curator of the triennial also came as a result of the work I initiated here at Vanderbilt. I founded the initiative Engine for Art, Democracy and Justice (EADJ), for instance, at Vanderbilt in 2018, and they've had an impact on the visual landscape and the cultural work that we're doing here and have created a large conversation linking Nashville and Vanderbilt to a global network.
JW:
Speaking of a global network, the Tennessee Triennial certainly brings the local and the global into conversation. When I looked at the roster of participating artists, I saw many based locally in Tennessee (for example,
Joel Parsons
,
Sarah Elizabeth Cornejo
), many based elsewhere in the U.S. (e.g.
Amber Robles-Gordon
,
Hank Willis Thomas
), and some with international ties (e.g.
Cosmo Whyte
,
Kenturah Davis
).
MC:
The triennial has been from the very beginning a global institution that sought to bring to Tennessee important artists with projects and ideas that are vivid and valuable in the international conversation.
JW:
Not to mention bringing together the three distinct geographical regions of Tennessee: West (Memphis), Middle (Nashville), and East (Knoxville and Chattanooga).
MC:
All credit goes to the people here—to the curators who initiated the project. What I tried to do was create a framework that would allow all the regions to work together.
JW:
Has this triennial been a continuation of, or departure from, your previous curatorial projects?
MC:
One of the specificities of what the Tennessee Triennial is trying to do is this: instead of creating a project that focuses on one city and focuses on the work of one curator, the Tennessee Triennial creates a project that is state-wide, in four cities in Tennessee, and one that operates on an interlocking set of ideas. What I've done is create that thematic framework,
RE-PAIR
.
JW:
Can you speak a bit about the theme?
MC:
RE-PAIR
is the theme that ties together all the activities in all the cities. Historically, biennials—with the exception of the last few editions of
documenta
—are curated by one individual, the "star curator," who becomes the liaison, the centerpoint, for the power dynamics and thematics for a lot of the events, and the teamwork centers on one institution. This has been true for Havana, for Sao Paulo, and for Sydney. For the Tennessee Triennial, we have broken down that structure. In every city, in every one of the seventeen participating institutions, all the curators in the institution are curators of the triennial. They're working with the theme I've outlined for them and adding to that theme their creative voices. I don't think there's ever been a biennial or triennial more inclusive and more horizontal than this one.
JW:
So the structure of biennials and triennials is one aspect that's being "repaired."
MC:
When I think of "repair," I'm thinking about both the complexities and the rich texture of this region—culturally, economically, geographically, politically. I'm not naming anything, not pointing to a breakdown of the social fabric or geographical landscape, or talking about repairing a patch of the city that we don't look at. I'm proposing an abstract, open concept. The hyphen in
RE-PAIR
is about not only mending, fixing, and reconstructing but also pairing, putting together things that don't seem at first to go together. When you hold somebody, you are
pairing
. "Re-pair" is a unity, a dialogue, a coming-together. The umbilical cord of all my creative thinking as curator, academic, and maker is the fact that I believe art has the potential to be a restorative force, a territory in which we have an opportunity to become better, to do good. Art is a tool for healing, a gesture of care. The word "curator" comes from the Latin word cūrāre, meaning "to take care of."
JW:
That's a beautiful, utopian definition of what art and cultural workers do. Of course, art is not just about making consecrated objects. It's also about sociability, well beyond the walls of museums.
MC:
Art doesn't only happen in museums. That is where we get the archive of art, but art is happening in everyday life. That's also part of what it means to "re-pair": opening our senses to appreciate beauty in the everyday, to make our lives richer, stronger, and worth living. Art has made cities into destinations and transformed them. Just look at the small city of Kassel in Germany when they do
documenta
every five years. When a biennial or triennial is good, and it's successfully made and embraced by all the institutions, it will bring people to the region, just as people come to Nashville now to hear music and attend music festivals.
JW:
Just as people go to East Tennessee for the Smoky Mountains, Gatlinburg, and Dollywood.
MC:
My heart's ambition is to add one more reason to the existing list for people to come to Tennessee.
Otobong Nkanga,
Revelations
, 2020.
94 1/2 x 70 7/8 in. Courtesy of the Artist. © Otobong Nkanga.
Tommy Kha,
The Small Guardian (Or Isle of Washed-up Misfit Toys), Muscle Shoals
, 2018.
Archival pigment print.
Sean G. Clark, Tend, 2021.
Acrylic, oil pastel on matte board, 32 x 40 in.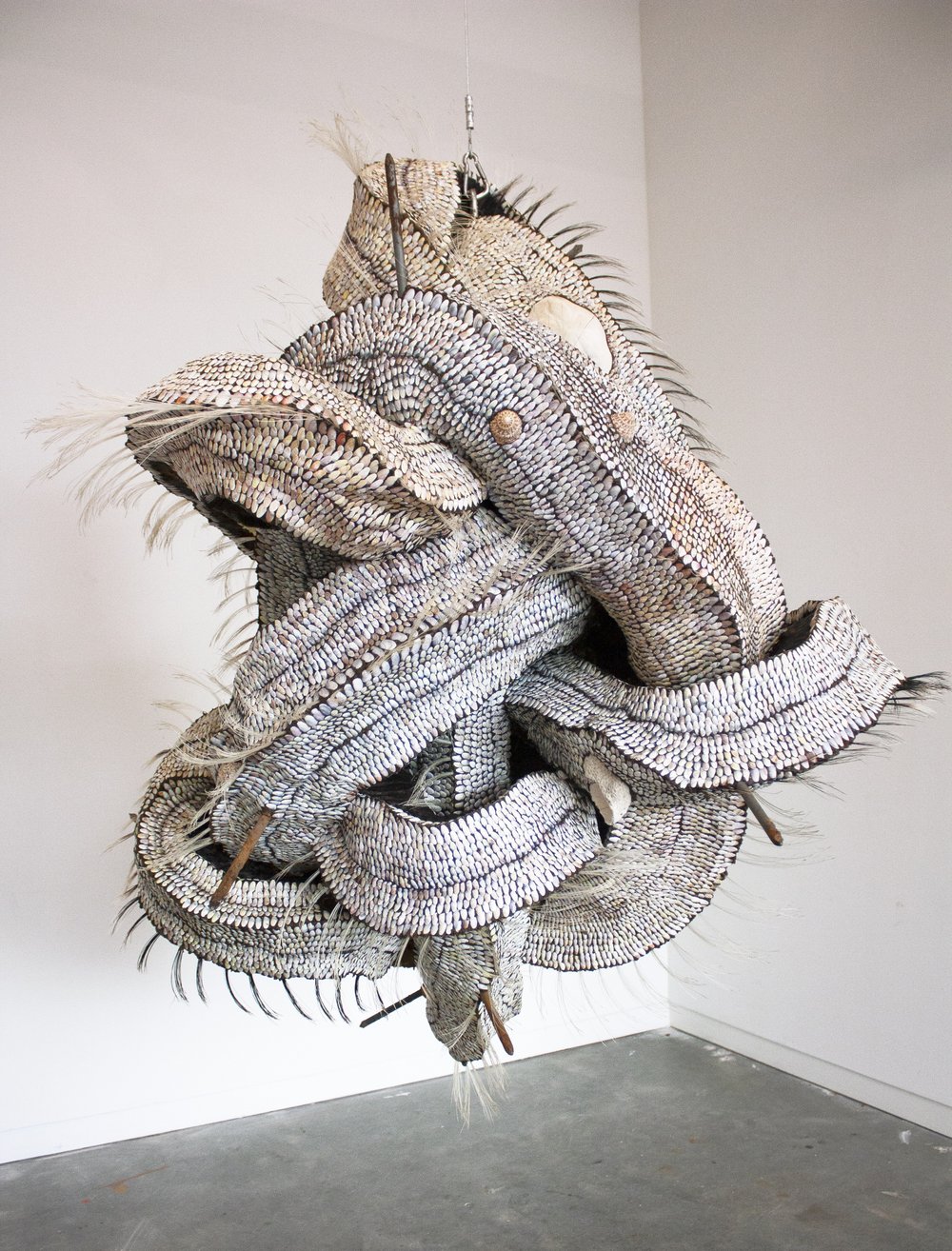 Sarah Elizabeth Cornejo,
Warnings and Prophecies from Serpents and Seas
, 2021.
Mixed media, 54" x 35" x 34".
-

3.29.23

Jenny Wu is a writer and independent curator.