Left side view of the installation, in the foreground, Ellen's collages attached to a painted wooden pallet with wheels and Ellen's video, YOU, RT 3m20s, 2022, on a monitor in the background. Right side of the installation, a partial view of Julie Torres' 12 painted panels on the wall and niche
Needle in the Hay

Review
Joe Nolan
Unrequited Leisure is located in the heart of Nashville, Tennessee's contemporary art scene in the Wedgewood-Houston neighborhood, in The Packing Plant building where a number of artist-lead initiatives form a creative hive of gallery spaces, a risograph print studio, a poetry library, and a low-powered FM community radio station. Unrequited Leisure is operated and curated by artists Chalet Comellas and Clinton Sleeper. The space is primarily a showcase for new media and screen-based art. For their last show of the year, Comellas has invited artists Ellen Letcher and Julie Torres to develop a collaborative installation of their own works. Letcher and Torres are partners and artists, and they also co-run LABspace in Hillsdale, New York. LABspace's programming springs from the pair's curatorial experiments which focus on community building. The installation at Unrequited Leisure includes video, objects, collage, and painting. It's a complex, thought-provoking exhibit, but it's also a colorful, funny and approachable show that can meet the eyes of any viewer.
Needle in the Hay
explores various notions of embodiment: a consciousness bounded by a physical body; an artist's body of work; works of art that embody and convey the charge of creative intention. It's also a show about skipping around art categories that employs unique gallery design solutions to blur the boundaries between various mediums, offering viewers painterly videos and sculptural paintings.
The centerpiece of the installation is a video looping on a large monitor: "YOU" finds Letcher attempting to organize a series of her collages in an arrangement on a wall in her art studio – her white gallery gloves match the white frames of her glasses. She hangs several collages and simply leans some smaller pieces against the wall, sitting on top of larger, hanging works. She fusses with a wireless speaker that's playing what sounds like a loop of birds chirping over a synthesizer string arrangement. When Letcher finishes installing her collages she grabs a laptop and places it in front of the camera. The screen is opened to a video of another laptop playing a video about artist, musician, occultist Genesis P-Orridge. A narrator refers to a quote from P-Orridge: "People say 'I'm a woman trapped in a man's body or 'I'm a man trapped in a woman's body,' but I say 'I'm trapped in a body.'" The narrator repeats this quote about the dread of embodiment in a video on the screen of a laptop, in a video on the screen of a laptop, in a video on the screen of a monitor, on a wall inside the gallery. The effect would be claustrophobic if it wasn't so clever and elegant. The vertiginous, receding imagery makes viewers question the implied "surface" and "depth" of the projected image, the way we regularly regard paintings.
The collages Letcher installs in the video are included in the gallery display. Instead of hanging them, the artist arranges the colorful, rectangular works on top of a white-painted cart that consists of a wooden pallet mounted on four large wheels. The cart is obviously an up-cycling project, but it's solidly constructed and thoughtfully painted, and with all the collages standing on their edges and clamped to the slats of the pallet, viewers are able to walk around the arrangement to discover the unique creative expressions these works conceal on verso. Letcher collages on raw wood panels. She combines found black-and-white and color images, swatches of pattern-printed paper, and stripes and gobs of colorful paint over the natural patterns in the wood grain. There are occasional figures and representational elements included in Letcher's torn and cut out imagery, but, overall, her compositions are abstract, formalist, and pleasingly painterly. The backs of the works are mostly decorated with single magazine images or blocks of text adhered to the wood using small strips of hot pink artist tape. This novel arrangement finds these untitled pieces interacting with and speaking to one another in a manner that's far more dynamic than we usually experience when looking at 2D artworks hanging in various proximities on a shared wall. One work features a swatch of white paper next to a black-and-white magazine image of a wintery woods. It's decorated with a painted turquoise square, and another work shares a similar swatch of green paper and blotches of the same blue. Both pieces read like abstract landscapes that might be documenting the same space, but from different points of view. Two of the works have contact sheet images of successive amber sunsets displayed on their backs. Two other pieces have night vision photographs of a traffic light taped on verso. These collages engage one another in a commentary about night and day, light and dark, and nature and technology. There are a number of strong individual works here, but they're all elements within an overall installation dedicated to embodiment themes: the collages poking up above the pallet look like both a garden and a graveyard. The unique display reads more like a collection of sculptures than an arrangement of 2D works, reiterating the exhibition's commitment to category blurring. The 360 degree display on a mobile platform even finds these physical artworks engaging in a conversation about "moving" imagery with the video.
Letcher's painterly collages are a sharp match with Torres' gooey and gorgeous small painted panels–they're installed around and inside a window in the gallery wall. Torres populates the window's deep jambs and sill with small paintings leaning on the ledge and even balanced on top of one another. The arrangement is finished off with a selection of three of Letcher's black-and-white collage images on paper they hang from the trio of bulldog clips that usually hold Unrequited Leisure's gallery handouts. Torres' untitled works are chromatic and raw, and her playful display highlights their formalist flourishes: undulating lines and rich, cake frosting textures. Most of these pieces depict arches that read like entryways or exits, drawing viewers into their receding lines. One work features an X-shaped composition of green, orange, yellow and coral lines that pulls viewers' attention to the center of the panel where Torres paints a series of concentric, viscous white arches over the background. A similar piece hangs nearby and features a bumble bee palette with an oozing yellow arch painted over a black background. All of these portal-like works echo the window opening they're arranged around and in, and Torres' paintings reflect the liminal space between embodiment and disembodiment.
Letcher and Torres make a wise choice not to include detailed statements or didactic info in the gallery. The exhibit's explorations of embodiment are better evoked than explained, and to that end the pair deploy meta video art and category-crossing physical works in unique displays. The words repeating on the video lament the embodiment of consciousness, but Letcher and Torres bring an irreverent and empowering perspective to the installation as a whole, and
Needle in the Hay
is gleaming with sharp insights about nature and being: being within, and being without.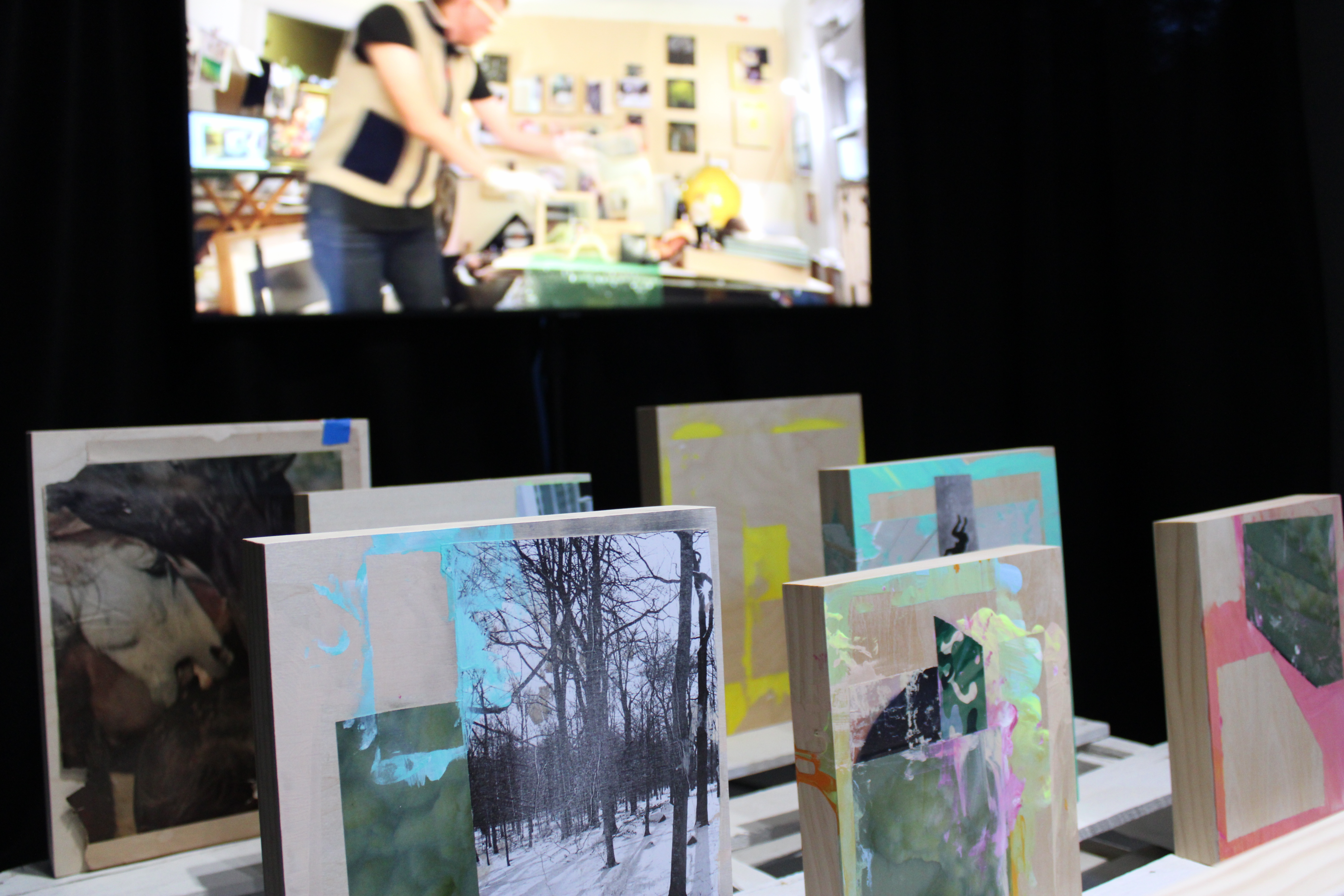 Closer detail of Ellen's collages with her video YOU, on the monitor in the background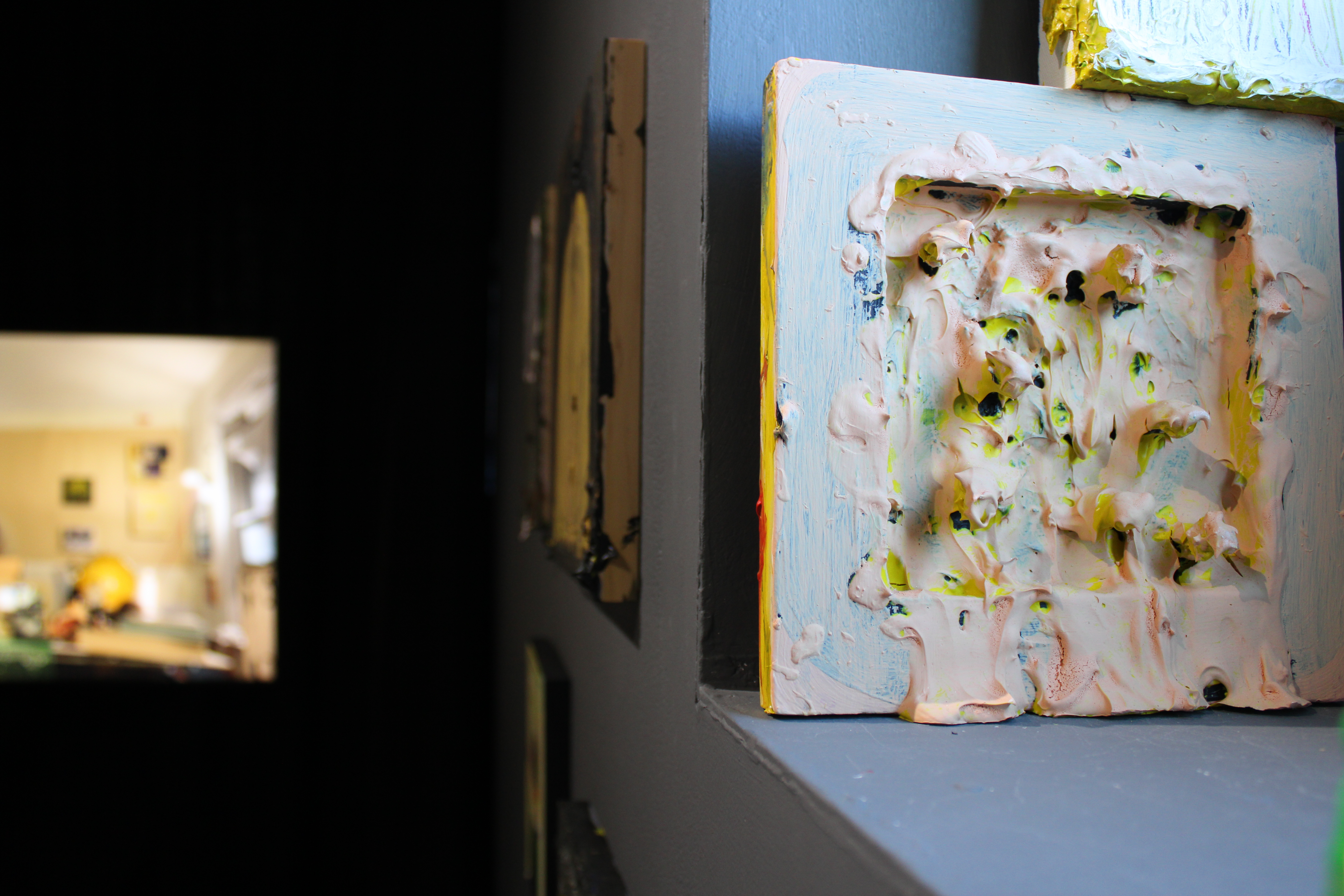 Detail view of the installation, Julie Torres' painted panels on the wall and niche
Detail view of the installation, Ellen and Julie's works from the rear of Ellen's sculpture looking out towards the door of the gallery space
Detail view of the installation, one of 12 painted works by Julie Torres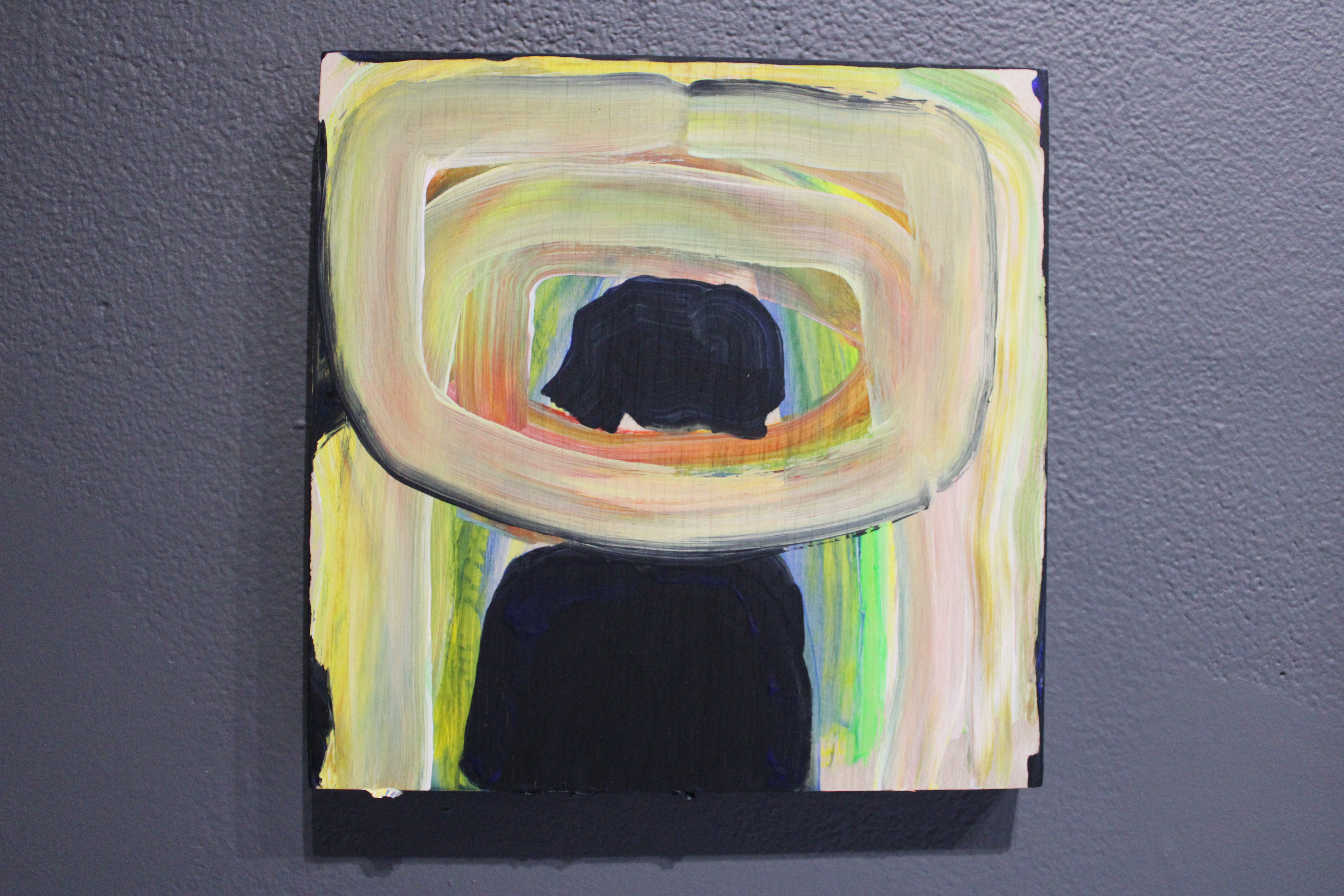 Detail view of installation, one of 12 painted works by Julie Torres
Needle in the Hay was on view at Unrequited Leisure in Nashville through January 26, 2023

-

2.5.23

Joe Nolan is an intermedia artist based in Nashville, TN. His diverse practice includes photography, multimedia paintings, radio poetry broadcasts, live performances, musical releases, public art projects, and his critical writing about art and film.