Above: Ahmet Öğüt, Bakunin's Barricade, 2022. Installation view, Allen Memorial Art Museum, July 16–October 2, 2022. Photo: Field Studio. Commissioned by FRONT International: Cleveland Triennial for Contemporary Art, with support from The Andy Warhol Foundation for the Visual Arts and in partnership with the Allen Memorial Art Museum at Oberlin College. This program is also supported as part of the Dutch Culture USA program by the Consulate General of the Netherlands in New York. © Ahmet Öğüt

Oh, Gods of Dust and Rainbows
Review
Alexandra Drexelius

Last summer a buzzing cicada brood erupted from the ground. They fluttered; they fornicated; and they fell. Another 17 years will pass until the burrowed hatchlings emerge from the earth. This cacophonous yet fleeting cycle is not unlike the roar of the international art survey. Staged at regular intervals—every two, three, four years and so on—these monumentally ambitious exhibitions spring up with great aplomb only to dissipate as quickly as they came. Piloted in 2018, FRONT International: Cleveland Triennial for Contemporary Art, relies on similar principles espoused by its domestic and international curatorial precedents; however, FRONT energetically asserts that Ohio is poised to flourish anew through art. Once peddling in iron, then steel, the city of Cleveland now hopes to thrive on a new production cycle grounded in cultural commissions by emerging and established contemporary artists alike.
The triennial's second iteration—delayed by a year on account of the pandemic—leans into its apparent impermanency. Stemming from a 1957 Langston Hughes poem, the exhibition title,
Oh, Gods of Dust and Rainbows
, evokes both the ephemeral and the overlooked. Curated by Prem Krishnamurthy, the exhibition leads with new media, performance, and art that unfolds over time. Nebulous, passing, and indefinite, the art can be difficult to pin down. Bringing together 100 artists across 30 sites and 3 cities, the exhibition stakes its claims in art's capacity to build care and community; however, despite these big ideas, much of the work relates to its viewers at an intimate scale. The following reflections consider the substance of this year's triennial:
1. Of
With explicit aims to drive economic activity, increase local and international visibility, and encourage positive change in communities across Cleveland and Northeast Ohio, the triennial necessarily prompts dialogues about place. What does it mean to make a work that is of this region? While many artworks on view represent past work or idioms previously employed in an artist's practice, other installations offered site-specific responses through new or adapted work. Haseeb Ahmed's installation in SPACES,
Vanquish the Void!
(2022)
uses recordings of Lake Erie's wind patterns as its unlikely source and subject. As the sonic throughline in Ahmed's kinetic multimedia installation, wind offers a mobile, immaterial medium that is of this place yet passing and transferable. Where the wind will blow is unstable—recycled and thrust into new contexts and territories, it promises to chart distinct paths, and sounds. In the neighboring college town of Oberlin, the Allen Memorial Museum of Art presents a new iteration of Ahmet Öğüt's
Bakunin's Barricade
—a project he has developed in museums since 2015, which combines objects from the permanent collection with fences, signs, vehicles and other found materials to create large-scale, fantastical barricade-like structures within the museum. In keeping with the research-driven context of the academic art museum, the adjacent gallery presents works from the collection that engage with acts of resistance and revolution.
2. Dust

To make something out of dust is to pull something out of thin air. Evocative of the imperceptible, the residual, and the dirty, there is a resourcefulness to working with dust. Craft traditions resonate with this way of making, where materials and skills emerge from unexpected contexts. One such context is Art Therapy Studio, a therapeutic clinic founded in Cleveland in 1967. The historic center, grounded in the proposition that art could be used as a healing tool, influenced the present curatorial vision. An archival poster created by a patient on display at the FRONT PNC Exhibition Hub aptly summarizes the mission of the Studio in four stages represented by the anatomy of a plant burgeoning from stem to blossom. This desire for expression born out of untraditional and homespun means extends to a group show at the Akron Art Museum, which culls together 18 discrete artistic practices informed by modern-day craft sensibilities. Highlights include the textile-forward sculptures of Judith Scott and Sonia Gomes—in each case, sophisticated, vivid structures emerge from scraps of fabric or threads of yarn. These more traditional mixed media compositions are complemented by the work of Dominic Palarchio who produces exquisitely measured assemblages out of ordinary yet enigmatic materials; a standout wall tapestry composed of sewn-together discarded rags, sourced from both car mechanics and house cleaners, accentuates the labor that produced their distinctive, colored stains.
3. And

Like Langston Hughes' two epigrams, sometimes good things come in pairs. Productive juxtapositions between artists generate fresh perspectives. In keeping with the curatorial emphasis on collaboration, two-person shows offered sites for affinities and contradictions. An installation at SPACES contrasts the work of a father-and-daughter duo: a selection of drawings and prints by composer Jurriaan Andriessen detail a grotesque metropolis of sinuous highways snaking in and out of traditional, Dutch-style architecture—the buildings proliferate like tumors, disappearing beyond the formal edges of the compositions; alongside these works on paper, a series of metabolic sculptures by Isabelle Andriessen display the byproducts of chemical processes. Staged like slow-dying synthetic creatures, her lifeless contraptions leak with a kind of morbid vitality. Both artists entertain science-fiction, while underscoring the preexisting systems and circuitry that could support these means of existence. At the Cleveland Museum of Art,
Sunlight, Shadow, and a Rainbow
,
couples the work of photographers Matt Eich and Tyler Mitchell. Upending assumptions around the documentary characteristics of photography, both artists stage portraits of pastoral life. In lieu of intermingled work, the exhibition is installed as two sides meeting in the middle, with Eich on the left and Mitchell on the right. Despite this separation, formal rapports and rhythms skip across the gallery: the blur of a girl twirling a flower in a portrait by Eich is matched across the room in an unfocused still by Mitchell of a child being spun in the air.
4. Rainbows

Spanning music, performance, and film, time-based work commands the greatest attention in FRONT 2022. Each permutation recalls a rainbow, defined by its transitory nature. In particular, the moving image offers a compelling format for two new works: Wong Kit Yi's video installation and accompanying karaoke-lecture performance
Inner Voice Transplant
explores the eccentricities and porosities of the voice inside our head. Located on the campus of the Cleveland Clinic, the work grapples with different forms of care situated between medical science and spirituality. Over the course of the video, rational and definitive statements give way to speculative and wayward whims of the mind. Similarly, Moyra Davey's film
Horse Opera
, installed in the Cleveland Public Library, follows the spontaneously scripted inner monologue of Elle—a young woman hopping between dance clubs in New York City. Narrated in a meandering yet staccato cadence the film flows not unlike the cumulative impression of work in this year's triennial: a more complete picture comes into view amid scattered and indeterminate flecks and wisps.
Despite artworks and accompanying didactics that taut ambitions of community-building and togetherness, FRONT 2022 is far from cohesive. Fragmented, and at times uneven, the exhibition entreats the viewer to trace their own connections across the expanse of installations and events, some dense and some diminutive.
Oh, Gods of Dust and Rainbows
suggests that if visitors pause, and look a little closer or a little longer, they may find beauty and significance in unforeseen places.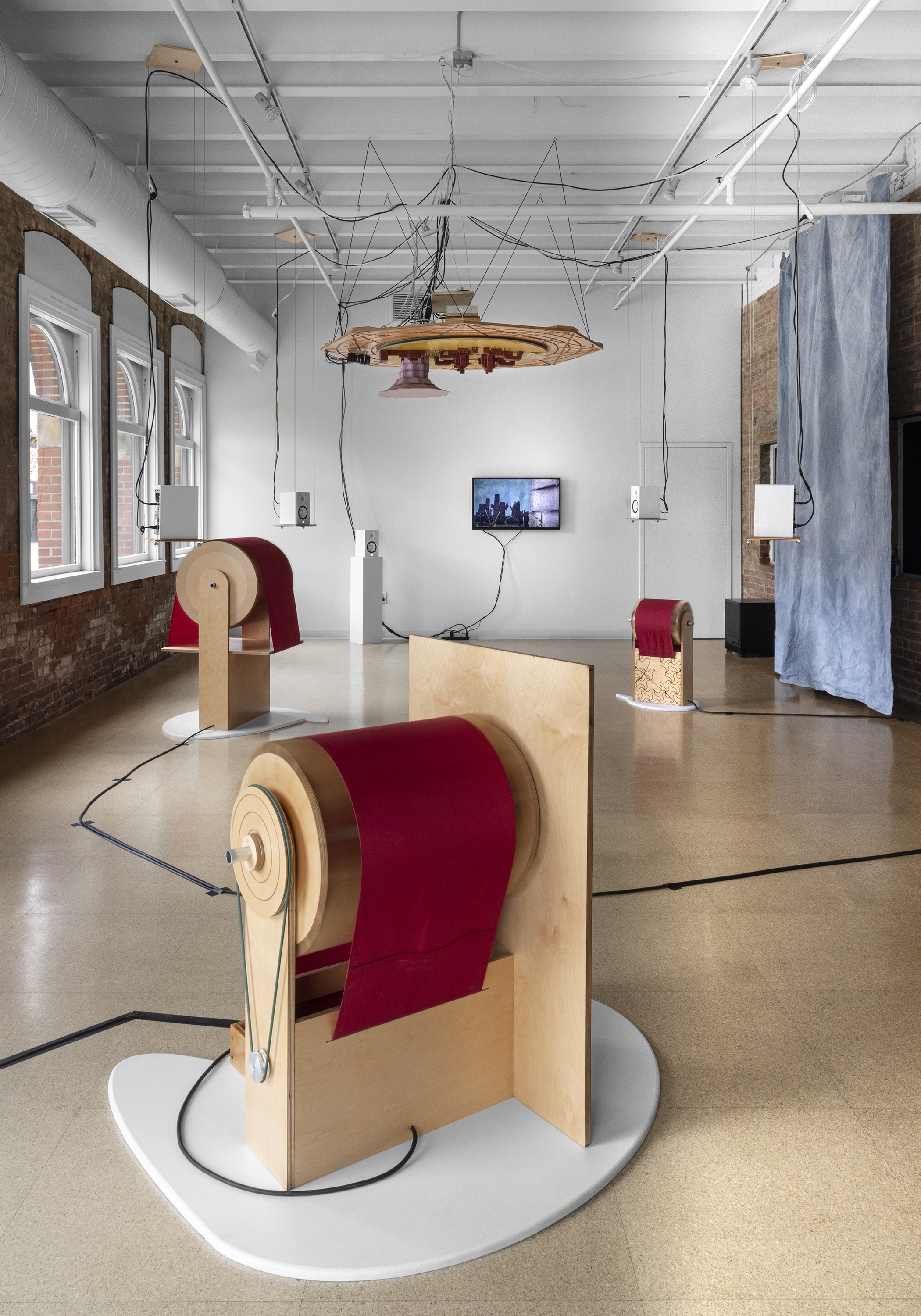 Haseeb Ahmed,
Vanquish the Void!
, 2022. Installation view, SPACES, July 16–October 2, 2022. Courtesy of the artist and Harlan Levey Projects, Brussels. Photo: Field Studio. Produced with the support of the SPACES International Residency Program. Special thanks to (or assistance by) Heavy Color, Pieter Heremans, Atelier Vilvoorde, Harlan Levey Projects, SPACES team, Sears Think[box] at Case Western Reserve University, Jeremy Paul, Patrick Booth, and Leen Scholiers. © Haseeb Ahmed"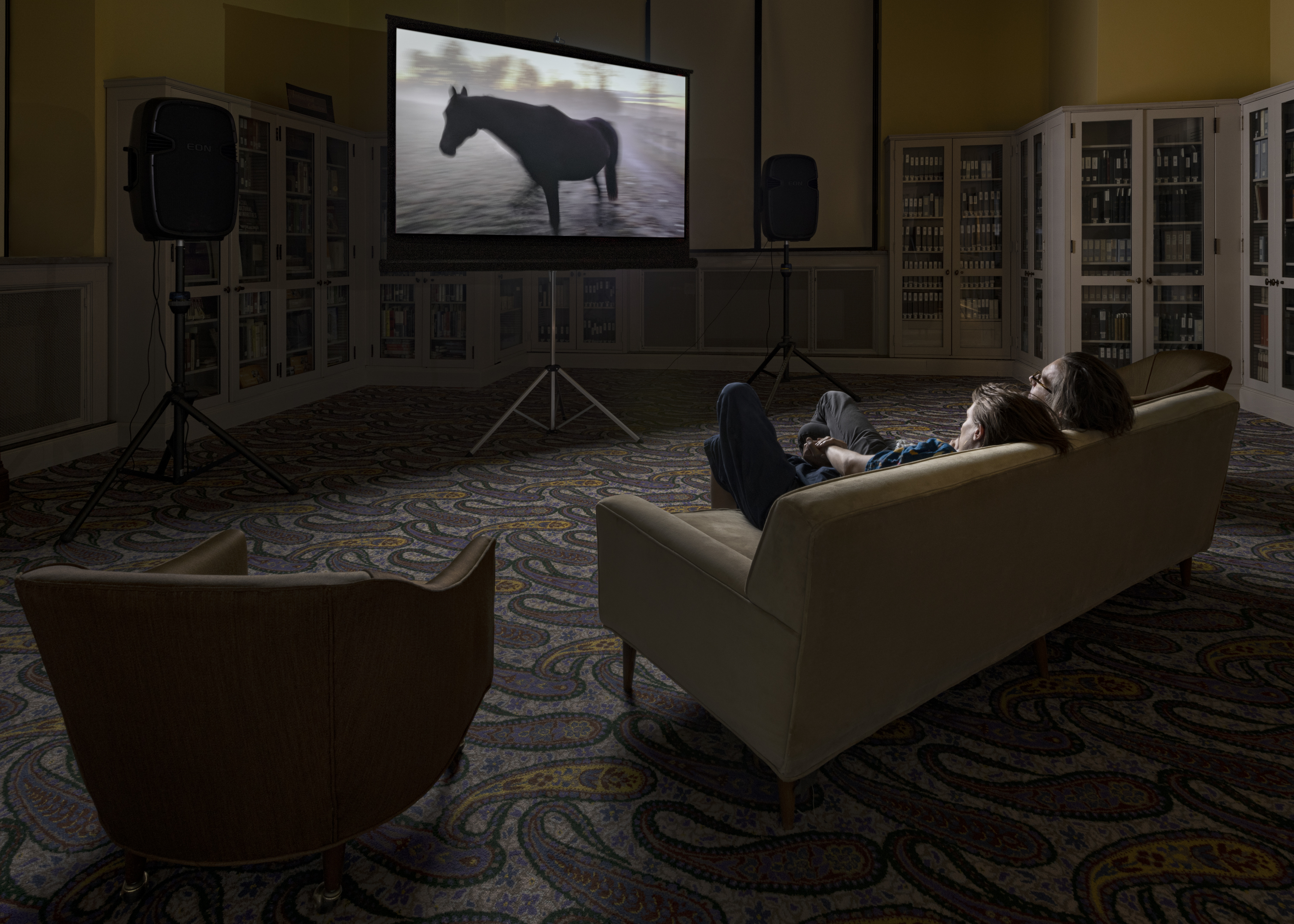 Moyra Davey,
Horse Opera
, 2019–22. Installation view, Cleveland Public Library, July 16–October 2, 2022. Photo: Field STudio. Commissioned by FRONT International: Cleveland Triennial for Contemporary Art. © Moyra Davey
Wong Kit Yi (黄潔宜),
Inner Voice Transplant
, 2022. Installation view, Emily Davis Gallery at Oberlin College. Courtesy of the artist. Photo: Field Studio. Commissioned by FRONT International: Cleveland Triennial for Contemporary Art with additional support from the Myers School of Art Residency Committee. FRONT exhibitions in Akron are presented by Richard and Alita Rogers, The John S. and James L. Knight Foundation, GAR Foundation, and the Akron Community Foundation. Additional support provided by the Myers School of Art Residency Committee. © Wong Kit Yi"
Isabelle Andriessen,
Nocturnals
, 2021, ceramic, aluminum, epoxy, iron II sulphate, stainless steel, water cooler, python pump, 252 × 82 ⅝ × 51 ¼ in. (640 × 210 × 130 cm). Photo: Timothy Johnson. © and courtesy of the artist
-

8.2.22

Alexandra Drexelius (she/her) is a writer based in Chicago, IL