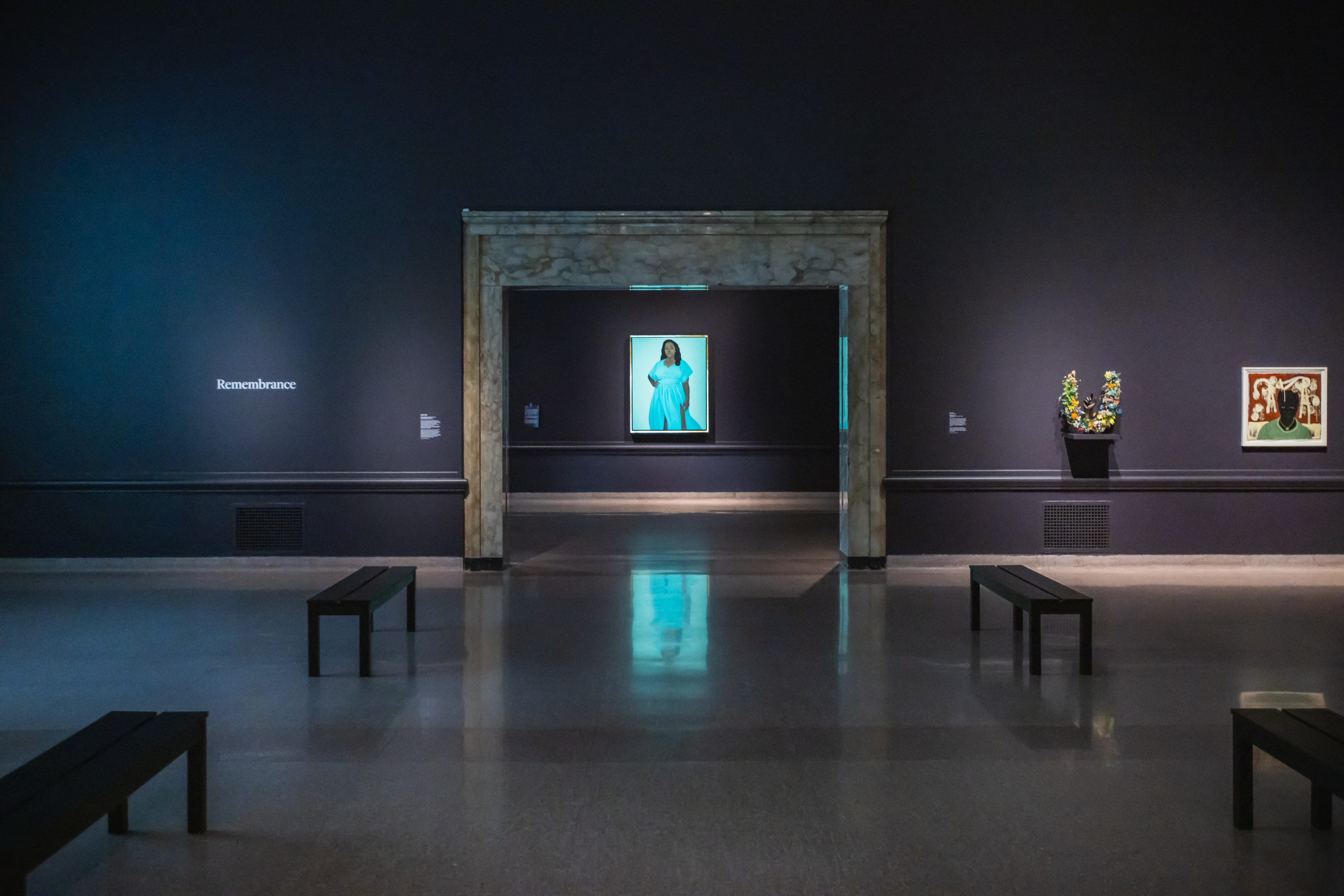 ABOVE: Installation of Promise, Witness, Remembrance, photo by Xavier Burrell and image courtesy of The Speed Museum.

Reflection on Promise, Witness, Remembrance
Essay
Ramona Dallum Lindsey
Lezley McSpadden (Michael Brown, Jr)
Sybrina Fulton (Trayvon Martin)
Gwen Carr (Eric Garner)
Samaira Rice (Tamir Rice)
Allison Jean (Botham Jean)
Wanda Cooper-Jones (Ahmaud Arbery)
Tamika Palmer (Breonna Taylor)
Katie Wright (Daunte Wright)
Paula Bryant (Ma'Khia Bryant)
On March 13, 2020, Tamika Palmer was painfully initiated into a sisterhood whose membership numbers reach into the thousands and grows daily. The cost of entry is the murder of a child by police officers or vigilantes. The Black community is far too familiar with the pain of state sanctioned violence and the injustice that follows. Like the majority of the mothers in her sisterhood, Ms. Palmer still wants, longs for, and demands justice for the life of her child. She reckons daily with a society that refuses to recognize the humanity and promise of her Black children. A society that callously permits police officers to be enforcer, judge, jury and executioner.
I serve on the Community Steering Committee for the Speed Museum's
Promise, Witness Remembrance
exhibition brought to Louisville, Kentucky under the direction of Stephen Reily, Speed's Director and guest curator, Allison Glenn. During a guided tour of the exhibition, Mr. Reily shared his surprise at the willingness and immediacy of Black artists to contribute their work for the exhibition. Works that generally take years to acquire for exhibition were made available within a span of four months. This was no surprise to me. I assume the same was true for Ms. Glenn, because we are both Black women residing in America's art world. Black artists share in the pain of Ms. Palmer's sisterhood and the ripple effects of justice continually denied. Their sons and daughters are our siblings, friends, neighbors, coworkers, and peers. We are their reflection. Through
Promise, Witness, Remembrance
, Ms. Glenn gave Black artists the space to scream, "See us! Feel us! Respect us! Let us be!"
Promise, Witness, Remembrance
is more than an exhibition. Under the direction of Toya Northington, Speed's Community Engagement Strategist, it is a space for Black artists, leaders, activists, and academics to partner with the museum's leadership, trustees, and curators to witness Black brilliance. It is an active decolonization of purely white spaces to embrace the stark reality of America's story. In this story, Black people have fought for centuries to be seen. Ed Hamilton's bust of the Negro Civil War officer is a moving reminder that in 1865, nearly 100 years after America's founders penned "We the People," Black men and women chose to risk their lives in the pursuit of their families' freedom to live as full human beings. Unfortunately, the 19,281 stars on Hank Willis Thomas' flag flanking the gallery entrance represent failed promises. These flags symbolize America's selective inclusivity to the right to life. Every embroidered star on Willis's flag is a tribute to a victim of this denied promise as a consequence of their death in 2020 by state sanctioned gun violence. Represented among these stars are Louisville, Kentucky's Breonna Taylor, Travis Nagdy, David McAtee and Tyler Gerth.
The Stars and Stripes are symbolic of the American story. It symbolizes the significance, mission and values of our nation. In its stars we see the union of its people. Through its stripes we see the hope and sacrifice of promises yet to be fulfilled. Over 100 years of American history are traversed through the three galleries of
Promise, Witness, Remembrance
. The exhibit is a reflective reckoning and healing journey through an American story that opens at the top of every hour with a moving contrafactum of America's national anthem as part of Bethany Collins'
The Star Spangled Banner: A Hymnal
(2020). Americans salute the Stars and Stripes while singing the first verse of "The Star Spangled Banner." America's fathers, sons, mothers, and daughters have sacrificed since America's inception until today, upholding the noble ideals in this first verse. The seldom sung third verse of "The Star Spangled Banner" cursed the slave fighting for freedom—the person who refused to be excluded from the promises made to "We the People."
In the face of discouragement, opposition, and outright violence, the fight continues. Terry Adkins' Muffled Drums reminds us of the Sunday, July 29, 1917 dignified and silent march of 8,000 protesters "marching to the beat of muffled drums" in response to a series of Black body lynchings throughout the country. Over 100 years later, during the pandemic summer of 2020, the demonstrations continued in Louisville, Kentucky and around the world as protesters raised their voices in righteous anger demanding the end of state sanctioned violence by police officers against Black bodies. 100 years of dignified demands left unanswered led to the boisterous actions captured in the photographs of T. A. Yero, John Cherry, Xavier Burrell, Erick Branch and Tyler Gerth. Their images are witnesses testifying to what happens when promises are denied.
The final leg of this American story is a remembrance of humanity in the form of a beautiful Black woman denied the promise of her brilliance. Through her mother's writing we witness the birth of a phenomenon. Scientists believe that stars are formed as the result of a balance of forces upon particles that eventually radiate enormous power and brilliance. Breonna Taylor entered this world as a small being within a vast universe. Her mother described her entry into the world as 18 ½ hours of labor. Breonna's entry required force. The child embodied the old soul of her grandmother—a life force. After realizing the environment in Wyoming, Michigan, would not cultivate her daughters' brilliance, Ms. Palmer moved her daughters to Louisville—a movement force. Amy Sherald's sophisticated portrait of Breonna visually captured the woman's declaration of herself as a graduating high school senior, "I am a strong, intelligent, beautiful, black young woman who has grown so much, I'm very far from the girl that I used to be…thanks to hard work and dedication." That was a determining force. Breonna Taylor was a star in formation. A star that promised to radiate her brilliance throughout the universe. A star that was snuffed out by someone who assumed the omnipotence of God to be enforcer, judge, jury, and executioner.
In Breonna Taylor is not only the remembrance of a Black woman, daughter, sister, lover, and friend, but the remembrance to protect and respect Black life. Without that single act, America's story and her legacy will never truly be great. Alisha Wormsley's afro-futurist manifesto declares, "There are Black people in the future." No matter how often America tries to snuff out the stars of Black brilliance, America's Blackness was here in the past, is here now, and will be here in the future. Unless America fulfills her promise to all her people, she will continue to be shaken by righteous anger.
Promise, Witness, Remembrance
reminds us of that fact.
-

Ramona Dallum Lindsey is a member of the Speed Community Engagement Steering Committee convened by the Speed's Community Engagement Strategist, Toya Northington.
Promise, Witness, Remembrance
was developed with the guidance of Breonna Taylor's family, this Steering Committee of Louisville artists, activists, mental health professionals, researchers, and community members and a National Advisory Panel, convened by Allison Glenn, exhibit curator. The views expressed in this article are purely Ms. Lindsey's own opinions and in no way reflect the general opinions of the Speed Community Engagement Steering Committee or the Speed Museum.


5.10.21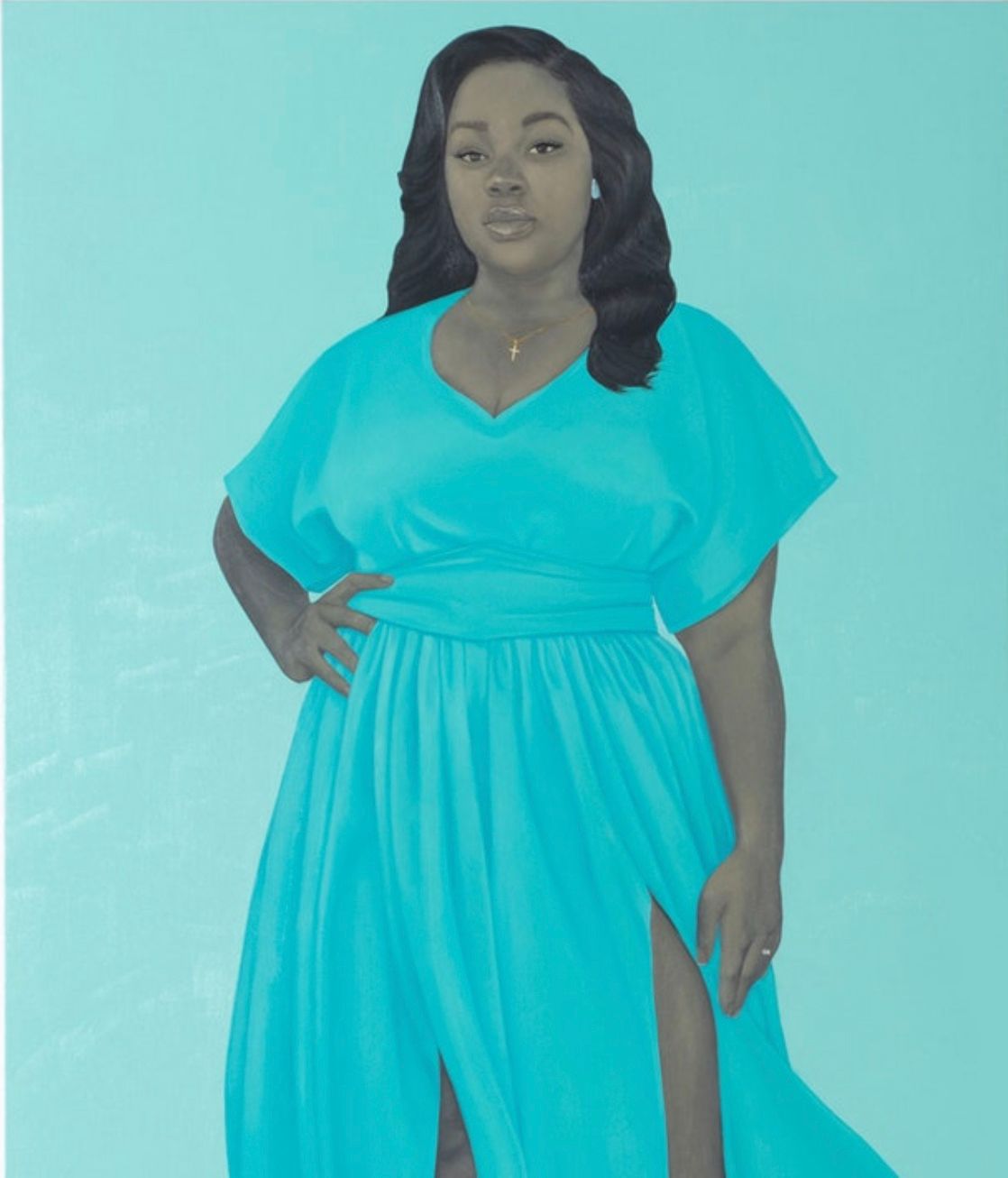 Amy Sherald,
Breonna Taylor
(2020), Oil on linen, 54 x 43 inches© Amy Sherald. Courtesy of Amy Sherald. Photo by Joseph Hyde.
Installation of
Promise, Witness, Remembrance,
photo by Xavier Burrell and image courtesy of The Speed Museum.
Bethany Collins,
The Star Spangled Banner: A Hymnal
(2020), 100 laser cut leaves, image courtesy of the artist and PATRON Gallery, Chicago.
Installation of
Promise, Witness, Remembrance,
photo by Xavier Burrell and image courtesy of The Speed Museum.
Erik Branch,
Say Her Name
(2020), courtesy of the artist.
T.A. Yero,
Healing
(2020), courtesy of the artist.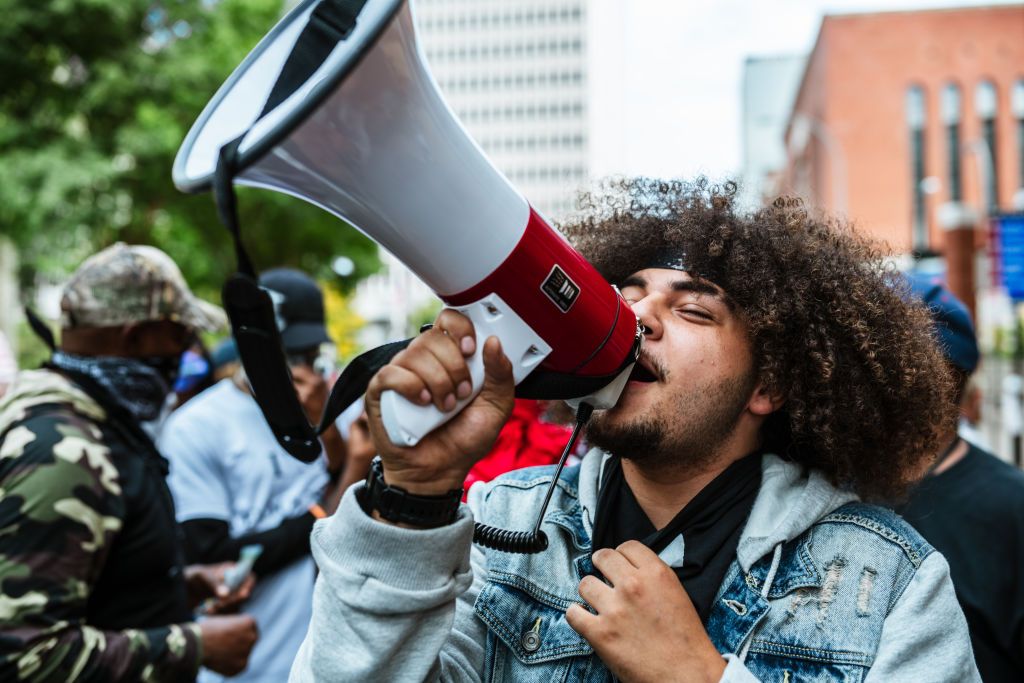 Jon P. Cherry,
Open Up the Cells
(2020), courtesy of the artist and Getty Image.