Above: Close up of Neo Matloga, Ke o fa pelo yaka (I give you my heart), 2021. Photo by Livy Onalee Snyder.
Rumblings of the Earth
Review
Livy Onalee Snyder
Rumblings of the Earth,
Iceberg Projects' most recent exhibition
,
considers the revolutionary potential of surrealism through queerness and identity. Curated by Daniel Berger, Camilo Godoy, and Jorge Sánchez, the exhibition brings together an international group of artists including Felipe Baeza, Antonius Bui, Dalton Gata, Vicinious Gerheim, Admire Kamudzengerere, Neo Matloga, Olu Ogunnaike, and Malick Sidibe.
Established in 2010 by HIV/AIDS researcher Dr. Daniel Berger and a small board, Iceberg Projects programs experimental projects by emerging and established artists, artists of color, and queer artists. Arriving at Iceberg Projects, visitors wander to a gate behind a home that opens up to a lush garden; a rock walkway leads to a renovated carriage house turned gallery space. Positioned directly across the entrance to the gallery is Dalton Gata's painting
Llevatelo todo (Take it All)
,
greeting visitors with a gaze that can only be described in the words of curators Camilo Godoy and Jorge Sánchez, "with Royal sass."
1
Behind flaming red glasses is a person wearing a large emerald as a hat—a symbol of wit, eloquence, and foresight.
2
The background is neutral with a simple window allowing the viewer to focus on the accessories and embellishment of the face. The portrait, created in a technique of thinly painted acrylic color on canvas, is reimagining the conventions of identity, gender, and beauty inspired by Gata's own experience of immigration and the diasporic conditions of Cuba in the Caribbean.
3
Llevatelo todo (Take it All)
sits at the diagonal of Gata's other piece,
Lupe
,
which holds a similar dismantling stare. The portrait of
Lupe
is set in a dark room with stairs in the back corner of the composition. Both
Lupe
and
Llevatelo todo (Take it All)
have one pronounced light source behind the figure, and yet the viewer is hypnotized by the reflections in the figure's glasses, lips, earrings, hats, which hold reflections of light in a hidden world beyond the subject that the viewer can't see. These portraits posses surrealist qualities intertwined with the legacy of ballroom culture and disco scenes—traditionally Black and brown queer spaces. The individuals in these portraits express pride and dignity—a significant message to center in contrast to depictions of hiding, shame and fear that are so rampant in queer histories.
The artwork in the exhibition, including Gata's portraits, are curated as couplings, doubles, shadows, or doppelgangers, exploring the surrealist dialectic of image and identity. In his essay, "Mirror," surrealist Pierre Marbille describes the artist as that of a mirror: the artist creates images that provide an external account of reality that might reveal a "new universe from that in which classical systems of thought enclosed it."
4
The artist challenges the observers' preconceived perceptions of reality, complicating any notion of a fixed identity. Mabille states that despite the uncanny quality of these things, they allow us to both question and form our identities.
5
"Without artificial assistance [the mirror]" Mabille writes, "we can perceive only part of our bodies"
6
or part of ourselves.
Felipe Baeza's
masculine figure with a pectoral decoration in the form of tortoise-shell (Adios a Caliban)
expands on the identity and the colonized image of the body. The piece depicts two fragmented, overlapping bodies through collage on paper. The underlying fragments include a masculine body and an ancient ceramic. The face of the figure smirks, giving away that its "improper" body- fragmented flesh, merged with its archive, or shadow of its past- is employed as a way to transgress the societal disciplining projected onto bodies.
masculine figure with a pectoral decoration in the form of tortoise-shell (Adios a Caliban)
is one of Baeza's "fugitive bodies," as he calls them– a discursive reference to the scholar and poet Fred Moten.
7
Fugitive bodies are marked outsiders. They are "racialized, queer, non-conforming, and differently-abled—in short, marginalized people who exist in the in-between."
8
Baeza plays with postcolonial imagination, challenging the colonized image of the body. Using the dismembered and remembered fragments of the figure, Baeza's fugitive bodies reveal new irrepressibly, unruly, insubordinate ways of being.
Neo Matloga's
Ke o fa pelo yaka (I give you my heart)
depicts two lovers in bed, their genders ambiguous. The scene is intimate. The background is abstractly defined whereas the eyes, hands, mouth, nose of the two lovers are distinct because they are cut out from blown up photographs. Roughly 78 x 78 inches, Matloga uses a collage technique to pull in a variety of sources, playing with our expectations of what the figures ought to be. The elusive quality of the body generates new ways of interpreting the identity of the subjects in the piece. The wall paper, for instance, has a reference to another artwork in the exhibition—Malick Sidibe's
Untitled
silver print. Sidibe's photograph, taken in 1964, depicts two people sitting side by side and documents the spirit of liberation from colonial rule in post-colonial Mali.
9
While the photograph is relatively small, the frame, made by artist Checkna Touré, is large and hand-painted red with small circles of yellow and green in an ode to the Malian flag. The pattern in the photograph is carried over to the wall paper of Matloga's
Ke o fa pelo yaka (I give you my heart),
perhaps as a comment on the expansion of freedom.
In contrast to the occupied bed in Matloga's work, Olu Ogunnaike's
Untitled
depicts an empty one. The artwork
hangs on the back wall of the gallery, the dark hues of the piece overlaid with glass to produce a spiral of reflective light pulling the viewer in for closer inspection. It is possible to make out rustled covers of an empty bed with two pillows.
Untitled
is a silk screen print on cotton paper dusted with charcoal, preserving the artist's fingerprints—like a ghost of the artist's touch, echoing the ghost of the individual who once laid in the bed.
Untitled
speaks to loss, disappearance, and absence and is perhaps a homage to Félix González-Torres'
Untitled (billboard of an empty bed)
, which was an image of an empty bed mounted across 24 billboards to honor his lover, Ross, who passed away from AIDS. For some viewers, the image of an empty bed may highlight the beauty of the mundane, but for those who have experienced loss, particularly from the AIDS epidemic, the image represents absence, a void, grief.
The limits of my language are the limits of my world
by Antonius Bui emphasizes vulnerability and community. Bui's piece is a large and fragile paper cut-out depicting an affectionate portrait of a couple sitting in a domestic setting filled with nuanced references to Asian American and Pacific Islander communities. Though the material is a deep blue, the body language of the couple communicates a warmth. The floor has a floral pattern with plants and animals intertwined. Behind the couple are large bookshelves. On the spine of each book are hand carved titles, an ode to the liberating impact of words and narrative. They include
Ghost of Diana Khoi Nguyen,
a book of poems that embraces emptiness and absence;
The Boy in the Labyrinth
that interrogates language barriers and disability;
The Cowherd's Son
which contemplates navigating multiple realities.
The monumental size of Bui's piece combined with the tenderness and delicacy of the material is humbling, placing vulnerability, love, and community at the forefront.
Rumblings of the Earth
expands on a new found resurgence surrounding surrealist art. Major international institutions have curated surrealist exhibitions this past year, such as the "Milk of Dreams" in the Central Pavilion Giardini of the Venice Biennale or "Surrealism Beyond Borders" at Tate Modern in London.
Rumblings of the Earth
is a response to the ongoing movement of surrealism, drawing both on local surrealist histories in Chicago— as the curatorial statement noted, the Chicago Surrealist Group's 1966 pamphlet titled, "Surrealism & Revolution" edited by Franklin Rosemont was a major inspiration behind the exhibition—alongside global surrealist thinkers and artists such as Suzanne and Aimé Césaire, Wilfredo Lam, Henri Krea, Léopold Senghor and many others. But these surrealist themes have also surfaced at a time of deep confusion and anxiety with everyday life as a result of the ongoing pandemic, climate crisis, recession and other forms of socio-cultural unrest.
Surrealism, in its early manifestos, embraced the unconscious, dreams, and magic as a way to challenge the rationality of everyday life, ultimately leading to its restructuring in order to revolutionize. Surrealism today has maintained that ethos, offering solace or catharsis for many in the contemporary moment, and shifting ground to meet the demands of the twenty-first century.
Rumblings of the Earth
portrays these surrealist goals while reasserting that the fight for liberation is unequivocally tied to queerness itself.
Felipe Baeza, Masculine figure with a pectoral decoration in the form of tortoise-shell (Adiós a Calibán), 2021, collage on paper, 7 x 5" framed 9 ½ X 7 ½ x 1 ⅜". Photo by Livy Onalee Snyder.
Neo Matloga,
Ke o fa pelo yaka (I give you my heart)
, 2021, 78.74 x 78.74". Photo by Livy Onalee Snyder.
Installation view of
Rumblings of the Earth
at Iceberg Projects featuring works by Neo Matloga,
Ke o fa pelo yaka (I give you my heart)
, 2021 (left) Vicinious Gerheim. Photo by Sean Su photography.
Installation view of
Rumblings of the Earth
at Iceberg Projects featuring works by Vicinious Gerheim,
Bananeira de Jardim
, 2022 (left) Neo Matloga,
Ke o fa pelo yaka (I give you my heart)
(right). Photo by Livy Onalee Snyder.
Installation view of Dalton Gata, Llevatelo todo (Take it All), 2019. Photo by Livy Onalee Snyder.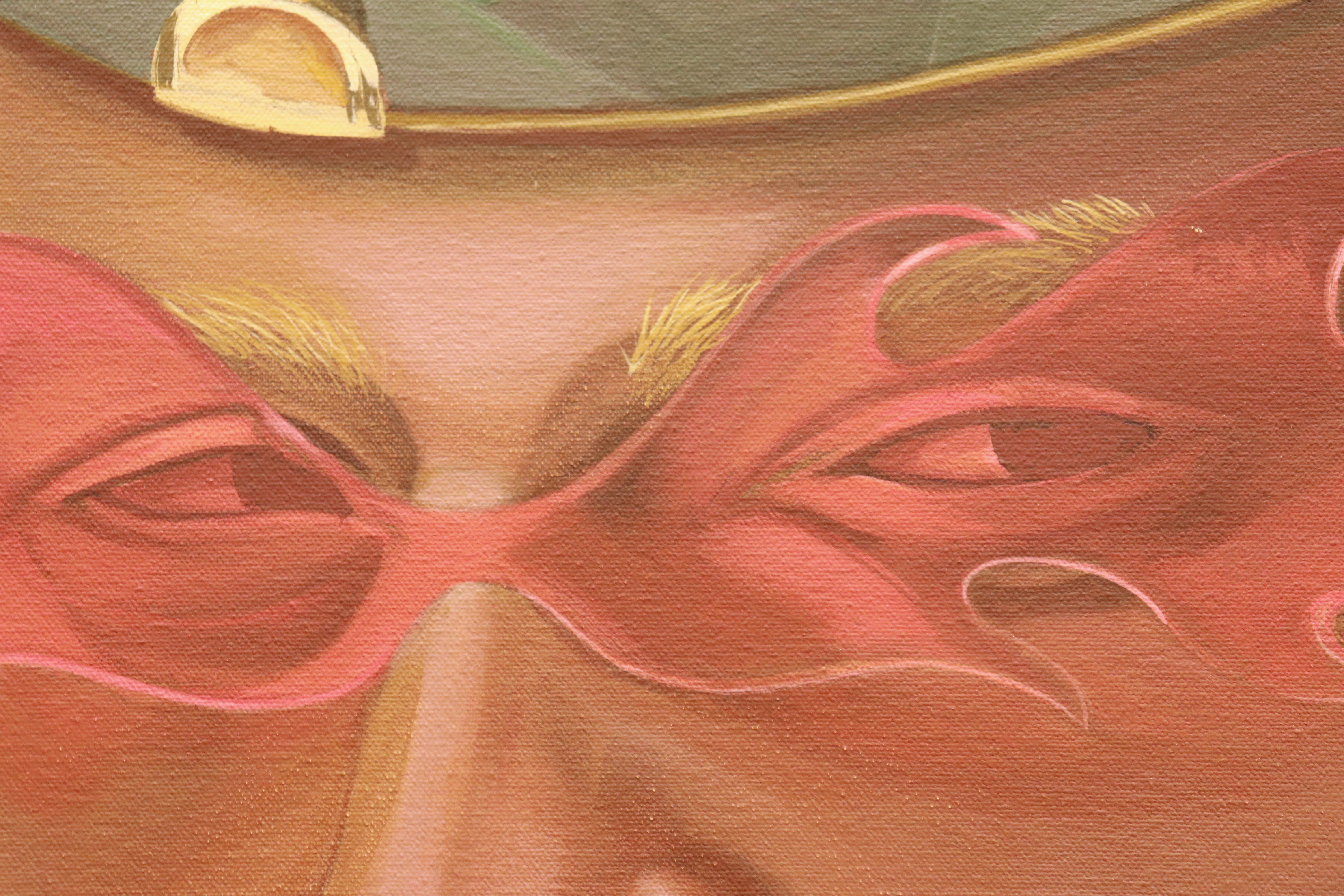 Close up of eyes in Dalton Gata, Llevatelo todo (Take it All), 2019, Acrylic on Canvas 28"x23". Photo by Livy Onalee Snyder.
-
Citations:
Camilo Godoy and Jorge Sánchez, Rumblings of the Earth, Iceberg Projects, Exhibition Text

Fara Braid and International Gem Society, "Emerald Symbolism," International Gem Society, accessed December 6, 2022, https://www.gemsociety.org/article/history-legend-emerald-gems-yore/

"Dalton Gata: The Way We'll Be," Institute of Contemporary Art, Miami, Exhibition Text, accessed November 4, 2022, https://icamiami.org/exhibition/dalton-gata/

Mabille, 58.

Pierre Mabille, "Mirror," in The Surrealist Reader: An Anthology of Ideas, ed. Dawn Ades, Michael Richardson, and Krysztof Fijalkowski (Chicago: University of Chicago, 2015), 49-59.

Mabille, 52.

For more on Fred Moten's thoughts surrounding the fugitive, see: Fred Moten and Stefano Harney, undercommons fugitive planning & black study, (Chico: AK Press, 2013) and Fred Moten, Black and Blur, (Durham: Duke University Press, 2017).

César García-Alvarez, "Felipe Baeza Creates Boundless Possibilities in the Seemingly Unreal," Cultured, September 22, 2022, accessed November 18, 2022, https://www.culturedmag.com/article/2022/09/22/felipe-baeza-latinx-art

Camilo Godoy and Jorge Sánchez, Rumblings of the Earth, Iceberg Projects, Exhibition Text.


-
1.1.23
Livy Onalee Snyder (she/her) is based in Chicago. She graduated from the University of Chicago with a Masters in Humanities in 2021. She has published in DARIA, TiltWest, Newcity, Sixty Inches From Center and interviewed artists for Black Cube Nomadic Museum. Currently, she edits for Sixty and holds a position at punctum books advocating for Open Access.