PHOTOS: Courtesy, KMAC Museum
Spin: Turning Records into Art

Exhibitions that organize themselves around material and process are deceptively complicated affairs, as the contemporary curator, is tasked with translating between the differing languages and goals of the art and craft worlds. Nonetheless, this variety of show is a mainstay of KMAC Museum's programming, an institution that principally looks at contemporary art through its intersection with contemporary craft. For curator Joey Yates and
Spin: Turning Records Into Art
, this overlapping artistic space becomes especially important for parsing the content and evaluating its success.
Spin
contains, predictably, a colossal number of records and album covers, many of which are presented as deadpan and singular works of their own. The key to remembering that one is at a contemporary art show, and not in a booth table of any Hard Rock Cafe, lies in the curatorial statement. An excerpt reads, "records have become less disposable and more established as cultural artifacts and art objects in our current post-media age of music consumption." This positions the record as what craft theorist Louise Mazanti would call a "super-object." In an essay of the same name, Mazanti defines super-objects as one that "exists parallel to the object category of the design commodity, at the same time as it contains (super-)layers of meaning that relate to visual art." The object of the vinyl record operates in exactly this way: having a commodity interior - the recorded music on circular plastic - as well as having an external layer of visual art - the album cover.
With this in mind, one can see the pluralistic nature of the vinyl record, presented as super-object, at work in the front two rooms of the exhibit. The first contains selections from collector Michael Lowe, and are arranged in a loose grid system that implies a kind of chronology or educational timeline you might find at a history museum.
Spin's
positioning of the record as aesthetic/artifact is further reinforced by traditional glass cases that display elaborate formal structures or nonsequential content reminiscent of modernist art books: objects bound in thick spines, or sets of "albums" that contain each a single sound effect. Nonetheless when the albums are alone, autonomously representing themselves (or additionally the music contained within), the record is to be seen "as record." This is one end of the super-object spectrum. When turning the corner to the second room, however, one then sees the other end of that spectrum.
The viewer once again finds tables with records on them (although around 2000 more), but in Rutherford Chang's
We Buy White Albums
(2013-present) they are atop plastic fold-up tables you might see at a large family Thanksgiving. You are invited to handle and play these records, just as previous owners may have done when they first purchased the record. Furthermore, this collection consists of the same self titled album - otherwise known as the
White Album -
by the Beatles. Every serial number reveals different aging, notes, and decoration from owners; each added detail is unique on the imageless album art originally designed by Richard Hamilton in 1968. By themselves, or just in fewer numbers, this piece would limit itself to a specific narrative across the notes. Between 20 and 2000 copies, however, something transformative happens. The albums become a cohesive whole; a gestalt or anthropological image of how we engage with these super-objects.
I'll go ahead and admit it:
We Buy White Albums
is fun and the conceit is accessible and straightforward. This artist-collection smells like a moldy library, and in the corner, there is a record player that "reads" a copy. It thus plays the music contained on the vinyl but isn't necessarily playing any
particular
copy. The resulting discord between art gallery and record store is somehow charming. One walks away with these objects operating both as recordings of a performance and as a visual representation of how those recordings are collectively remembered songs - a blurry yet recognizable impression of every cover track or bank commercial that have used them since. Reading the images and notes on the covers is at moments cute - messages from teenage couples scrawled in the corners - and at other moments difficult - mementos to the deceased or cruel declarations like those found in a bathroom stall. It is nonetheless human.
As with many exhibitions this year in Louisville,
Spin
is multisensory. There is always music being played within earshot, and the final portions of the linear exhibition space focus more on the aural component of the vinyl album. While there are numerous works in this section that spark conversations about the actual sound and music inherent to the material, the works of Terence Hammonds and Jamal Cyrus specifically celebrate the role of Black artists in American music history. In Hammonds'
You've Got To Get Up To Get Down
(2006), the artist takes imagery from Civil Rights-era protests as well as imagery from his own mother's record collection to generate functional "dance floors" that, according to the wall text, "help communicate the liberating power of dance." While playful and inviting, this installation manipulates history as-we-know-it to create a new experience of both past and present. Cyrus'
Pride Frieze--Jerry White's Record Shop
(2017), by contrast, is a sculpted storefront of a fictionalized 1980's retailer in South Central, Los Angeles. It "combines found records with new mythical albums that explore the role music has historically played in promoting civil rights and Black culture." In doing so, Cyrus is engaging in a kind of Afrofuturism that reimagines histories as a form of suggesting new, and more complete, futures.
As was mentioned, shows about material are difficult, and this exhibition results in mixed success. On one hand, a curator is faced with the issue of being dull. On the other hand, you run the risk of bringing together too many conversations that do not feed each other in a constructive way. In the case of
Spin
, the sheer number of filler album art, presented as autonomous works on the wall, becomes quickly repetitious. It plays into the number between 20 and 2000, leaving you with uninspiring questions like "why these?" or "why these particular copies?" as prompted by issues of scale earlier in the exhibition. Not only does this bury the few album covers that engage with significant features of music history and design, it also leaves too little room for more important conversations like the ones of Black culture in American music brought up by Cyrus and Hammonds.
Still,
Spin
has successful and - importantly - accessible moments, something reasonably on the mind of Yates when putting together a summer show that will attract more children and families. It engages intersected craft and art theories with a ubiquitous and simple material examination. By this, Spin offers an uncomplicated invitation to a stretch of Main Street that can still feel corporate and distant to both tourists and residents alike. KMAC Museum continues to build itself as a welcoming educational space with a curious mixture of programming that never feels dumbed down, nor showboats complication.
-
Spin: Turning Records into Art
is on display in the second floor gallery at KMAC until August 5th, 2018.
KMAC Museum is located at 715 West Main Street, Louisville, Kentucky 40202 and is open Tuesday-Saturday from 10am-6pm and Sunday from 10am-5pm.
Notes:
Louise Mazanti, "Super-Objects: Craft as an Aesthetic Position." Extra/Ordinary: Craft and Contemporary Art, EdiMaria Elena Buszek, 59-82. Duke University Press, 2011.

L Autumn Gnadinger, Contributor to Ruckus
5.28.18
We Buy White Albums (2013-present)



Install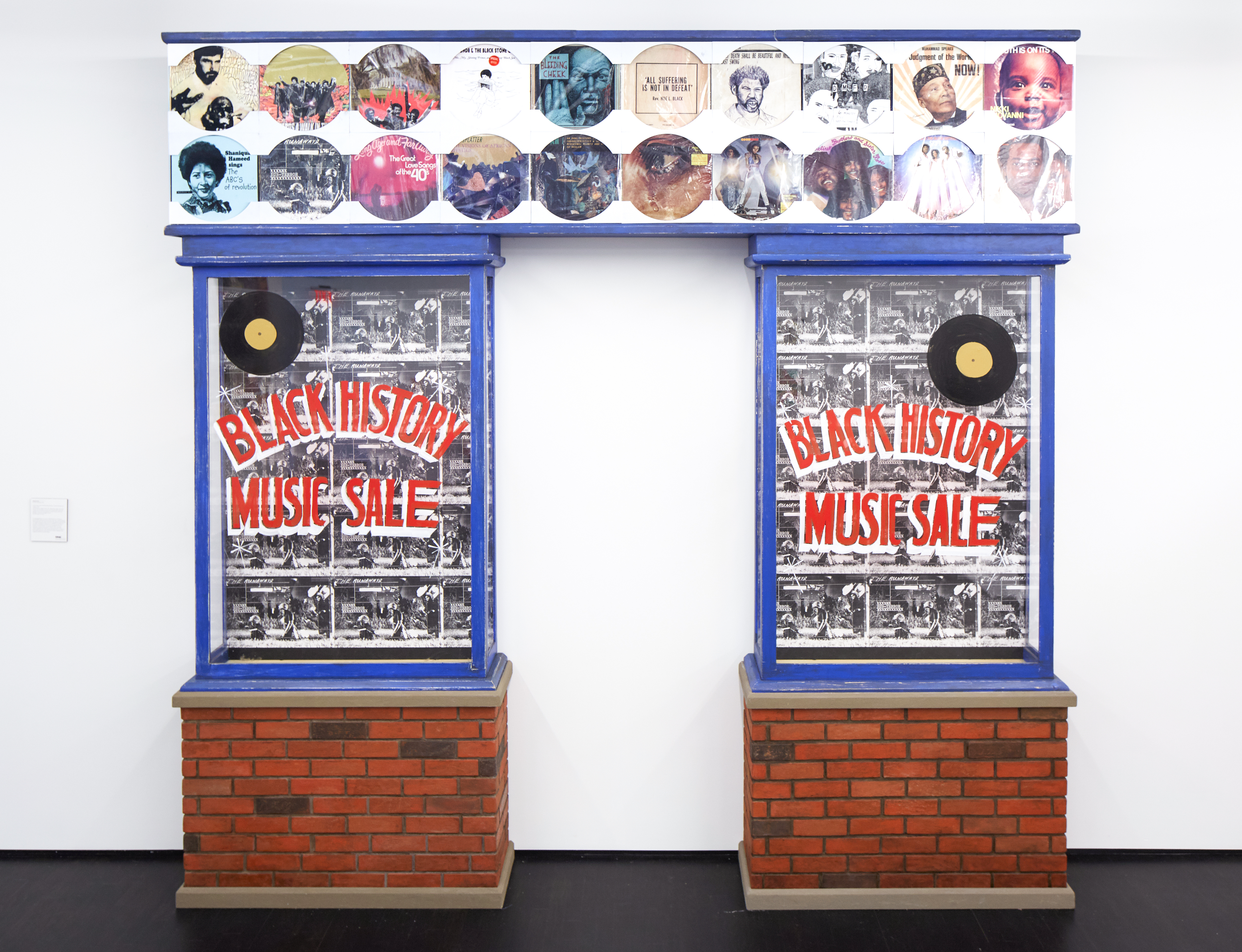 Pride Frieze--Jerry White's Record Shop (2017)
You've Got To Get Up To Get Down (2006)