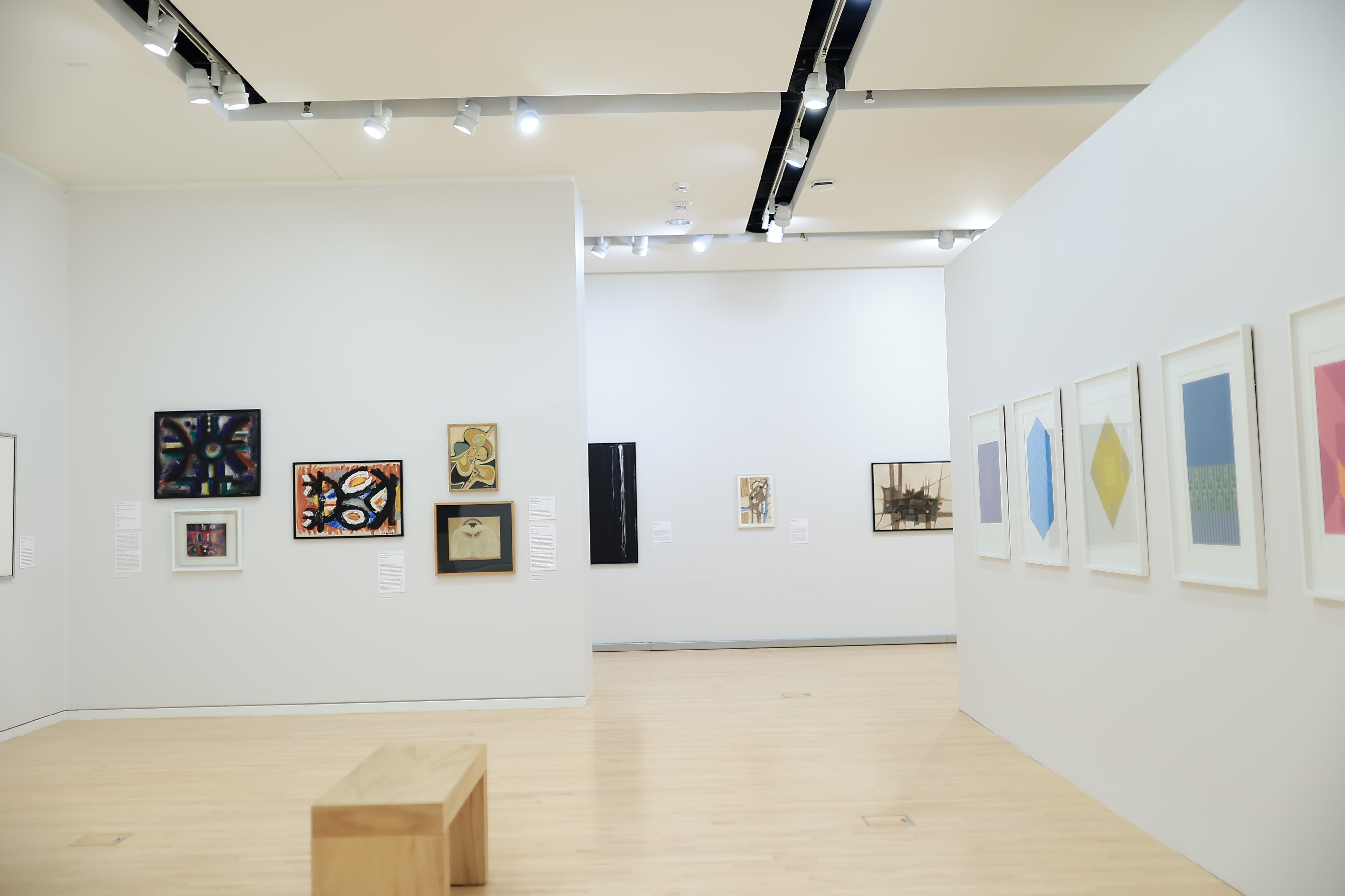 Above: Install of Taking Shape: Abstraction from the Arab World. Credit: Sean Su Photography.
Taking Shape: Abstraction from the Arab World
Review
Aya Nimer
Often, the most intimate relationships we have in our lives are to the places we come to know and live in. Soetsu Yanagi highlights this relationship in
The Beauty of Everyday Things
, where he expresses how the objects around us comprise the most trustworthy companions of our everyday routines. These objects and places provide a sense of ease and comfort and they intimately become a part of our lives.
1
The artists in this exhibition lean into the familiar objects and materials of their lives to communicate their philosophies and personal experiences.
Taking Shape: Abstraction from the Arab World, 1950s–1980s
draws from the collection of the Barjeel Foundation. This touring exhibition's final venue will be the Block Museum at Northwestern University from September 22-December 4, 2022. Artists in the show employ various methods and mediums to convey their personal and social experiences. The nature of the materials used in the exhibition and their corresponding use in daily life further not only the artists' own individual philosophies but also the larger exhibition themes of creating agency and meaning making during the midcentury turn.
Interform

Interform
by Saloua Raouda Choucair is one of the first works we see in the exhibition and is the only sculptural work. The work is elevated on a platform at eye level where we can directly look through the apertures Choucair creates in wood. Through these visual gateways we see different angles and viewpoints of the exhibition, alluding to the differences within similitude Choucair aims to address in her work.
2
Drawing on a history of woodworking techniques such as mashrabiya and their use in Arabic and Islamic design, Chourcair extrapolates these motifs to create a work that meditates on an "interform", a term she coined to describe creating a form within a form. In this case, the sharp rectangles are embedded in the oval-like wood sculpture. The interform shape embodies Choucair's interest in Sufi poetry. Her reflections on mystic poetry takes each stanza to create a relationship to other stanzas and to the poem as a whole, creating the interform. In this work we see Choucair leaning into this philosophy and the natural material, creating shapes that align with the grain of the wood and parallel each other. The wood takes center stage in the depth and volume of the work highlighting how Choucair relies on the wood's natural form to amplify the carved balances to create her own visual language.
Ancient Materials

In
Aube (Dawn),
Farid Belkahia similarly leans into natural materials. He paints on vellum (calf skin) and utilizes henna and other organic dyes such as saffron to add color. The use of vellum evokes an ancient Arab practice of using animal skin to write on and instills a sense of historicity in the artwork. The rainbow in the center depicts a sunrise with abstract human figures relishing in the sun's rays. Belkahia's use of indigenous craft materials to depict contemporary Moroccan life highlights the way a medium can be a tool to reconnect and convey history to deepen our understanding of a place and its natural materials.
Adam Henein's work
The First Blush of Morning
similarly depicts a morning sun and people's relationships to their environment. The work is created from gum arabic and gouache on papyrus. The work has a bright tone due to the large two pink shapes in the top right and bottom left that foreground the muted green and blue. The figures appear to be conversing and engaging in a morning ritual. Leaning into traditional paint preparation techniques, Henein mixes arabic gum with pigment to create vibrant hues. The use of a traditional paint preparation on papyrus enables Henein to connect a contemporary moment (two people chatting in the morning) with an ancient material that is intimate to the figures he is depicting. Both Belkahia and Henein have used traditional mediums to step into their agency and bridge their creative visions and historical influences.
Daily Life

Shakir Hassan Al Said's
The Victorious
creates a scenescape reminiscent of a street and graffiti. The work, comprised of mixed media on wood, creates the appearance of concrete and ties ancient materials to everyday life. Concrete's long history in the Arab region (dating as far back as 6500 BC) is emphasized in this artwork as it depicts the visual landscape of Iraq. The letter و (
waw)
in the center of the work is reminiscent of graffiti and alludes to a feeling of resistance. To me, it brings back memories of walking through the streets of Palestine seeing similar symbols and words sprayed on to building walls as a means of communicating public sentiment. The و
here also serves as an articulation of Al Said's philosophies. The letter و
in Arabic serves as a coordinating conjunction similar to the English word
and
. Al Said is referring to a connection he sees between mankind and the Divine. Al Said is saying that through the everyday we can victoriously unite with the Divine, as believed in Sufi philosophy. The use of materials allows Al Said to create a visual imagery that ties in his everyday world with his philosophical perspective on Sufism.
Similar to Al-Said, Najat Maki's
Untitled
, communicates a point of intimacy and connectedness to geography through a color scape reminiscent of Khaliji modern life. Blue acrylic paint is contrasted with varying streaks of henna to create a literal and figurative window rooting us in place. Within the blue we see the form of buildings bordered by the dense application of henna in the center. Henna, often used in the Arab world in times of joy as a celebration is a deeply steeped self-care and community-care practice. Friends often give each other henna growing up and it's often used in body care products. In reference to Yanagi's beliefs, we see how henna occupies a place of intimacy in people's lives. By using it on canvas, Maki honors an intimate part of Arab life. Samir Rafi's
Untitled (Abstract),
also uses everyday materials such as burlap to depict quotidian life. The use of burlap honors the everyday lives of Egyptians and the materials they are intimate with. The pastel hues of blue, purple, and green create a meditative tone around the abstracted human figure. Using the materials of everyday life, Maki and Rafi evoke images and experiences of everyday life.
The material and spiritual connotations of the artworks in
Taking Shape
deepen our understanding of the questions contemporary Arab artists were grappling with in the mid-century moment. Materials served as vessels for honoring daily life, recognizing community, and thinking through philosophical perspectives.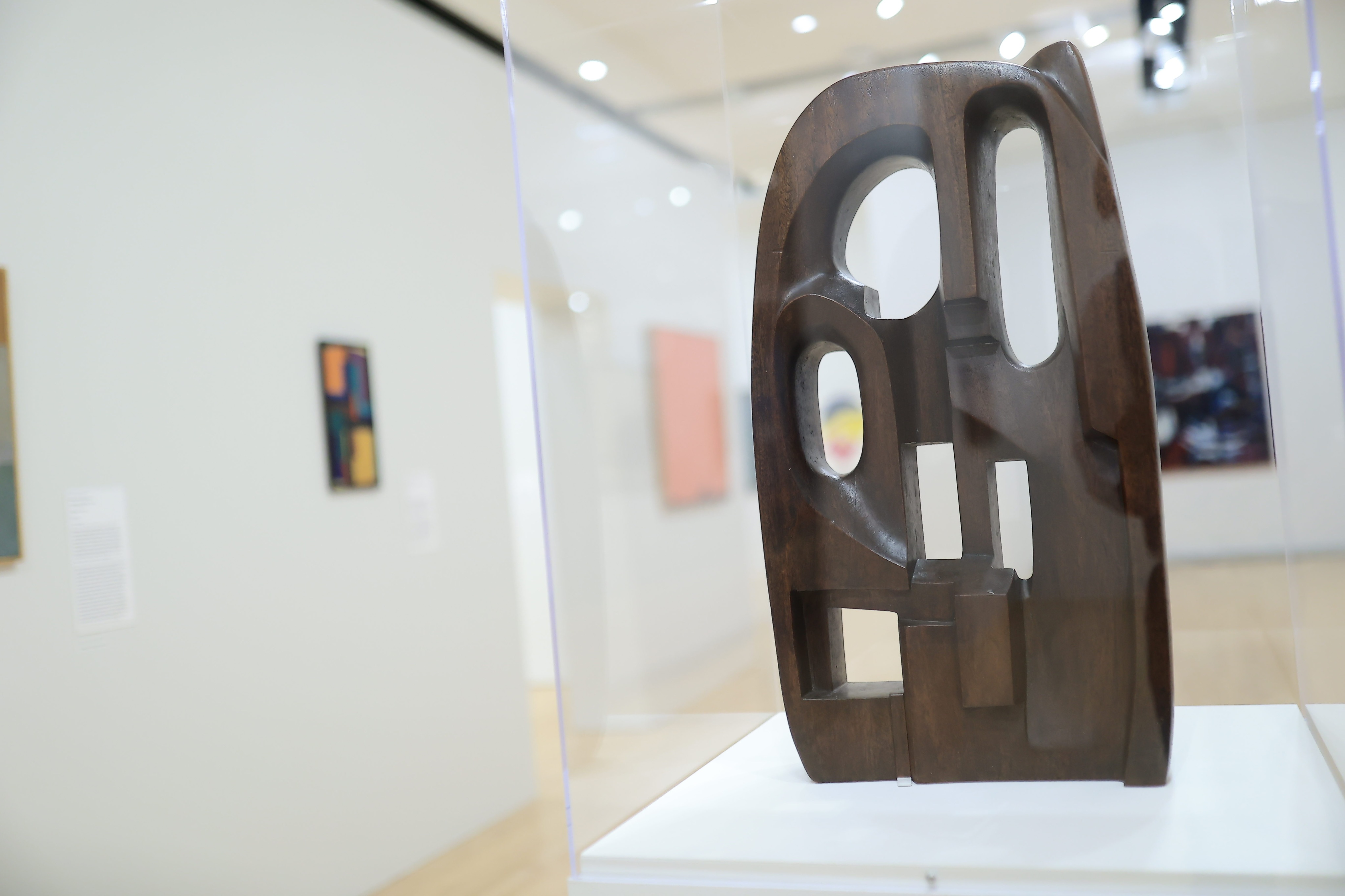 Install of
Taking Shape: Abstraction from the Arab World
. Credit: Sean Su Photography.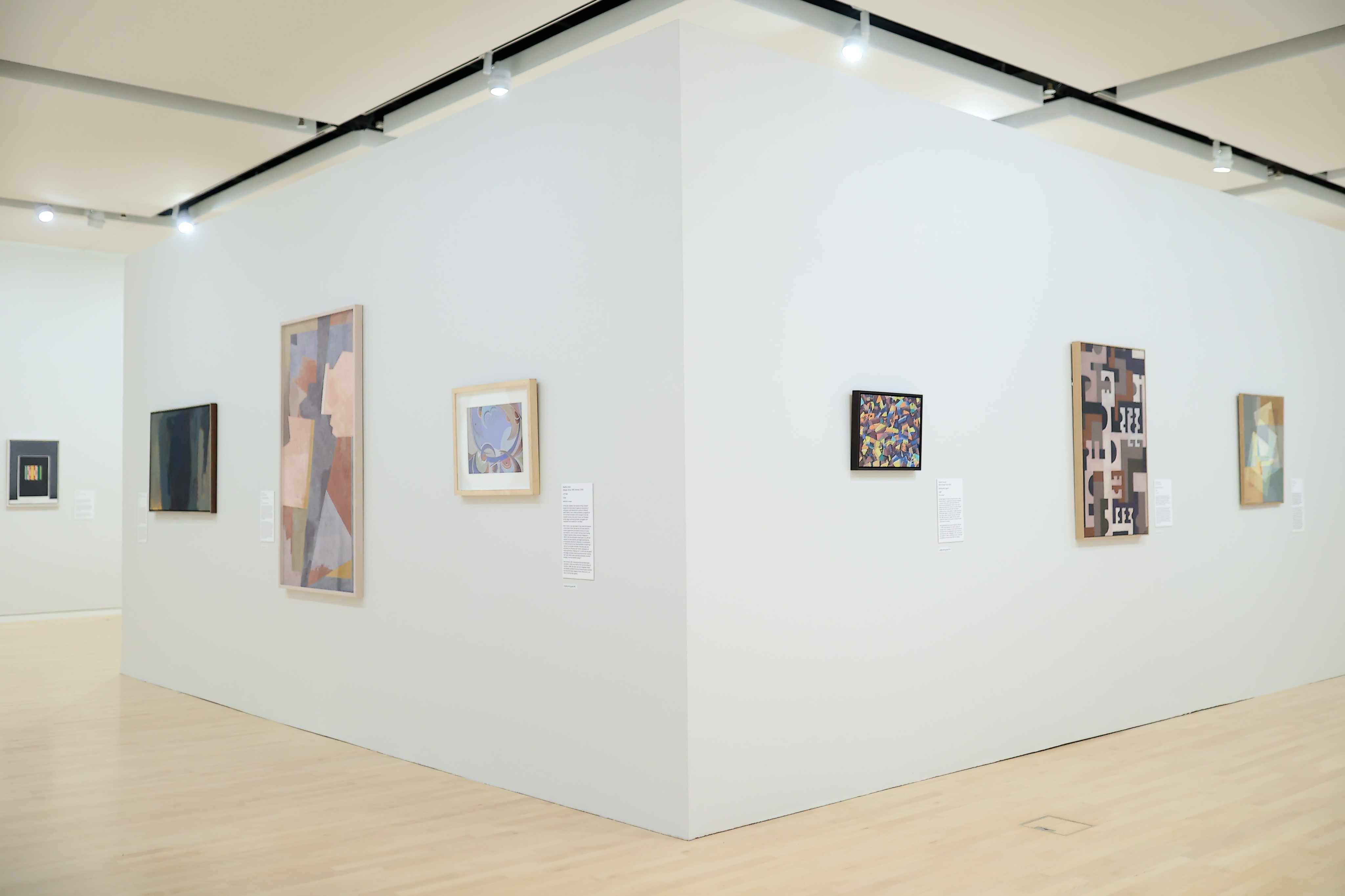 Install of
Taking Shape: Abstraction from the Arab World
. Credit: Sean Su Photography.
-
Captions:
YANAGI, SOETSU. "What Is Folk Craft?" Beauty of Everyday Things, PENGUIN Books, 2019, pp. 6–12.

Coxon, Ann, et al. Saloua Raouda Choucair. Tate Publishing, 2013.
-
11.29.22
Aya Nimer (she/her) is a Program Manager at Pillars Fund, where she works on developing culture change programming that builds on interdisciplinary artistic and scholarly approaches to care, community building, and culture change. Prior to joining Pillars, she worked at the Museum of Contemporary Art, Chicago, where she coordinated the development of strategic planning, budgeting, and exhibition production. Aya is interested in the way art shapes our self-understanding and believes that in telling our stories we reclaim the ability to make meaning for ourselves in society.