PHOTO: Ruckus.
Cesar Rodriguez Aguilar, Mother Earth and The Marionette, 2018.


Visions of Power


When visiting 1619 Flux: Art and Activism on a warm Saturday at the end of July, I'm greeted immediately by a space brimming with activity. Artist Bryan Holden is standing behind a large table covered in small plastic bins, where thousands of computer keys are waiting to be sorted for Holden's upcoming public art project in Louisville's Russell neighborhood. A couple of volunteers are assisting in separating, while a few other guests are casually strolling around the gallery.

Since opening in 2016, 1619 Flux has continuously asked what role artists can play in their community and has focused on creating exhibitions that explore issues of social change. The current exhibit at 1619 Flux, however, is distinct from their previous shows. While the exhibits at 1619 Flux have frequently focused outward on community, social and cultural issues, Visions of Power: Artists Exploring Personal and Collective Change asks participating artists to look inward. Featuring eight Louisville-based artists at various stages of their careers, Visions of Power is composed of painting, photography, mixed media, and sculpture.

Notable works in Visions of Power include Bryan Holden's Perseverance, a large black and white print, crafted entirely of used, deconstructed keyboard keys arranged to look like the face of Jesus. From afar, the use of the keyboard keys appears to only be an aesthetic element, but closer inspection reveals that the keys have been carefully placed to form a series of sentences. According to Holden's website, this body of text forms messages about persevering and life, using the keys to represent the diversity of their various users over time. In many ways, Holden's Perseverance serves as a guide for the entirety of Visions of Power—the messages contained within it reflect the general atmosphere of the works presented, which explore themes of – hope, determination, and the embracement of culture. Furthermore, its use of a notable figure as a source of strength is also a common thread in the exhibit.

On the dominant wall at the back of the gallery hang Julio Cesar Rodriguez Aguilar's Mother Earth and The Marionette. Displayed side by side, the large paintings depict meticulously crafted portraits with figures at the center of the compositions. In both, the upper halves of the figures are beautifully detailed, created with a smooth application of paint that, towards the bottom of the canvas, begins to shift and blur until we find thick and rough brushstrokes mixed with long drips. On the left, Mother Earth shows a figure holding a key, the flesh of their stomach gone and a crouched full-grown body trapped inside. In The Marionette, the arms of the figure are tied up with strings while, the legs are twisted, limp, and disproportionate to the body.

In Mother Earth, Aguilar attempts to unlock the creative potential within him—something that has been stifled, as shown by the crouched and crowded body trapped inside. This hindrance of creative potential is further reflected in The Marionette, where we can surmise that the strings controlling the figure's arms are a reflection of the strings of society, and our culture's desire for conformity. Both pieces are examples of a powerful theme within Visions of Power—a desire for greater connectivity to our instincts, and a deeper connection with earth. These themes are seen again in William Duffy's Young Mother, a small slate colored, alabaster sculpture depicting an abstracted female form, with a low hold on a young child, as though presenting the infant to the audience. The abstracted form of the figure is reminiscent both of the Venus of Willendorf—a figurine largely believed to be a representation of a mother goddess and the Virgin Mary. Gazing down at her infant child, there is a sadness to the piece, as though the sculpture can sense the future loss of her child, a reference that can also allude to the loss of our personal instinct, or a dissolving of our connections to our inner selves. Within the context of Visions of Power, these themes of instinct, conformity, and loss are directly related to the idea of personal change. While many of the artists are clearly looking to powerful figures that have influenced their lives as sources for finding power within themselves, they are also looking within themselves to find a direct connection to their creative impulses, and discover how this relates to their place within society.

Reference to instinct and nature can also be found in Noah Howard's Agreements, a mixed media work depicting the silhouette of a green figure, his shadow repeated in multiple pieces of patterned cloth that have been applied to the canvas. As a field of flowers grows from the bottom and stretches upward, they lose their color, trapped in a layer of brown, then cease to exist in areas where the canvas has been carefully cut out. This technique adds a fascinating level of dimension causing the hanging pieces of fabric to cast shadows on the wall behind it. Above the slices, the flowers emerge in pure white to meet golden tiles that grid the top half of the canvas. Within the body of the silhouette, a digestive tract has been outlined and where the mouth should be a fortune cookie's fortune has been taped down relaying the message: "Rely on your own good judgement to lead you to success".

Despite some of the stronger works in Visions of Power aspects of the show feel somewhat incomplete. A work by Noah Howard, Quilt, is a piece made from the foil sheets inside Marlboro Red boxes that have been stapled together. Assembled to resemble a quilt, the work has been thrown over a hidden post, giving it the appearance of draped tin foil. The display reads as careless and I am left disappointed considering this work of art could spark interesting conversation regarding the use of packaging (repurposed from a deadly product with its own social stigmas) to create a tangible item with a long history in craft tradition. Other disappointments include the placement of William Duffy's human sculptures against walls therefore limiting the audience's engagement, as well as a general lack of editing that would contribute to a cohesive show. I find I am torn by the aspects of the exhibit I appreciate and those that weaken it.

After viewing Visions of Power, one is left with questions of what it means to explore ideas of personal and collective change. Intentional or not, 1619 Flux has left the idea of exploring personal and collective change vague, and the audience has been left to their own devices to decipher the works. This is not necessarily a bad thing. Lacking descriptive text, audiences are forced to more carefully consider the theme of the exhibit, and construct their own personal meanings in the works. Considering that many of the artists have chosen to represent personal change as a kind of individual transformation, these themes are not only easily recognized by audiences but are something they can relate to as well. Brianna Harlan's Self Care is a keen example—the installation consists of a replication of the artist's desk, littered with papers and objects, and underneath a backpack and pair of shoes. A lightbox across the top of the desk presents three of the artists relief prints, each a graphic and tense portrait that stares back at the audience. Their watchful eyes make it difficult to explore the desk's contents, where we find a self-care checklist, and an empty, open notebook with only the words "Part 1" written. I am sure many of us can relate to the desire of needing to start over – creating our own "Part Ones" in an attempt to quit bad behaviors or push ourselves further in our work. With each new week, month, or year, how often are we attempting to start again?

Lastly, the element of collective change becomes apparent in different aspects of Visions of Power, and most strongly in the programming that coincides with it. The team at 1619 Flux is greatly devoted to audiences experiencing their space as a place of inclusive community support and dialogue. They work tirelessly to create events which coincide with their mission, including their "Provocative Perspectives" series. A weekly series of community conversations revolving around important social issues like race, violence, and discrimination. Visions of Power is no different, and the gallery's support in assisting artist Bryan Holden with his current pubic art project is a key example. The strength of their rallying support perhaps more than anything represents how artists and audiences can, together, create collective change.

-

Visions of Power: Artist Exploring Personal and Collective Change is on display at 1619 Flux: Art + Activism until August 26.

1619 Flux: Art + Activism is located at 1619 West Main Street, Louisville, Kentucky 40203 and is open Saturdays from 1-4p.

Notes:

Jessica Oberdick, Guest Contributor to Ruckus
7.24.18


Bryan Holden, Perseverance, 2018.
.
Noah Howard,
Agreements, 2018.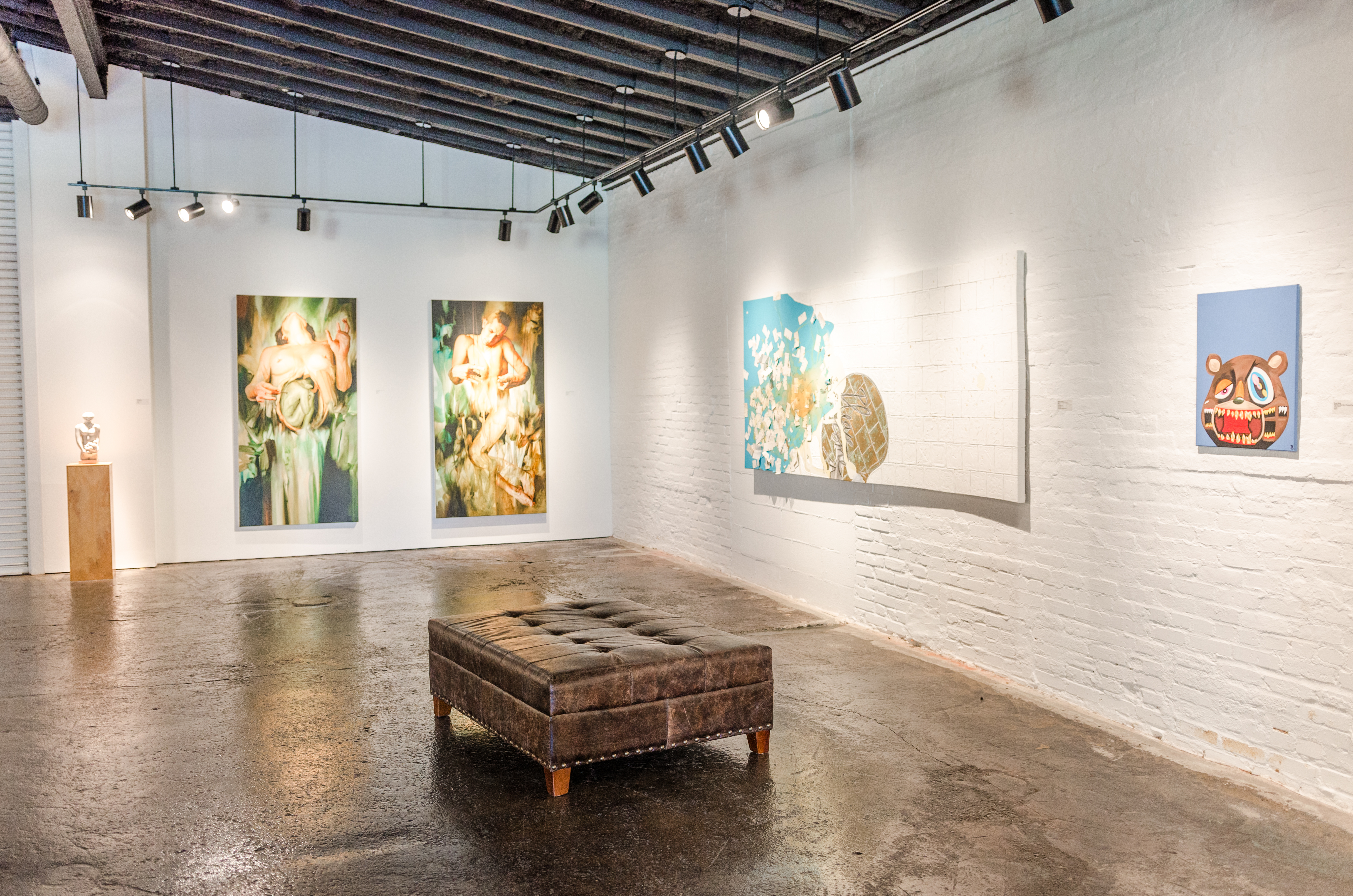 Install.
Brianna Harlan,
Self Care, 2018.
Install.