Above: Installation view of Chloë Bass: Wayfinding. Pulitzer Arts Foundation,
Apr 17 – Oct 31, 2021.
Photograph by Alise O'Brien, © Pulitzer
Arts Foundation and Alise O'Brien

Wayfinding
Review
Megan Bickel

"How much of care is patience."
1
Providing the space for reflection is a radical act.
I've been an admirer of Chloë Bass ever since having found her writing on Instagram several years ago, so I was excited to have the chance to experience Bass's work, and the works' objecthood, in person.
Wayfinding
at the Pulitzer Arts Foundation in St. Louis, Missouri, is an installation of sculptures "inspired by public wayfinding signage"
2
located throughout
Park-Like
, a public garden across the street from the museum.
Park-Like
was designed and built by St. Louis based artist and landscape designer Chris Carl, founder of
Studio Land Arts.
Park-Like
as an environment for Chloë Bass's sculptures is fitting, provided that they weren't designed in tandem. "As stated by the Pulitzer Art Foundation, 'A ton of water flowed down from the [nearby] Fox Theatre's parking lot—and the idea for a rain garden, a place where water can run off the lot and sit for 72 hours before evaporating so as not to flood the sewer, was born.' Out of this, they commissioned Park-Like with the desire to 'be a good neighbor' to not only the people in the surrounding community, but the animal, insect, and other-bio organisms that make the area home."
3
I attended the exhibition with my partner, Josh Peters, an artist and St. Louis native. Peters noted that a "park-like" installation, a lot environmentally designed to include native vegetation, is no longer radical (or even experimental) when so much of the city is naturally overgrown due to lack of basic maintenance by its local government, alluding to the experience of this park as a socio-economic one. Though I agree, this experience of this trend in landscape design feels, at times, contrived; the Pulitzer's attempt at some inter-species unity within a spare and unused lot feels like an earnest attempt at the holistic revitalization of a habitat. However, we also witnessed three different security drivers circling the lot in the 35 minutes we were there, so the co-habitation and pacifist dreamscape that is elicited in their publicly stated description is policed and monitored, which I found discouraging.
Acknowledging the failures and missteps of our institutions is, of course, imperative. However, this space in conjunction with Bass's sculptures does far more good than bad. My desire to receive or 'experience' the installation was prohibitive of my politicizing of the space. Though I believe it is an important observation, I can't help but return to aesthetics. Chris Carl's use of native plants—a type of homage to the aesthetics of overgrown city environs—elicit quiet space surrounding Chloë Bass's reflective highway signs, street signs, and black ground-level signage.
Wayfindings
location amongst a prairie in the middle of the city felt poetic and embracing, not an empty political gesture. Here, the vegetation contradicting the city that tip-toed above provided pause for a
consideration of
reflection. Passive emotional and mental labor elicits a sort of interior hum when the body is surrounded by the commotion of the city. The process of extraction of the body from the urban environment that the Pulitzer Arts Foundation is located amongst provides for a moment of respite. The nervous system gets to slow down. With this, the viewer's body, now not focused on multitudes of activity, is gifted the opportunity to think slower and, possibly, broader. This 'quieting down' of exterior noise permits an ease and comfort with which to think more philosophically. It subsequently also benefits the consumption of Bass's sculptures.
Rather than utilizing the designed symbolism and language associated with these types of markers that are designed to alert and communicate quickly, Bass uses mirrors and transparency to reflect, project, and camouflage her signage. More importantly, she utilizes a stylization of reflection and camouflage to cultivate a performance of those actions. Symbols/systems of navigation become tools of internal navigation. They are designed to stimulate seeking, desire, and longing. By reflecting and camouflaging, Bass requires the viewer to seek out the signs, being rewarded an opportunity to reflect on these short, usually one-sentence philosophical observations or truisms.
The sign that seems to take up the most space, both philosophically and physically, is a highway sign, coated with reflective material. Centered on the billboard and reading, "HOW MUCH OF BELIEF IS ENCOUNTER?" The surface alludes an ultra dreamy-VR-esque sky. In reality, it is the sky's reflection as it appears behind the viewer's body, reading as an image of a sky different from the one directly behind it. The perceptual misstep was vital for me. It was the key that alerted me to pay attention to my responses, feelings, and energy level. It signaled me to look up while navigating the narrow, mowed pathway of the garden. Once I was alerted however, I observed many street signs; the particular ones seen at eye-level from the side-walk.
The street signs wanted to be more intimate with me. Paired were Bass's minimalist one-liners, described as"statements written by the artist that encourage private reflection in public space, intensifying everyday moments,"
4
as well as archival images.
Two signs that read similarly but deserve a moment of observation:
"I want to believe that bodies can be different without being threatening."

"I want to believe that interpretations can be different without being threatening."

I found these stated desires of Bass's vital because they reveal more than they claim. They carry the weight of wonder and hope as well as a great deal of pessimism and fear. "I want to believe. . . " claims that, yes, Bass believes the following statements but holds space for doubt when it arises, I'm assuming, predetermined by Bass's personal experience. Some bodies are inherently threatening. The police. Conservative legislators. My projections lead me to assume that these statements stem from an aspiration for all bodies to have the agency to perform identity as they desire. Equally, perhaps, Bass sees the fear and anxiety she experiences around those given unjustified power and this provides that bodies within certain contexts can, in fact, be threatening. And interpretations of those bodies can as well be ominous. Historical context can be a genuine bummer.
This next phrase, "I want to believe that interpretations can be different without being threatening," deserves a moment of our time. Legacy Russell's
Glitch Feminism
(2020); a recent text published by the original organizer of Wayfinding at The Studio Museum in Harlem as part of Studio Museum's
inHarlem
initiative and in partnership with St. Nicholas Park, Harlem and NYC Parks. Russell argues, amongst other glitch paradigms, that non-binary identities ghost
5
any data collection which seeks out gender identities. Data collection that prioritizes gender along with race, political leanings, and age to spur and advance capitalist agendas. You can't receive ads of the perfect heel that you didn't know you wanted if they don't know you identify as fem, right? Bass's linkage between bodies and interpretations relates to the fluidity and multiplicity of language and identity in a world that constricts and restricts. What are interpretations anyway? They're the perceptions and take-aways, and mediations in the case of a translation. The divergence in these two signs alerts us to the linguistic power of our coded bodies, and the power of multiplicity of perceptions and observations -- and how we can / do / will /'should' respond to them.
Therein lies the power of Bass' prose. In her non-conclusive offerings of observation and introspection, she offers a type of generosity that rarely feels realized in contemporary art. It is in these generalized observations that Bass has provided us time to go inward. Rather than labor over-imagining new ideas, she offers sentiments that request time and an unforced type of focus that provides for revelations. For that, I find I am grateful.
-
Citations:
Chloë Bass, Wayfinding, Pulitzer Foundation.

Bass,
Amanda Woytus. "The Pulitzer Art Foundation's Park-Like, transforms an empty lot into a rain-garden." St. Louis Mag. September 2019. stlmag.com/culture/visual-arts/pulitzer-park-like/
Here, I'm using "ghost" as the slang vernacular defines it: to disapear from a relationship without explanation or closure.

Notes:
-
9.14.21

Megan Bickel (MFA 2021) is a multi-disciplinary artist and writer working at the intersections of painting, new media, and data visualization. She is the founder and organizer of houseguest gallery based in Louisville, Kentucky, and is currently pursuing her M.A. in Digital Studies of Language, Culture, and History at the University of Chicago.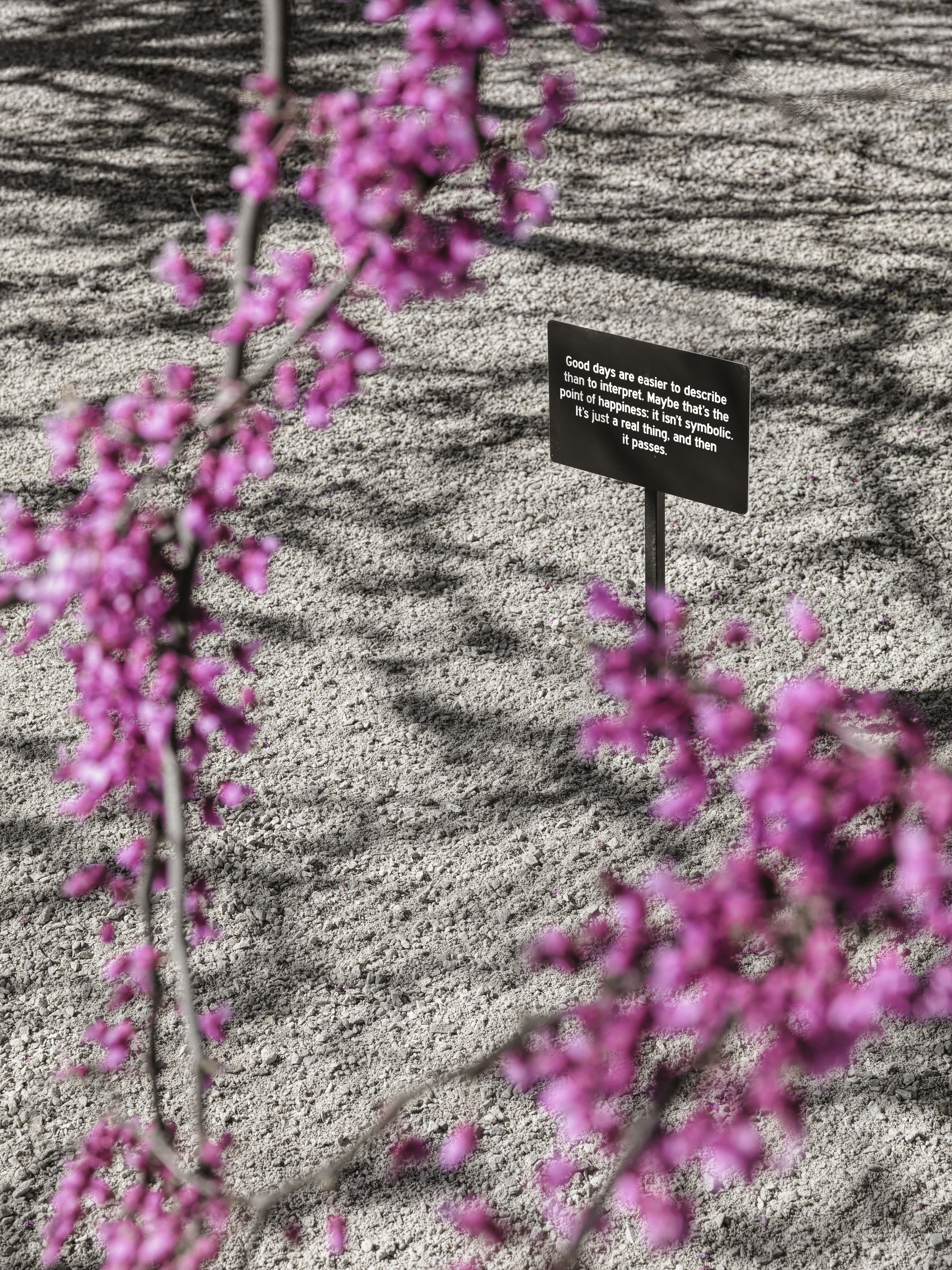 Chloë Bass
Good days are easier to describe than
to interpret. Maybe that's the point of
happiness: it isn't symbolic. It's just a
real thing, and then it passes., 2019.
Engraved aluminum, 5 × 8 inches (12.7
x 20.3 cm)
Courtesy of the artist
Photograph by Alise O'Brien, © Pulitzer
Arts Foundation and Alise O'Brien


Chloë Bass
I want to believe that interpretations
can be different without being
threatening. The part of you that says "I
can share myself with strangers, but
not with family.", 2019.
Double-sided frosted stainless steel
sign with mirrored lettering,
36 × 24 inches (91.4 x 70 cm)
Courtesy of the artist
Photograph by Alise O'Brien, © Pulitzer
Arts Foundation and Alise O'Brien
Chloë Bass
Every time I've nearly been killed I've
survived it, but that doesn't mean I'm
out looking for more devastation in
order to prove a point., 2019.
Engraved aluminum, 5 × 8 inches (12.7
x 20.3 cm)
Courtesy of the artist
Photograph by Alise O'Brien, © Pulitzer
Arts Foundation and Alise O'Brien