Witness and Testimony
Review
Brittany J. Thurman

︎ Cressman Center for Visual Arts, Louisville
Now is the Time
, a portrait by Leroy Campbell, depicts a young Black child sitting amongst a backdrop of books. In front of him is
The Undefeated
, a picture book by author Kwame Alexander, which features the triumphs, frustrations and trials Black people and communities have endured. Behind this same child are images: black and white photos and words. Protest signs and images of George Floyd and Ahmaud Arbery. Photographs which we have seen on the news, in newspapers, and on billboards. Images that consistently haunt our minds.
Campbell's work, a part of
Witness and Testimony
, is a visual statement that draws in all of a viewer's attention. While children continue to witness the unjust murders of Black men, women and children who look like them, books hold a poignant type of power. Books can provide a Black child and adults with much needed fortitude. So can art.
"Dignity, humanity, perseverance and beauty" are four words used to describe
Witness and Testimony
, curated by Cathy Shannon. Currently on view at the Cressman Center in Downtown Louisville.
Witness and Testimony
brings together the artists of multiple generations in a visual statement that describes how communities across the United States have influence over Black artists and their art. This is not an exhibition which focuses on the pain, sorrow, tears and hurt of Black people, themes we often see across a multitude of mediums. On the contrary, when leaving
Witness and Testimony
, my head was held a little higher, my back straighter. The sense of joy, satisfaction, and reflection consumed me.
Witness and Testimony
is described as countering "the negative stereotypes and mischaracterization of Black people." While Black pain and sorrow will always take the forefront in media, television, books and art, this is an exhibition which highlights our humanity in the face of years, decades and centuries of injustice.
The work is divided into two sections, "Witness" and "Testimony", and presented under specific themes. Witness: dignity, pride, humanity, injustice and unity. Testimony: perseverance, heritage and love. All of which are seen through the art of Elizabeth Catlett, Jacob Lawrence, Leroy Campbell, Woodrow Nash, Sherry Shine and Kevin A. Williams.
Witness: Dignity

We enter
Witness and Testimony
and encounter the work of Elizabeth Catlett. "Witness: Dignity" opens with the woodcut image of a Black male sharecropper. A rectangle of bold lines surrounds his hat, creating a halo. These same lines are seen on his face. Through Catlett's art, however, we know these lines aren't only wrinkles from age and time. They are the results of working through exhaustion. Then, there is the image of a Black woman who sits on a bus. Behind her are three people on their way or coming from one place to another. The words 'Colored Only' rest in front of her seat. Her face is still and resolute. Her etched lines, as well as the sharecroppers speak resilience. Their chins are held high in the face of hardship. These faces could easily be those of my own great-grandparents, mouths held in a tight line that says so much without saying any written words at all.
I am here and I am not going anywhere.
Witness: Pride

Under "Witness: Pride" hangs the quilted and stitched art of Sherry Shine. In
We Are Still Royal
, a Black woman in an elegant orangish-red gown stands with her back to us. White gloves reach past her elbows, while her coily hair is adorned with an array of colorful fasteners. The chair beside her is engraved with a crown. She is the embodiment of Black elegance and royalty purposefully omitted from the history books. She is the history within royalty we must search to find. Once we do, we never let her presence go.
Witness: Injustice

"Witness: Injustice" displays the work of Kevin A. Williams. In the portrait
Queen
, a Black woman with her back turned to us begins to place a jeweled and gleaming crown on top of her head. Around her is a field consumed with cotton, which is illuminated by the sun up ahead. A large white house stands to the right while chains fall behind her. The figure's back is almost bare, except for the remnants of what appears to be lashes which scrape across from shoulder to shoulder. The horror of slavery is an injustice from which Black people and communities are still managing to recover. Is recovery possible when a massive chunk of time was stolen from the lives of those in the Black diaspora?
Queen
allows us to see that with each forward movement, each tiny step, each head held high, individual progress is felt by us all.
Testimony: Perseverance

On the opposite side of Witness comes Testimony. "Testimony: Perseverance" continues to feature the art of Kevin A. Williams. The bold words
'Still Standing'
pop out from a frame. Below these letters the artist depicts forceful water, a slave ship and, above both, a man whose arm is slashed. The man stands above water and ship, unmoved by the tremors of both. For a descendant of those who survived forceful waters and even more unimaginable conditions inside of those ships,
Still Standing
comes with a multitude of meanings. Our ancestors who were once enslaved stood through horrific conditions. Somehow, they managed to wake up and keep their hearts beating one more day. Today, we are standing, still. Tomorrow, we will do the same.
Testimony: Heritage

Under "Testimony: Heritage" are the busts of four Black figures standing on platforms by Woodrow Nash, titled
Proud Beauty
,
Zuri
,
Okora
and
Ojo
. Their carved eyes are sculpted with intense purpose, giving off a feeling of an infinite gaze. On their heads, are sculpted braids, crafted locks, and hair formed to create a crown. On their skin, images are etched and deeply carved: faces with hues of blue and busts with the faded pigment of orange. Their arms and torso are a crisscross of shapes and designs. These designs are described as "the origins of the tattoo practice". Each gaze feels as if the individual sculptures are ancestors who continue to watch over.
Testimony: Love

Opposite "Heritage" is "Testimony: Love." Leroy Campbell's painting,
Black Baby Doll
, focuses on a young Black girl sitting in a regal chair, her face devoid of eyes. In her hair is a bow made of stoic black and white images featuring Black families. In her hands is a toy block with the letters, L.O.V.E. Her dress is made is black and white images depicting the toys of young Black girls from past eras. There are Black dolls, manufactured in the early to mid-1900's, along with the words, "you're perfect in my eyes". Just as books can instill a sense of positive racial pride, so can the play of dolls and toys which truthfully and fully represent Black children.
Witness and Testimony
comes with a multitude of emotions. To visually see the experiences of my ancestors, my grandparents, even myself in one room built within me a deep silence. My emotions were beyond words. Cathy Shannon pays homage to the experiences of Black people by recognizing what we have endured and continue to endure, yet without focusing only on pain and trauma. There is a lightness to the air when walking through the Cressman Center. It is a feeling that is guided by the hopefulness of tomorrow, which puts a spotlight on Black fortitude instead of Black frustration.
"This is for the unforgettable. The swift and sweet ones, who hurdled history and opened a world of possible." These are the opening words of Kwame Alexander's
The Undefeated
. Cathy Shannon has also opened up a world of possibilities, allowing us to see that the experiences of Black people and communities can be met with the humanity of our lives.
-
Notes:
Witness and Testimony
is on view from July 16-September 3, 2021 at the Cressman Center for Visual Arts at 100 E Main St, Louisville, KY 40202.
-
Brittany J. Thurman is the author of picture books and middle grade novels. Her debut picture book, Fly, publishes January 11th, 2022. Brittany has worked for the Speed Art Museum and Children's Museum of Pittsburgh.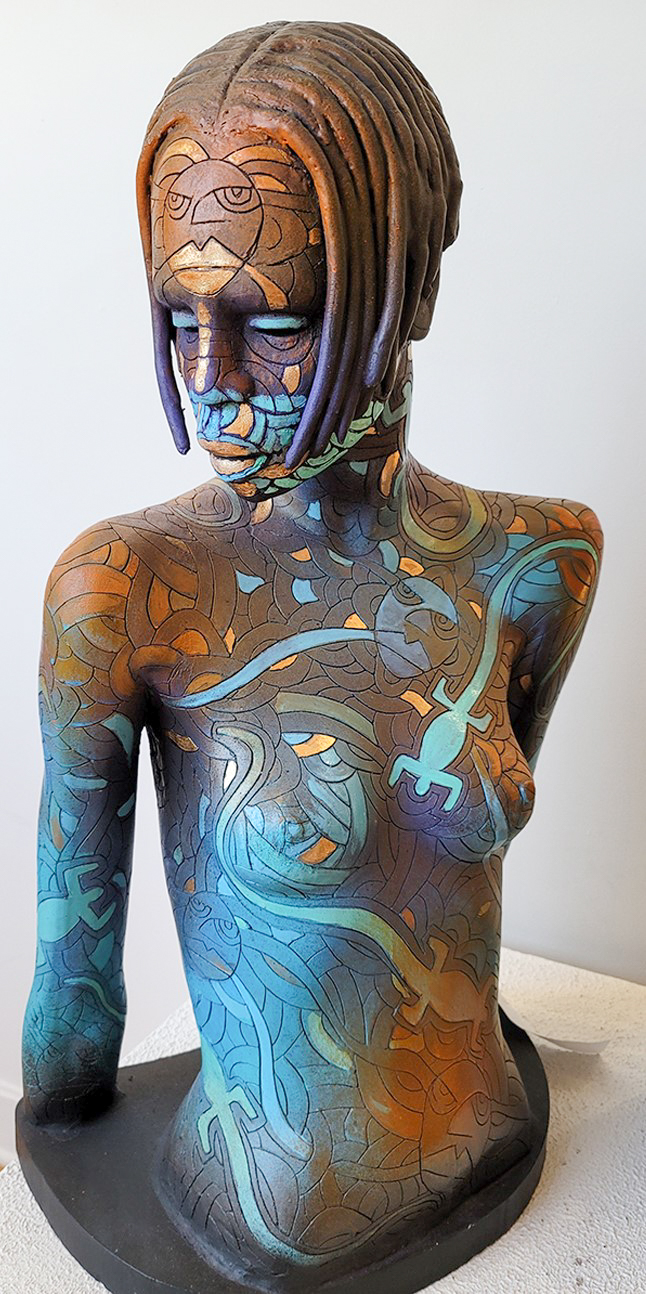 Proud Beauty
by Woodrow Nash. Hand painted ceramic sculpture. Image courtesy of the Cressman Center.
Installation at the Cressman Center. Image courtesy of the Cressman Center.
Installation of Proud Beauty, Zuri, Okora and Ojo by Woodrow Nash. Image courtesy of the Cressman Center.
We Have Your Back by Leroy Campbell. Acrylic and collage on canvas. Image courtesy of the Cressman Center.
Black Baby Doll by Leroy Campbell. Acrylic and collage on canvas. Photo courtesy of the author.